The Secretary of State for the Environment , Michael Gove, publishes a draft Bill to Strengthen Animal Welfare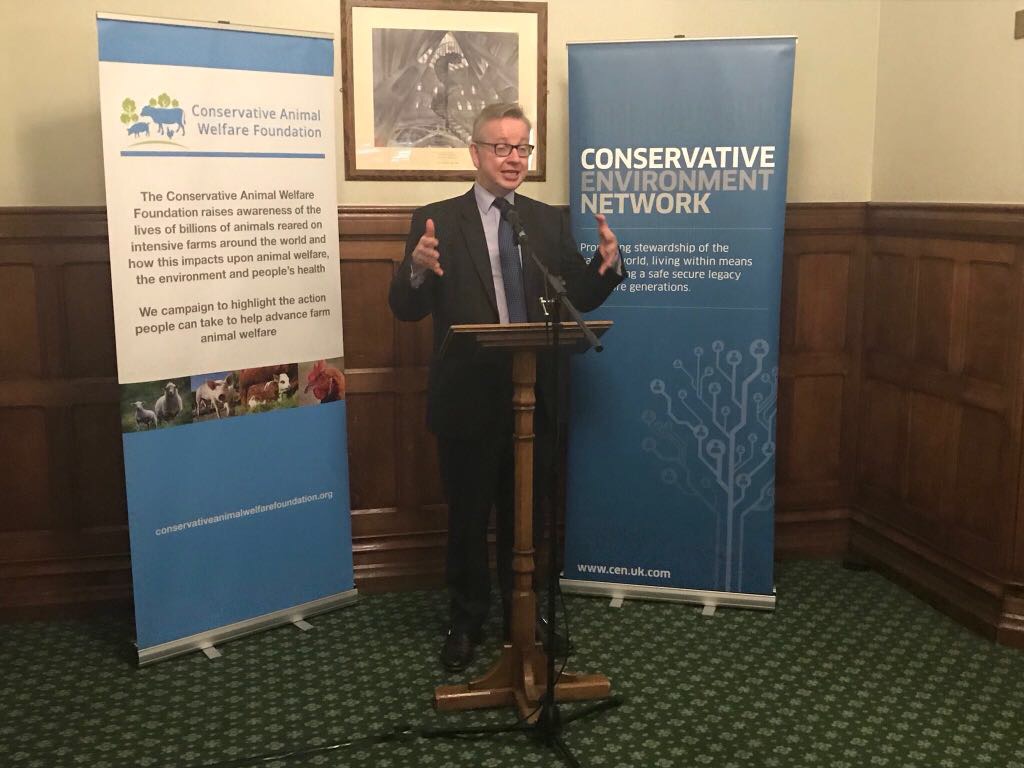 Conservative Animal Welfare Foundation welcomes the announcement today of the new Bill which ensures sentences for animal cruelty are increased for up to 5 years and that animal sentience is reflected in domestic law. The draft bill sets out that the government "must have regard to the welfare needs of animals as sentient beings in formulating and implementing government policy"
.
The plans underline the government's commitment to raising animal welfare standards, ensuring there will be enhanced protections for animals as we leave the EU.
Environment Secretary Michael Gove said:
"As we leave the EU we will deliver a Green Brexit, not only maintaining but enhancing animal welfare standards.
"Animals are sentient beings who feel pain and suffering, so we are writing that principle into law and ensuring that we protect their welfare.
"Our plans will also increase sentences for those who commit the most heinous acts of animal cruelty to five years in jail.
"We are a nation of animal lovers so we will make Brexit work not just for citizens but for the animals we love and cherish too."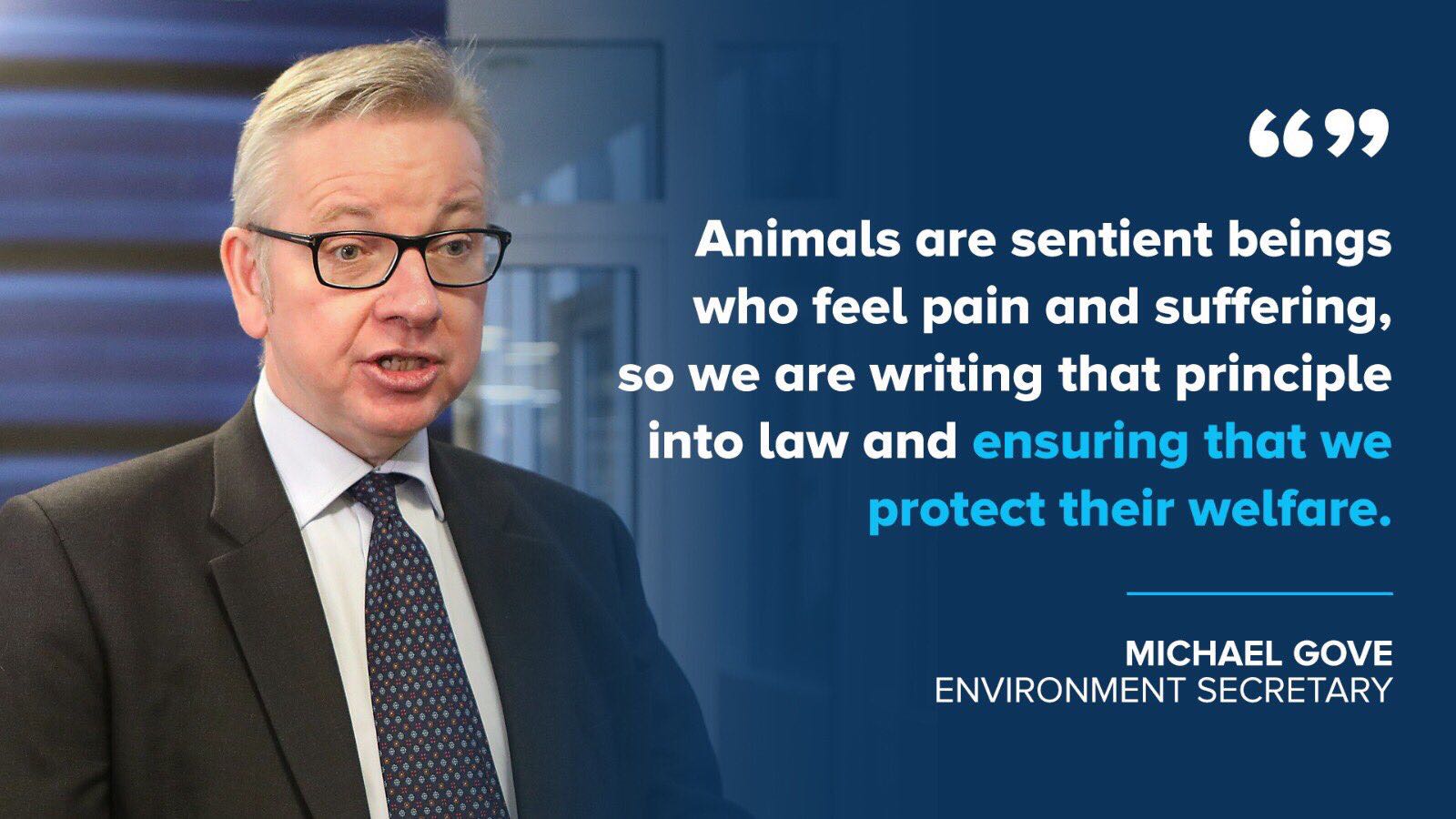 Zac Goldsmith MP, a patron of Conservative Animal Welfare Foundation said:
"Michael Gove deserves real praise for the leadership and energy he has shown since being made Environment Secretary. He has done more in a few months than most achieve in a full term. Today's Animal Welfare Bill marks another success. We will be significantly raising sentences for cruelty, and we will be recognising the sentience of animals right across UK law. We are going much further than current EU law where sentience principle applies to a narrow range of sectors. It means our laws will be stronger and more far reaching than anywhere else, and we really are showing the world what needs to be done."
Sir Roger Gale MP, a patron of Conservative Animal Welfare Foundation said:
"I am delighted that the Secretary of State, Michael Gove, is moving so swiftly to implement the intentions that he announced when he spoke at the meeting of the Conservative Animal Welfare Foundation recently and look forward to studying the detail of the bill."
Sir David Amess MP, a patron of Conservative Animal Welfare Foundation said:
" I am absolutely delighted with this ,as no doubt all animal lovers will be a PERFECT XMAS PRESENT"
Henry Smith MP, Co-Chairman of All Party Group for Animal Welfare and a patron of Conservative Animal Welfare Foundation said:
"The continued Conservative commitment to end cruelty has taken another step forward with the very welcome announcement of an Animal Welfare Bill, including recognising sentience. Such real action is fantastic news."
Lorraine Platt, Co-Founder Conservative Animal Welfare Foundation Co-Founder commented:
"It's great news to hear that the Government will increase sentencing for animal cruelty. We proposed stronger sentencing in our animal welfare document which we presented to No10 in January with our Patron Sir Roger Gale MP. We also proposed stronger sentencing in our manifesto which we sent to the manifesto team back in April this year. There has been increasing pressure to raise the maximum penalty for animal cruelty sentences from six months to five years in prison. Support has been growing both among MPs and the public, amid calls from animal welfare groups including the Conservative Animal Welfare Foundation."
Ends
Contact Lorraine Platt at info@conservativeanimalwelfarefoundation.org   https://www.conservativeanimalwelfarefoundation.org
Notes to editors:
Conservative Animal Welfare Foundation : Brexit ;Opportunities for animal welfare Blueprint  :   https://www.conservativeanimalwelfarefoundation.org/wp-content/uploads/2017/01/CAWFBrexitMarch2017.pdf
Details of Conservative Animal Welfare Foundation and Conservative Environment Network parliamentary event with the Secretary of State delivering a speech 5th Dec 2017:     https://www.conservativeanimalwelfarefoundation.org/1107-2/