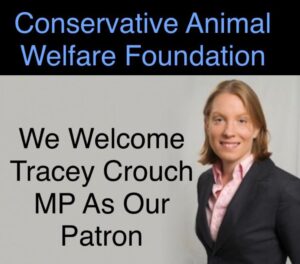 Conservative Animal Welfare Foundation.( CAWF) are delighted to welcome Tracey Crouch MP as a Patron. The Chatham and Aylesford MP joins Sir Roger Gale MP, Lady Suzy Gale, Henry Smith MP, Sir David Amess MP, Lord Goldsmith, Theresa Villiers MP, Carrie Symonds, John Flack, Elise Dunweber and Stanley Johnson as Patrons of the organisation.
Lorraine Platt, Co-Founder of the Conservative Animal Welfare Foundation, commented:
"We are delighted and honoured that Tracey Crouch is joining us as our Patron. Tracey is a long standing Patron of our sister organisation Conservatives Against Fox Hunting and is President of RSPCA Medway".
Tracey was first elected to Parliament in 2010. Prior to being an MP she ran the Pet Advisory Committee. Tracey has a strong background in fighting for animal welfare in Parliament and has spoken out many times again the badger cull, fox hunting and many other issues.
Tracey served as Parliamentary Under Secretary of State for Sport, Heritage and Tourism 2015- 2017 and Parliamentary Under Secretary for Sport, Civil Society and Loneliness 2017-2018.
We look forward to working with Tracey to help advance farm animal welfare. We believe our focus is more vital than ever to end the suffering in live animal exports, bring an end to cages for egg laying birds and confined farrowing crates for pigs, introduce mandatory method of farming labelling and to protect our animal welfare, environment and farming standards from low welfare imports as we negotiate trade deals.