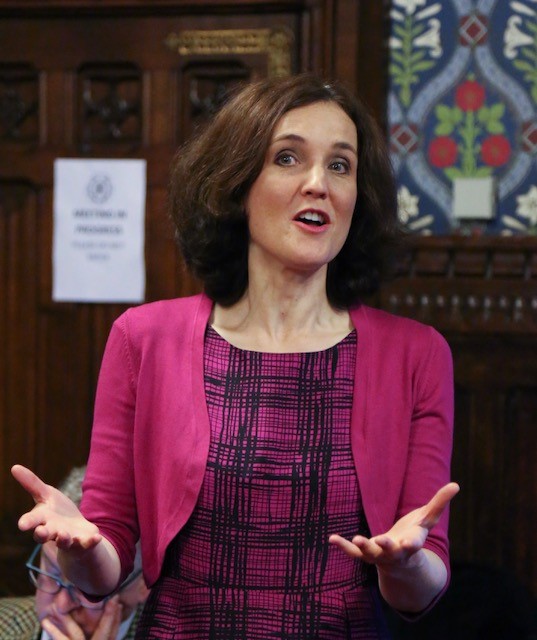 Conservative Animal Welfare Foundation are delighted to welcome the Rt Hon Theresa Villiers MP as our new Patron.
Theresa Villiers joins Sir Roger Gale MP, Lady Suzy Gale, Sir David Amess Henry Smith MP, Zac Goldsmith MP and Carrie Symonds as Patrons.
Lorraine Platt, Co-Founder of the Conservative Animal Welfare Foundation, commented:
"We are delighted and honoured that Theresa is joining us as our Patron.Theresa is passionate about animal welfare and is leading a Bill to end live animal exports for slaughter. Theresa led the Westminster Hall debate on improving animal welfare in farming in January 2017. We look forward to working with Theresa to help advance farm animal welfare campaigns."
Learn more about Theresa's debate here: https://www.theresavilliers.co.uk/news/improving-animal-welfare-farming
Theresa Villiers gave a talk to end live exports at the Stop Live Exports Petition Team/ Conservatives Animal Welfare Foundation and Compassion in World Farming parliamentary event to end live exports on the 29 January 2018 hosted by Craig Mackinlay MP. The event was well attended by MPs and celebrities who included Joanna Lumley, Selina Scott, Barbara Daly, Sir Ranulph Fiennes, Sir Frederick Forsyth, Jan Leeming, Stanley Johnson and Georia Toffolo.
Theresa's Bill to end live exports is featured in the Daily Mail, 3rd February.
The Environment Secretary will launch a consultation on the animal welfare measure in the spring.
The new policy emerged after a former Cabinet minister withdrew a private members' bill that she was set to outline in the Commons yesterday.
Theresa Villers said she did so after being told Mr Gove was looking very seriously at banning the trade.
Campaigners have protested against animals travelling long distances to sub-standard abattoirs in Europe
The plans will be seen as another example of the Conservatives' efforts to rebrand themselves as the caring party.
Backbenchers were told last year that the Tories will concentrate on issues such as the environment and animal welfare after internal polling showed they were seen as uncaring.
Mr Gove has already unveiled a series of environmental measures such as efforts to reduce the amount of plastic in circulation.
The live export of animals has been controversial for years. Campaigners have in the past blockaded ports to halt what they say is a cruel trade which can see animals travelling long distances to sub-standard abattoirs in Europe.
Environment Secretary Michael Gove is to launch a consultation on the animal welfare measure in the spring
The UK's ferry companies stopped accepting the business in 2007. Just one private boat now takes animals from Ramsgate, and the numbers of animals involved has fallen.
According to the National Farmers' Union, fewer than 20,000 sheep and no cattle were exported last year.
But some farmers say it would be better to allow the trade to continue with an assurance scheme to ensure high welfare standards for all stages of the animals' journey.
A Department for Environment, Food and Rural Affairs spokesman said Mr Gove was 'attracted to the idea' of a ban, adding: 'We are considering all options.'
Theresa Villiers withdrew her private members bill after Mr Gove's announcement
The Conservative manifesto at the last election included a pledge to 'take early steps to control exports of live farm animals'.
Miss Villiers told BBC Radio 4's Farming Today she was opposed to the export of live animals because of the journey times they endure and weak regulation at overseas abattoirs.
'For example, you get animals transported from Scotland to Northern Ireland, then doing a land journey to the south, then a 20-hour sea journey to France, then all the way from France down to Spain,' she said.
'It's simply not possible to be certain that proper animal welfare standards will be applied overseas.
'I accept that it will have an impact on parts of the farming sector, but the trade now is so tiny in comparison to the sector as a whole, I believe that it's worthwhile and clearly important that we go ahead with the ban that's proposed.'