London, 29th October 2023
On Saturday (28th October) Conservative Animal Welfare Foundation (CAWF) Co-Founder Chris Platt spoke on a panel at the 2023 Reducetarian Summit in Denver, Colorado. The Summit, with more than 600 delegates, is taking place over three days in Denver at The Westin Denver Downtown featuring more than 100 speakers and a full expo showcasing plant-based food.
As part of the 'Expanding Our Outreach: How to Reach New Audiences' panel, Chris took part in an interactive question and answer session. He emphasised the role of language in building a positive narrative about reducing meat consumption and highlighted the importance of showing the benefits to the economy and health services.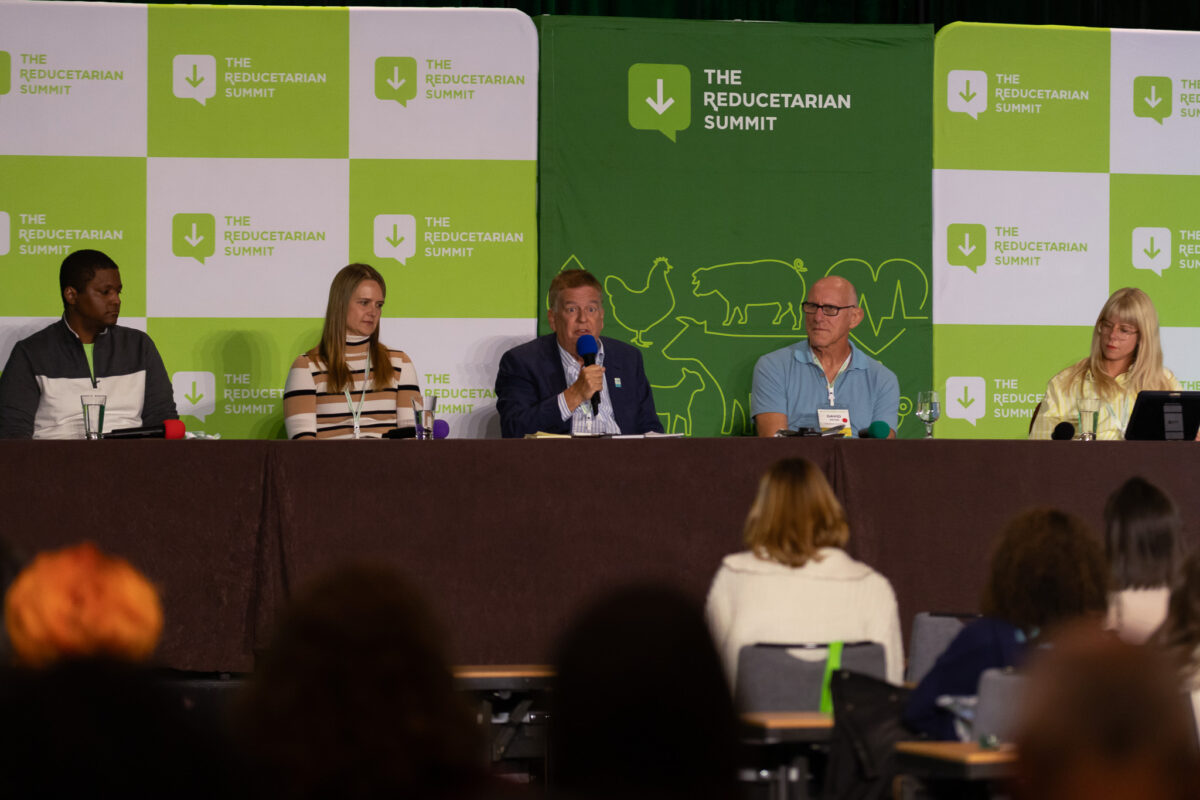 Chris added that as a community of advocates, it is key to extend our reach across the political spectrum: "Animals don't care who you work with. They don't care whether you are left or right, Democrat or Republican, Labour or Conservative. They care about how you affect change."
His co-panellists included AJ Albrecht, Managing Director of Mercy for Animals; David Meyer, CEO and Co-Founder of Food System Innovations; Matt Scott, Director of Storytelling and Engagement at Project Drawdown; and David Barnett, Founder of of PopSockets.
The goal of the 2023 Reducetarian Summit was: "To advance the conversation around reducing animal product consumption and eliminating factory farming. Focus on the how, not the why." Conservative Animal Welfare Foundation was honoured to have attended and presented at the Reducetarian this past weekend.
The Reducetarian Foundation aims to improve human health, protect the environment, and spare farm animals from cruelty by reducing societal consumption of animal products. You can read more about the Foundation and the Summit here.
About Conservative Animal Welfare Foundation (CAWF)
The Conservative Animal Welfare Foundation was established in 2016 to raise awareness on the lives of billions of animals reared on intensive farms around the world and how this impact upon animal welfare, the environment and people's health. We want to highlight the action people can take to help advance farm animal welfare.
Animal welfare is an increasing concern amongst the public, who frequently look to Government to take the lead in both maintaining and improving standards.
The Conservative Animal Welfare Foundation believes it is highly important that the welfare of farm animals is placed at the forefront of the Governments plan for food and farming along with its focus on productivity, competitiveness, and technology.
Media contact: Sophia Stileman (sophia.stileman@conservativeanimalwelfarefoundation.org)