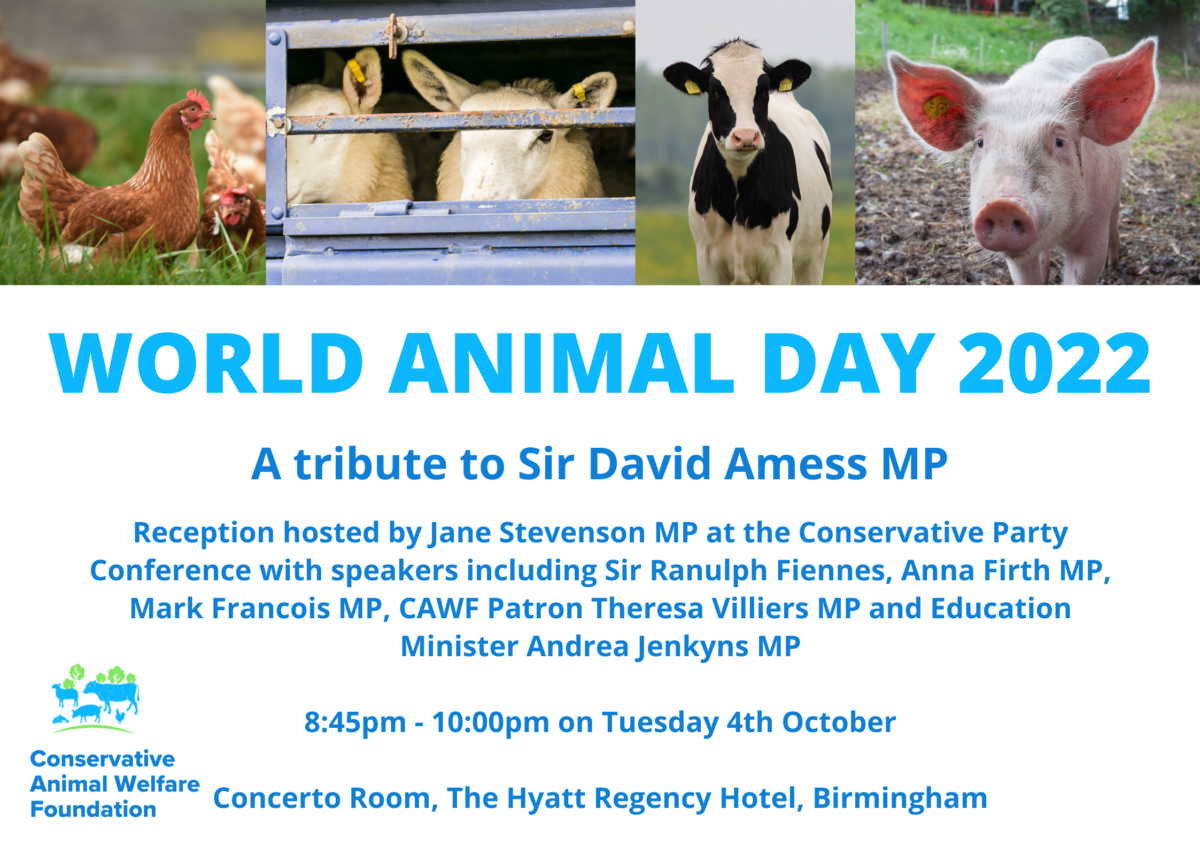 London, 30th September 2022
Today (Friday 30th September) the Conservative Animal Welfare Foundation (CAWF) has announced it will hold its annual World Animal Day reception at Conservative Party Conference in tribute to Sir David Amess MP, CAWF's close friend and Patron who sadly passed away last year.
The reception will be hosted by Jane Stevenson MP who this year secured the Glue Traps (Prohibition) Act which bans the use of cruel glue traps. Other speakers include:
Andrea Jenkyns MP, Education Minister
Anna Firth MP, MP for Southend West
Mark Francois MP, Chair of the European Research Group
Theresa Villiers MP, CAWF Patron and former Secretary of State for Defra
Sir Ranulph Fiennes, world renowned explorer and writer
The reception will take place on Tuesday 4th October in the Concerto Room of the Hyatt Hotel, Birmingham, between 8:45pm and 10pm.
CAWF welcomes all Conservative Party Conference guests to attend this important reception paying tribute to Sir David Amess and all that he achieved in his long and distinguished career.
Lorraine Platt, Co-Founder of Conservative Animal Welfare Foundation, commented: "This year our World Animal Day reception will no doubt feel incomplete in Sir David's absence. We remember our reception exactly a year ago when Sir David spoke powerfully on ending cages for laying hens and sows on British farms – just two of the many animal welfare causes he championed as an MP.
"Though we can never do justice to the decades of work Sir David gave to his constituents, campaigns, and colleagues, we look forward to paying tribute to our dear friend and all that he achieved for animals.
"We would like to thank Jane Stevenson for hosting this important reception, and our other MP speakers including our Patron Theresa Villiers, Education Minister Andrea Jenkyns, Anna Firth, and Mark Francois. We are also delighted to welcome world renowned explorer Sir Ranulph Fiennes."
About Conservative Animal Welfare Foundation (CAWF)
The Conservative Animal Welfare Foundation was established in 2016 to raise awareness on the lives of billions of animals reared on intensive farms around the world and how this impact upon animal welfare, the environment and people's health. We want to highlight the action people can take to help advance farm animal welfare.
Animal welfare is an increasing concern amongst the public, who frequently look to Government to take the lead in both maintaining and improving standards.
The Conservative Animal Welfare Foundation believes it is highly important that the welfare of farm animals is placed at the forefront of the Governments plan for food and farming along with its focus on productivity, competitiveness, and technology.
Media contact: Sophia Stileman (sophia.stileman@conservativeanimalwelfarefoundation.org)