Telegraph Article Here by Helena Horton
"The 'unofficial whip' on untraditional policies, such as banning foie gras and fur, is an artist and grassroots campaigner from Surrey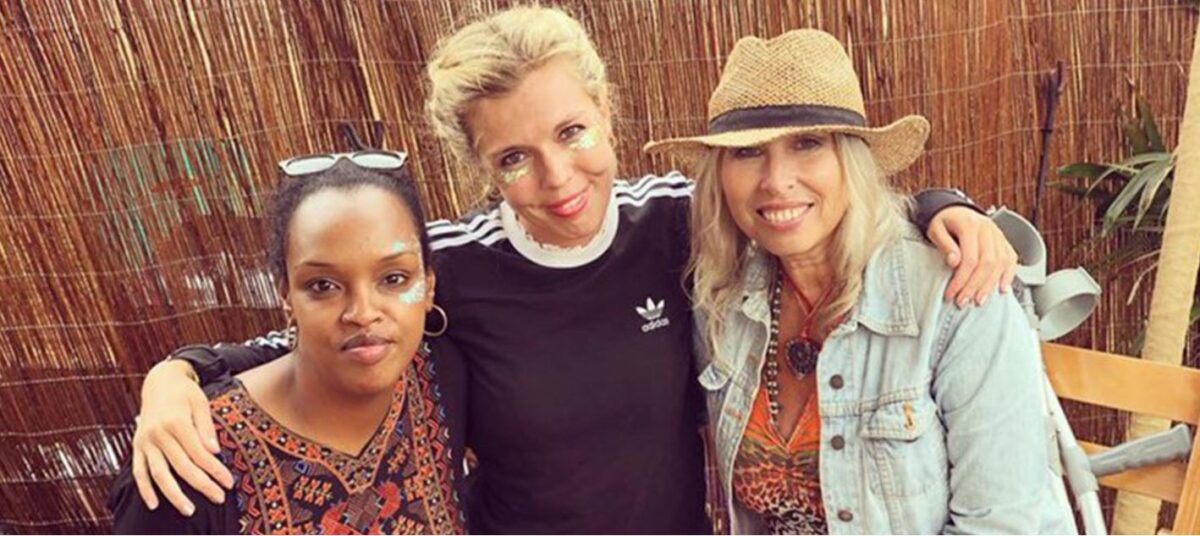 Think of the person behind the recent raft of Conservative animal welfare policies, and one name springs to mind – the Prime Minister's fiancee, Carrie Symonds.
But the woman known to Conservative MPs as the "unofficial whip" on these untraditional policies, such as banning foie gras and fur, is an artist and grassroots campaigner from Surrey.
Lorraine Platt, a painter who lives in Thames Ditton, never thought she would be spending her afternoons explaining policy ideas to the Prime Minister.
The 59-year-old has been a stalwart Conservative all her life. While campaigning in her constituency of Esher and Walton, it broke her heart to hear that her neighbours would not vote conservative because the then-MP, Ian Taylor, was pro-fox hunting.
She decided to prove that conservatives can love animals, too, while on the campaign trail with her husband who was the local chairman of the Conservative Association.
"We were canvassing and knocking on doors for candidates and we were hearing from people who said 'Why would we vote for you, we are animal lovers, and you have a policy to bring back fox hunting'," Ms Platt told The Telegraph.
"And we thought to ourselves: this is something we feel strongly about and we have no representation in parliament in a conservative capacity. We started the campaign with a homemade website, it was really basic."
The Conservative Animal Welfare Foundation was born. Now, it is one of the most powerful lobbying groups in the Tory Party.
Ms Platt added: "Initially, we thought it would just be a website and that would be it, because I'm an artist by profession, I am a painter. I've always campaigned between the painting!"
In the decade that followed, her campaign has grown, signing up now-influential figures including Dominic Raab, Stanley Johnson, Lord Goldsmith and Ms Symonds, who count themselves as her patrons.
Not only that, but policies she has pushed for over the years, including tougher regulation on hare shooting, a ban on live exports as well as outlawing foie gras and fur imports, are starting to become law.
——————————————————————————————————————————-
The environmental policies being backed by the Tory Government
Trophy hunting ban
The Conservative Animal Welfare Foundation has long called for a ban on imports, and the Government is currently assessing its consultation into the issue.
Boris Johnson has indicated support for a ban, and tweeted in 2019: "We must end this barbaric practice."
Foie gras ban
Patron of the group, Lord Goldsmith, has long called for a ban on the import of foie gras, as it is illegal to produce it in the UK.
Now, he is in charge of such policies and has said that he is looking to launch a consultation into such a ban.
Fur imports ban
Fur farming has been illegal in the UK for decades, so animal welfare advocates – including the Conservative Animal Welfare Foundation – have argued that it should not be sold on our shores.
The Government has indicated that it will be looking into an import or sales ban on fur as a "Brexit bonus" in coming months.
End on live exports
This is an issue close to the Johnson family – Stanley Johnson can be frequently seen in Kent holding vigils for the animals which are shipped to the EU for fattening and slaughter.
Now we have left the EU, the Government has committed to ending live animal exports, as they are sent in gruesome conditions to their deaths
Ban on "cruel" elephant advertising
The Government announced in The Telegraph that it will be committing to another of Ms Platt's campaigns, a ban on UK companies advertising holidays which include elephant riding or otherwise interacting with the animals, as they are often cruelly treated.
Hare shooting clampdown
The Government has said it will introduce a close season for hares and a complete ban on shooting mountain hares. Lorraine Platt has been campaigning for this for years with her Blue Hare group.
Ending the "Cage Age"
Lorraine Platt has been campaigning for the Government to ban cages for farm animals, including pig farrowing crates and cages for hens. Now, the Government has committed to a consultation on caged animals.
Banning primates as pets
The Government has committed to banning keeping primates as pets, another issue the CAWF has fought for.
Microchipping
The Government has announced a consultation into microchipping, with compulsory microchipping for pet cats proposed, as well as Tuk's Law, which would require all vets to scan animals before euthanising them. Lorraine Platt has campaigned for this.
———————————————————————————————————————————–
While previous conservative governments have balked at the idea of banning or restricting the food and pursuits their older, traditional members enjoy, Boris Johnson's regime has whole-heartedly embraced these policies, which are popular with the public at large.
Ms Platt has had to fight against backlash from some MPs, with the former Tory chairman, Rt Hon Patrick McLoughlin attempting to block her from using the Conservative logo for her group in 2016.
She is now, however, right in the bosom of Government, having met with Mr Johnson to discuss her animal welfare manifesto. Ms Symonds has publicly lauded her friend as a "superstar", and taken her on the campaign trail during general elections.
As they campaigned in Richmond during the last election, with Dilyn the dog in tow, Ms Symonds said in a tweet: "I feel very lucky to be one of your patrons. The work you guys do to promote animal welfare is just brilliant."
In 2019, at the Conservative Conference, the Prime Minister's fiancee made just one speech for a lucky fringe event – Ms Platt's. In it, she showered praise on the grassroots campaigner for her hard work.
A tireless advocate for animals, Ms Platt can talk for hours on end about her causes, and Conservative MPs can expect to see her name flashing up on their phones during important votes.
Henry Smith MP, who is a patron of her group, told The Telegraph: "Lorraine is such a trooper, she is almost our unofficial whip on animal welfare, I am constantly getting messages from Lorraine about this.
"A lot of credit has to go to the grassroots of the party who aren't members of parliament but they are committed to the cause.
"She's quite influential actually, she knows everyone, people can't say no to her!"
Ms Platt freely admits that her group is having an impact. She said: "We wanted to go beyond the fox hunting debate, we wanted the party to focus its attention on positive animal welfare measures.
"We had to steer this huge juggernaut away from the hunting issue, we had to steer the party towards focusing on live exports and pig farrowing crates, and phasing out cages for egg laying birds."
———————————————————————————————————————————–
Profile: Lorraine Platt
Ms Platt, 59, is a contemporary artist who lives in Thames Ditton, Surrey, with her husband and her King Charles spaniel.
Born in Cheshire, she graduated in 1984 with a BA Joint Honours Degree in Fine Art and English Literature awarded by the University of London.
Her art includes paintings of exotic flowers and colourful landscapes. Since setting up the Conservative Animal Welfare Foundation, she has had a glittering career in animal welfare campaigning, and is the Former Vice Chairman of the League Against Cruel Sports.
She has also won many awards, including the RSPCA Lord Erskine Silver Award 2014 and the International Fund for Animal Welfare in 2012.
————————————————————————————————————————————
Lord Randall of Uxbridge was the advisor to Theresa May on animal welfare and the environment, and now pushes for the cause from the House of Lords.
He argued that the tide is changing, meaning that it is no longer political suicide for Conservative MPs to back policies which go against the ideas of the traditional, older "base". Coupled with energetic animal rights supporters in Number 10, this has meant for an explosion of policies.
"The Conservative party is not the Conservative party it was 30 or 40 years ago", he said, as it moves from the party of fox hunting to the party that brought in some of the strongest animal welfare laws in the world.
The peer explained: "Twenty years ago, banning foie gras would seem as a complete anathema to conservative policies.
"A whole new generation of people have come along and said 'what the hell is this all about' and got behind it. We have a lot of younger people in the party, supporters and members, and lots of MPs are being influenced by their kids – twenty-somethings saying things are appalling and need to change."
He added that Mr Johnson's team is making waves, partly because they want to show that the UK can be a more animal-friendly place after Brexit.
Lord Randall said: "The new administration has got more impetus behind it, it may be Brexit that they are trying to show advantages to Brexit to a set of people who may not have been so keen on it."
Mr Smith agreed, and said that Mr Johnson's team are radically changing the view of the Conservative party on these issues.
He explained: "Certainly the image and the brand of the party historically has perhaps been somewhat tarnished by issues like fox hunting.
"I do think Boris Johnson, definitely animal welfare is important to him and what he thinks is a significant driver into what the Government is thinking.
"It's a bit like Yes Minister where if an administration doesn't want something to progress they appoint someone who isn't interested in the project. But in Lord Goldsmith's case he is appointed because he has an interest in this area and because of this appointment things start to happen."
Ms Platt agrees, and extolls the current administration as "the best lineup of animal welfare advocates we've ever had".
On her meeting with Mr Johnson, she remains relatively coy, but revealed: "We discussed many animal welfare issues, a whole spectrum of issues including live exports, including pig farrowing crates, so many issues, ending trophy hunting imports, foie gras, and seeing an end to UK tour operators promoting elephant abuse".
Now Ms Platt's policy ideas have taken off, one may think it was time for a rest. However, she has grand plans for her next campaign – fish welfare.
The campaigner recently penned a fish welfare policy document, which she has handed to MPs.
She said: "We want to have action taken on fish farms, because fish are a huge food sector and they haven't received the same attention and protection that other farmed animals have received."
Although they only sent the report off on March 8, she said they have received "good feedback from the Department for Environment, Food and Rural Affairs at the highest level".
So, if in the coming years, salmon begin to enjoy more rights, they will know who to thank."