Secretary of State George Eustice recently announced that DEFRA would launch a call for evidence to assess the impact of a ban on cages for hens by the end of the year. The RSPCA, the Conservative Animal Welfare Foundation and The Humane League UK prepared a letter to the Minister calling on him to launch the proposed consultation. Read the letter here:
Several MPs signed the letter including Henry Smith MP, who leads a private Members Bill- Beatrice's Bill to end cages for laying hens.
The joint letter was signed by celebrities including Lucy Watson, broadcaster Kirsty Gallacher, actor Peter Egan, veterinarian Marc Abraham OBE, and James Dunmore. 13 animal charities also signed,
The letter coincides with the 1-year anniversary of DEFRA's Action Plan for Animal Welfare which looks to consider the case for reforms on the use of cages for laying hens .The letter has support from organisations including APGAW, CIWF, HSI UK , Four Paws and Animal Equality.
Nearly 14 million chickens are stuck in cages across the UK, but 76 percent of UK consumers think that banning cages should be a priority. Cages are incredibly inhumane and restrict the movement of the hens. This impacts their well-being, and they suffer psychological and physical harm in caged environments during their short lives.
Lorraine Platt, Co-Founder of the Conservative Animal Welfare Foundation, said, "Every year 14 million hens are kept in tiny cages with hardly enough room to spread their wings. This is unacceptable for a nation which prides itself on strong farm welfare standards."
"While we welcome the efforts of retailers leading the way in going cage-free, we still estimate that after these commitments there will remain 8 million hens kept confined in cages for their whole lives. We urge the Government to bring legislation into greater alignment with political, public and retailer sentiment, and launch their planned consultation now, so we can finally ban laying hens from a life behind bars."
The letter was spearheaded by The Humane League UK, RSPCA, and Conservative Animal Foundation as a part of Beatrice's Campaign, which aims to ban cages for hens.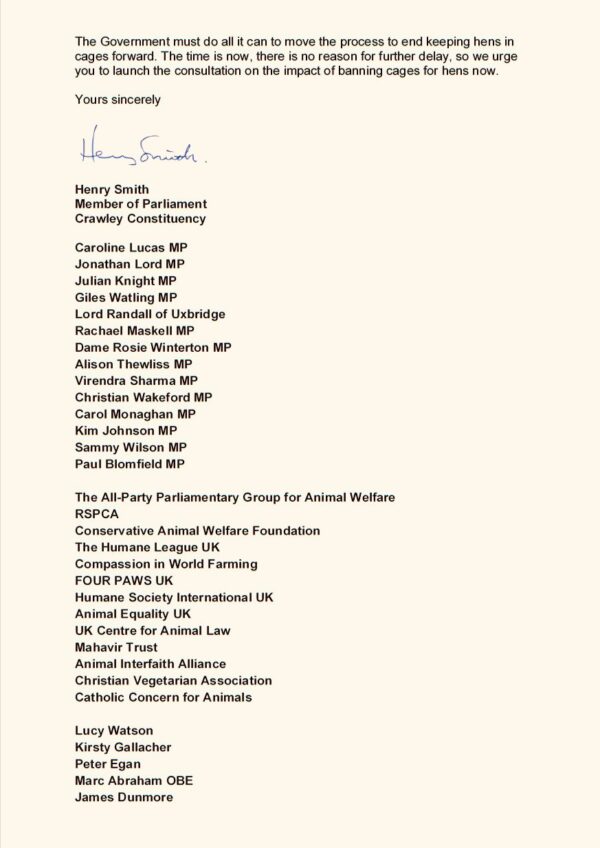 Media links: Celebrities, Animal Welfare Charities, and MPs Sign Letter to Demand an End to Cages for Hens – One Green Planet
Learn more here about the Beatrice Campaign to ban cages for laying hens:
1. The British Government banned battery cages in 2012. So-called enriched cages, which severely restrict hens' natural behaviours and cause significant harm, can still be used.
There are approximately 14 million laying hens in enriched cages in the UK (35% of the total supply chain).We estimate that 4 to 8 million laying hens will remain in cages in the UK in 2025, even if corporate cage-free commitments are met
There is significant public, industry and political support for a legislative ban on cages. All leading supermarkets have committed to going cage-free. Major companies including Greggs, Nestlé and Nando's have called on the Government to ban cages and over 90,000 people have signed a petition on this topic, including Joanna Lumley, Peter Egan, and Bill Bailey. Whilst it is extremely welcome that the UK Government will be supporting farmers in England to transition away from cages, it is time for the UK to cement its place as a world leader in animal welfare by banning cages for laying hens altogether.
THE PROBLEM WITH CAGES
The British Government banned battery cages in 2012 but did not ban so-called enriched cages. These are larger than conventional battery cages but, according to the RSPCA, they "fail to properly meet the hens' physical or behavioural needs. They provide an unacceptably restrictive amount of space per bird; severely restrict many important physical activities, including running, flying, and wing-flapping; and do not permit unrestrained perching and dustbathing. The severe restriction of the hens' ability to exercise is likely to lead to frustration, bone weakness and osteoporosis – clear indicators of poor welfare."
POLITICAL SUPPORT
Henry Smith MP introduced the Hen Caging (Prohibition) Bill to the House of Commons without opposition on September 22nd, 2021. The Bill is commonly referred to as Beatrice's Bill after Beatrice the hen who was rescued from a cage.
The Labour Party, the Liberal Democrats, the SNP, and the Green Party have made manifesto or other commitments to ban cages for hens. DEFRA's Action Plan for Animal Welfare 2021 states "we will introduce reforms to improve farm welfare, including examining the use of cages for laying hens". The Welsh and Scottish Governments have also pledged to review the use of cages for farm animals.
PUBLIC SUPPORT
In 2020, Compassion in World Farming published a YouGov poll which found that 88% of the British public believe using cages in farming is cruel to animals and a petition on their website calling for cages to be banned in the UK currently has 636,000
signatures. The Humane League UK (THL UK) and the Conservative Animal Welfare Foundation petition, launched in September, already has over 90,000 signatories including Joanna Lumley, Bill Bailey, Peter Egan, and Shaun Ryder.
INDUSTRY SUPPORT
All leading UK supermarkets are committed to only selling cage-free shell eggs by 2025 and all, apart from Iceland, have already phased out cage eggs from their own brand ingredients, or have clear commitments to do so. Nine major companies including Nestlé, Greggs, Nando's, Premier Foods, and Compass Group UK&I published a statement in October 2021 calling for a ban on eggs from caged hens.
Major companies in the restaurant, manufacturing and catering sectors also have public commitments to transition to 100% cage-free egg use by 2025. Restaurants Pizza Express, KFC, and Pret a Manger are already sourcing only cage-free eggs with over 75% of the sector committed to following suit. 71% of egg packers are also cage-free, publicly committed to being cage-free by 2025, or have publicly state their intention to become a cage-free operation, according to research by THL UK.
ANIMAL HEALTH AND WELFARE PATHWAY
DEFRA recently announced details of a subsidy scheme called the Animal Health and Welfare Pathway which will offer farmers incentives to make animal welfare improvements, including transitioning from the use of cages for hens. This is a very positive development but these subsidies are not available for the whole UK and, without a legislative ban, will not be sufficient to end the use of cages for laying hens.
RECOMMENDATIONS
1. The UK Governments should ban cages for laying hens. European countries including Austria, Switzerland, and Germany have already banned cages for hens. In 2021, Nevada became the ninth US State to do the same and the EU committed to phasing out cages for all animals by 2027. It is important that the UK does not get left behind and brings in legislation to end cages for laying hens. The UK must ban cages for hens to cement its status as a world leader in animal welfare and to protect higher welfare producers from competition with lower welfare companies.