Yesterday (Monday 31st January) the Conservative Animal Welfare Foundation (CAWF), Humane League, and CAWF Patron Henry Smith MP met in the Waitrose Victoria store with UK food company Waitrose to discuss support for ending cages for laying hens in the UK.

In September last year Henry Smith MP led the Hen Caging (Prohibition) Bill), known as 'Beatrice's Bill' after the rescue hen at the centre of a campaign coordinated by Conservative Animal Welfare Foundation and The Humane League, which aims to see the UK end cages for egg laying hens. The Bill had its first reading on 22nd September 2021.

Waitrose has been leading the way in implementing cage-free policies for more than a decade. The retailer has been completely cage-free on all eggs (including shell and ingredients) since 2008.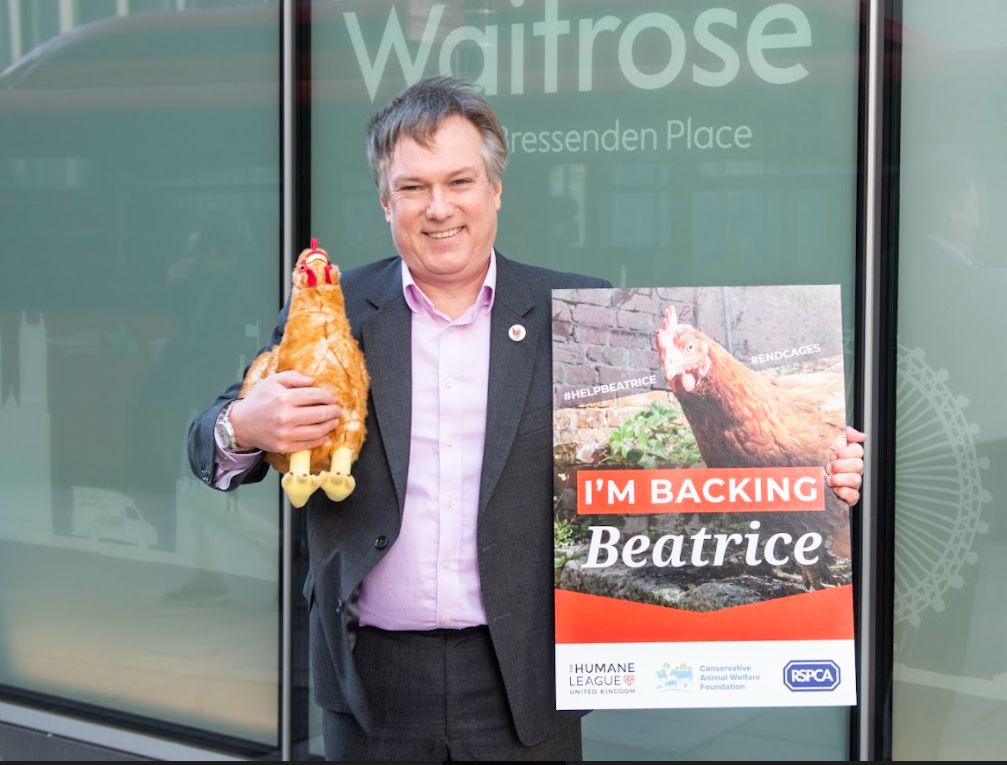 Although cage-free eggs are increasingly popular with consumers, 35% of UK laying hens, some 14 million hens, still live in cages.
Cages severely damage the wellbeing of hens, restricting their movement and frustrating their ability to perform innate behaviours like wing flapping, stretching, body shaking, tail wagging, foraging, dustbathing, perching and nesting.
The Conservative Animal Welfare Foundation report Banning Cages for Egg Laying Hens can be read here.
More information on the Beatrice's Bill campaign can be found here.
Lorraine Platt, Co-Founder of the Conservative Animal Welfare Foundation, commented: "We were delighted to meet with Waitrose today and hear about their support for ending cages for laying hens in the UK. It is so important that food retailers speak out against the heart-breaking practices which currently see millions of hens raised in cramped conditions in this country.
"There is strong support for ending cages amongst UK retailers – the vast majority of whom have committed to going cage free by at least 2025, while many have already made this transition. We are calling on the Government to legislate to end cages for laying hens, and thereby bring our laws into closer alignment with the sentiment of UK retailers like Waitrose, as well as the general public."
Cordelia Britton, Head of Programs at The Humane League UK, said: "Waitrose have few peers when it comes to supporting high animal welfare standards, and I'm pleased to see they continue to do the right thing by endorsing our campaign to outlaw cages for hens once and for all. Their vocal support provides a strong example, which we hope the rest of the food sector will follow."
John Gregson, Ethics & Sustainability Advisor at Waitrose, comments: "We welcome all efforts to improve the welfare of farm animals. All our eggs, whether in shells or used as ingredients in our products, have been free-range for over 13 years.
"Farmers supplying Waitrose have a long history in leading the way on animal welfare and have received widespread recognition for their commitment. Waitrose hens are housed in smaller flock sizes than the UK standard with daily access to the outdoors.
"We are pioneering new technology to allow us to measure the emotional wellbeing of farm animals. Our Good Life app, developed in partnership with Scotland's Rural College (SRUC), is being used by all farms supplying us with eggs."