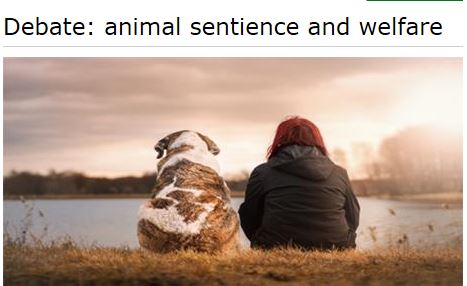 On Monday 16 March, MPs debated a petition about animal sentience and welfare and banning cages for farm animals led by Kerry McCarthy MP and chaired by Sir Roger Gale MP.
View the petition and the Government response; https://petition.parliament.uk/archived/petitions/242239
The debate started at 4.30pm and be opened by Kerry McCarthy MP, a member of the Petitions Committee.
Why were these petitions being debated?
The Petitions Committee has the power to schedule debates on e-petitions in the House of Commons Second Chamber, Westminster Hall.
In deciding which petitions should be debated, it takes into account how many people have signed the petition, the topicality of the issue raised, whether the issue has recently been debated in Parliament, and the breadth of interest among MPs.
What will the petition debate achieve?
Debates on petitions in Westminster Hall are general debates about the issues raised by the petition.
MPs can discuss the petition and, if they wish, ask questions about the Government's position on the issue or press the Government to take action.
A Government Minister takes part in the debate and answers the points raised.
These debates help to raise the profile of a campaign and could influence decision-making in Government and Parliament.
Petition debates in Westminster Hall cannot directly change the law or result in a vote to implement the request of the petition.
Creating new laws, or changing existing ones, can only be done through the parliamentary legislative process which involves a number of debates, and detailed consideration of the law in draft, in both the House of Commons and the House of Lords.
This process is normally started by the Government, although there are some ways in which individual MPs or members of the House of Lords who are not in the Government (known as "backbenchers") can ask Parliament to consider new laws.
Conservative Animal Welfare Foundation have long called for an end to cages for egg laying birds and pig farrowing crates and for animal sentience to be enshrined in UK law. We have spoken out for this at our events on animal welfare.
We thank all MPs who attended the debate and particularly to Kerry McCarthy MP for leading the debates.
Patron Sir David Amess MP spoke on the misery and suffering farm animals endure in 'enriched' cages and pig farrowing crates:
"I congratulate the hon. Member for Bristol East (Kerry McCarthy) on leading this debate on the second petition we are considering today, and on the detail of her speech. I commend her for what she said and I agree with her completely. Science has shown that animals have the capacity to feel and have emotions, as was made clear in the previous debate, and it is vital that the UK Government recognise that.

I wish to pay tribute to Compassion in World Farming. The day before we left the European Union, I was in Brussels and I went to the Compassion in World Farming headquarters to discuss various issues. It does a first-class job. At last week's dinner, which the hon. Member for Bristol East hosted, I was very impressed with the chief executive who explained how the organisation started, which was as a result of farmers. When the hon. Lady said that farmers do love animals, she was absolutely right. Many of them are what we could describe as big softies, so I do not think it is the House's intention today to bully them. Great progress has been made but, as ever, I want them go further.

There is huge support on the issue. Without wishing to put too much pressure on my hon. Friend the Minister, the aspirations of more than 100,000 people will or will not be met, depending on how she responds to this debate. Like many colleagues, I am appalled by the cruel conditions in which millions of farm animals throughout the world are kept: in cramped and restricted cages, preventing them from performing their natural behaviours, and causing extreme frustration and suffering."

Pigs, hens and game birds are kept in cages that confine and restrict their movements. Conservative Animal Welfare Foundation figures show that there are currently 500,000 sows in the UK and 50% of them are in cages. Sows are placed in farrowing crates to limit their movements when giving birth, as has been said. In the following weeks, the metal frame means that they cannot turn around and can scarcely move backwards or forwards. The crates have been banned in Sweden, Norway and Switzerland, and we must implement a ban here now. It is unacceptable that animals have to endure such horrendous conditions.

The Conservative Animal Welfare Foundation has called for a ban on farrowing crates. The use of farrowing crates is allowed and they are used routinely in the rest of the EU, except in the countries I have mentioned. However, there are commercially available free farrowing ​systems such as 360°, PigSAFE, and SWAP, which are acceptable alternatives.

The foundation calls for a ban on farrowing crates that severely restrict the sow's movement and her strong instinct to build a nest before giving birth—I do not know how many colleagues recognise that a pig tries to build a nest before giving birth. The farrowing crate is a small metal cage in which pregnant sows are imprisoned for weeks on end, usually from a week before giving birth until the piglets are weaned three to four weeks later. The sow is subjected to that treatment roughly twice a year.

The metal frame of the crate is just centimetres bigger than the sow's body and severely restricts her movements. She is completely unable to turn around, can scarcely take a step forward or backward, and frequently rubs against the bars when standing up and lying down. Beside her cage is a creep area for her piglets. The flooring is hard concrete and some form of heating—mats or, more commonly, heat lamps—is used as a substitute for the warmth of the mother's body. That really is not acceptable. Can parliamentarians imagine being imprisoned in a metal crate for weeks on end, unable to see the sun, feel a blade of grass or turn around? It is cruel beyond belief, which is why I support Compassion in World Farming.

The Conservative Animal Welfare Foundation also feels strongly about cages for egg-laying birds. My wife insists that when we go shopping, we purchase free-range eggs. Caging egg-laying birds causes immense suffering. Cages confine and restrict the hens' movement. They prohibit many of an animal's natural instincts, and they are a grim reflection on our society. Despite the obvious failings of these miserable cage systems, around 16 million farm animals are trapped in them every year in the United Kingdom.

We need a kinder future for animals. As someone who has kept chickens in reasonably large numbers in an urban area—I do not know whether the neighbours were always pleased about it—I know one can become very fond of one's hen. Could I wring a chicken's neck? It just would not happen. They are wonderful animals. I hope we can persuade the small minority of the farming community to stop keeping them in such a cruel manner.

Luxembourg has already banned the use of enriched cages—I know it is only a small country—and Austria and Germany are beginning to phase them out. In conclusion, in response to the petition on this issue last year—in fact, I think I chaired the proceedings and that the then Minister is now in the other place—the Government highlighted that cage bans have already been introduced where there is clear evidence that they are detrimental to the welfare of animals. Science shows us that the caging of animals is cruel and inhumane. Will the Minister reply positively and tell us that over a period, these outdated practices will be banned?"
The Minister Victoria Prentis said:
"The Government are currently examining the future use of cages for all laying hens, and I welcome the commitment from our major retailers, with positive support from our egg producers, to stop retailing eggs from enriched colony cage production systems by 2025. I was interested in what the hon. Member for North Ayrshire and Arran (Patricia Gibson) said about Morrisons, and we obviously welcome its going further. The Government are also considering the use of cages for game birds, including the systems used for breeding pheasants and partridges. The hon. Member for Cambridge outlined how they are governed by the Animal Welfare Act 2006 and its associated code of practice, which provides keepers with guidance. The Act and DEFRA's code are enforced by the Animal and Plant Health Agency.

My hon. Friend the Member for Southend West described farmers as big softies, and I should probably confess at this point that I have kept pigs in the past. They are one of my favourite animals—if a Minister is allowed to have favourite animals. My pigs were extremely free range, to the extent that they sometimes caused a nuisance in the village—the Agriculture Bill Committee heard a lot about that. As we heard earlier, the UK has led the way on improving pigs' welfare by banning the keeping of sows in close confinement stalls in 1999. I am not in any way criticising that decision, but it is worth noting, as my hon. Friend did, that we were about 80% sufficient in pigmeat in 1998. The figure had fallen to about 50% by 2003, and it is currently about 56%. I am extremely keen not to outsource animal welfare issues to other countries.

The Government have made it clear that we remain completely committed to the ambition that farrowing crates should no longer be used for sows. Indeed, the new pig welfare code, which I mentioned earlier, clearly states:

"The aim is for farrowing crates to no longer be necessary and for any new system to protect the welfare of the sow, as well as her piglets."

It is important that we make progress towards a system that both works commercially and safeguards the welfare of the sow and her piglets, and that we do so as quickly as possible. The UK is already ahead of most pig-producing countries on this issue, with about 40% of our pigs living and farrowing outside. Good progress has been made, but there is more to do.

As the hon. Member for Bristol East said, DEFRA has funded research into alternative farrowing systems. The commercial development of farrowing systems and practices is not sufficiently advanced to recommend the compulsory replacement of all farrowing crates, but I ​am keen to work with the industry on this—using both carrots and sticks—because it is important to not simply move production abroad.

I thank the hon. Lady for securing the debate. The Government place great importance on the welfare of all our animals. The measures that I have set out demonstrate clearly the steps that the Government have already taken and will continue to take to strengthen our high animal welfare standards. We are actively exploring options to do with the use of cages and will work with industry to improve animal welfare in a sustainable way. The provisions in the Agriculture Bill will help us to do that".