31st March, 2022: The Conservative Animal Welfare Foundation, the Humane League UK, and the RSPCA hosted influential figures across the media, government and food sector to call for an end to cages for laying hens.

A parliamentary reception held by Henry Smith MP was attended by politicians from across the political spectrum including the Secretary of State for Environment, Food and Rural Affairs George Eustice and the Shadow minister for Food, Farming and Fisheries Daniel Zeichner.
Speaking about so-called enriched cages, George Eustice said:
"It was always recognised that that was really a stepping stone to something further, and moving beyond cages altogether. […]
The crucial thing is to make sure we have worked out that journey and that path so that we can make sure that industry is ready for the switch when it comes. Many of them are already thinking about this obviously because the retailers put the writing on the wall and did some time ago."
The Secretary of State also suggested that the Government would hold a consultation on the topic of banning cages for hens this year.
His Labour counterpart Daniel Zeichner went further and said:
"I am very happy to sign up on behalf of my party to the end of the cage age which goes beyond chickens and goes to farrowing pigs and possibly to some of the game birds."
He also suggested that the Government risked falling behind the EU if they did not act promptly, which has committed to phasing out all cages in agriculture by 2027.
The reception was held in honour of the Beatrice Campaign to end cages for hens, named after Beatrice, a hen who spent her first 18 months of life living in a cage. When she was rescued much of her body was bare, suffering from severe feather loss due to the other birds repeatedly pecking her.
Now Beatrice is healthy and recovering at her rescuer's home, and has regrown all of her feathers.
Henry Smith MP tabled Beatrice's Bill in September 2021, a private members bill which calls for cages for laying hens to be banned.
Henry Smith said of Beatrice: "She's a very lucky bird to have experienced that rescue but sadly tens of millions of hens are unable to live that sort of life."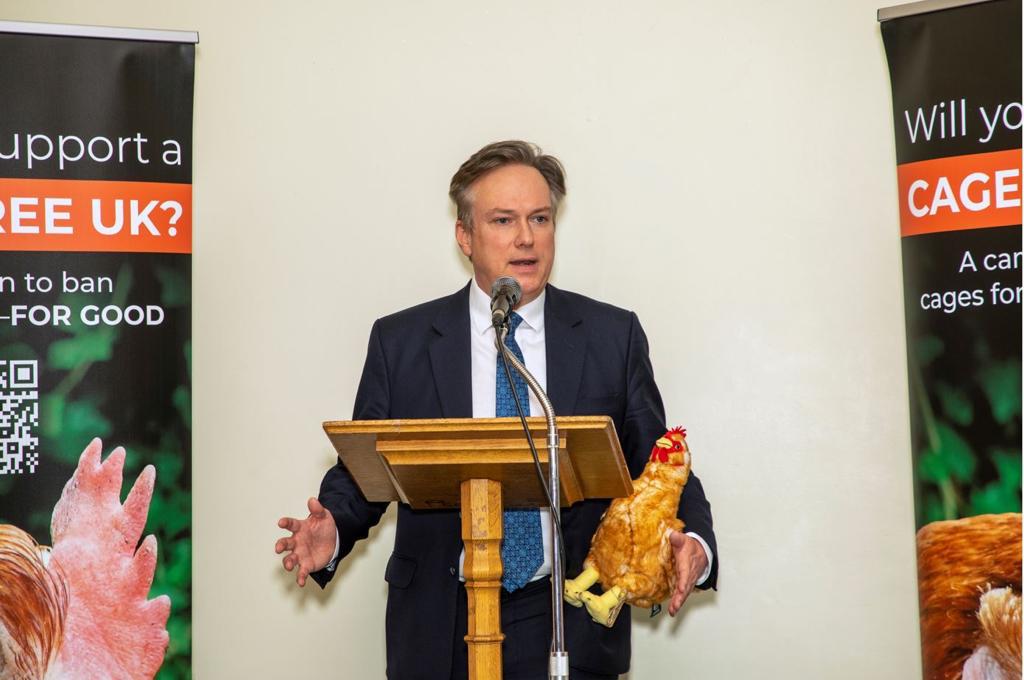 Also in attendance were vegan author and TV star Lucy Watson and her husband James Dunmore, media personality Kirsty Gallacher, TV veterinarian Marc Abraham and actor Peter Egan, as well as food industry representatives from Waitrose and Greggs.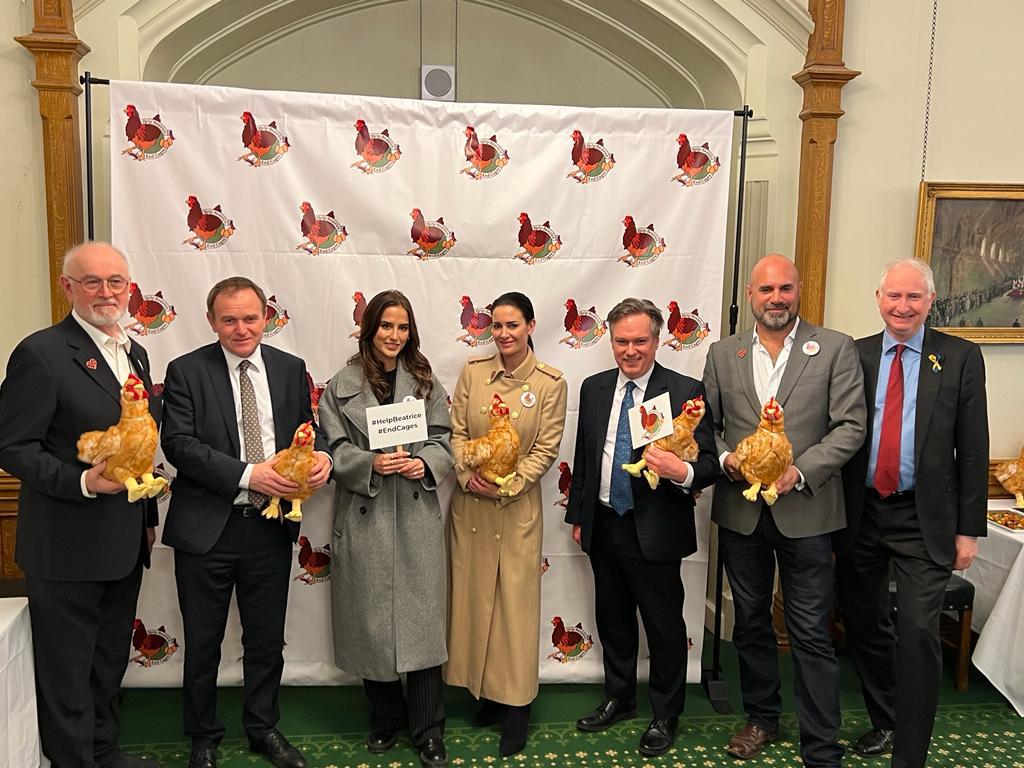 All major UK supermarkets have committed to remove eggs from caged hens in their supply chains by 2025, and companies like Burger King have committed to do so for their global supply chains.
Switzerland, Luxembourg and Austria have already banned caging hens, while bans are on the way in Germany, Belgium, Czechia, and Slovakia. Seven US states have already phased out cage-egg production.
As many as 14 million chickens languish in cages across the UK, despite 76% of UK consumers considering the banning of cages to be a priority issue.
Cages severely impact the wellbeing of hens, restricting their movement and frustrating their ability to perform innate behaviours like wing flapping, stretching, body shaking, tail wagging, foraging, dust-bathing, perching and nesting.

Cordelia Britton, Head of Programs at The Humane League UK, said: "It was exciting to see so many influential people gather to oppose cages for hens in this country. We have an ethical obligation to treat animals well and our diverse group of guests reflects the widespread public support for change. I hope this is the beginning of the end of barbaric cages for hens."
Lorraine Platt, Co-founder of the Conservative Animal Welfare Foundation, said: "We are delighted to be part of the Beatrice's Bill coalition to end cages for laying hens. Today marks an important step forward both in raising awareness of the horrific conditions millions of laying hens are kept in each year, as well as showcasing the strength of political support for ending this practice in the UK.
"It was particularly valuable to hear from the Secretary of State for Defra, the Rt Hon George Eustice MP, who attended the reception and spoke powerfully on the Government's animal welfare agenda. We would like to thank him for his speech, as well as CAWF Patron Henry Smith MP for hosting this reception and bringing parliamentarians, campaigners and celebrity supporters together around this important issue."
David Bowles, Head of Public Affairs at the RSPCA, said: "We fully support Beatrice's Bill and are keen for the Government to make progress with this. We believe there is a lot of public support for banning cages and with around 60% of laying hen production in the UK already being cage-free we know there is a lot of industry support too.
"The RSPCA believe that hens should experience a good life and be provided with an environment where they can express their natural behaviours but enriched cages only provide each hen with a small space, roughly the size of an A4 sheet of paper meaning their movement is restricted. This is why we are pleased to see this Bill shining a light on this outdated practice and hope to see the Government act to ban cages soon."