On the 10 March Sir David Amess MP will lead a Ten Minute Rule Bill on prohibiting the use of farrowing crates and improving the welfare of pigs entitled "Pig Husbandry (Farrowing) Bill". We must put a stop to this cruel practice.
There are 500,000 sows in the UK, 55% are caged.
The crates severely restrict the sow's movement and her strong instinct to build a nest before giving birth. Farrowing crates have been banned in Sweden, Norway and Switzerland already. The farrowing crate use is allowed and used routinely in the rest of the EU, however there are commercially available free-farrowing systems: 360 degrees; PigSafe; and, SWAP systems.
Sow stalls (where pregnant pigs are kept indoors in sow stalls, have no access to the outdoors and are deprived of natural movement) are illegal in the UK and Sweden and banned across the EU from 2013, except for the period of weaning of the previous litter until the first 4 weeks of gestation. They are being phased out in the US and in New Zealand.
Conservative Animal Welfare Foundation calls for a ban on farrowing crates which severely restrict the sow's movement and her strong instinct to build a nest before giving birth.
The Farrowing Crate is a small metal cage in which pregnant sows are imprisoned for weeks on end, usually from a week before giving birth until their piglets are weaned three to four weeks later. She will be subjected to this roughly twice a year. The metal frame of the crate is just centimeters bigger than the sow's body and severely restricts her movements. She is completely unable to turn around, can scarcely take a step forward or backward, and frequently rubs against the bars when standing up and lying down. Beside her cage is a "creep" area – for her piglets. The flooring is hard concrete and some form of heating, either mats or more commonly heatlamps, is used as a substitute for the warmth of their mother's body. Sows instinctively want to care for their baby piglets but are deprived of building them a nest on industrial farms and are unable to exhibit their natural behaviours. We need Change now. Pigs are highly intelligent animals and scientists have shown that they can play computer games.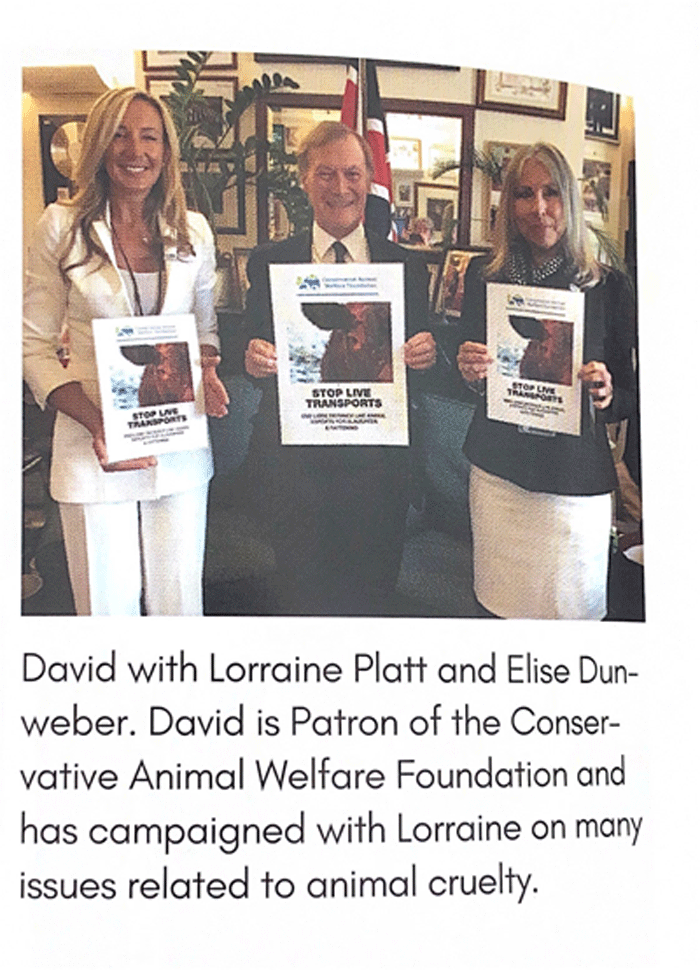 Our Patron Sir David's book, Ayes and Ears: A Survivor's Guide to Westminster, has been nominated for the 2020 Parliamentary Book Awards. The book includes a photo of Sir David and Conservative Animal Welfare Patron Elise Dubweber and Founder Lorraine Platt holding a placard to end live exports for slaughter and fattening.
All royalties go to three charities
Music Man Project
Prost 8 uk
Endometriosis UK