Transporting live animals long distances is cruel and unnecessary. Let's put an end to it together.
Globally millions of farmed animals are transported over long distances every year. Animals are put at risk on journeys, and many are exposed to suffering when they reach their destination. Join this global movement and take action to raise public awareness and signal to policymakers and the industry that this cruel practice must end now.
In response to the COVID-19 restrictions, the event will be solely on social media this year, harnessing the power of Twitter, Facebook and Instagram to raise global awareness and build pressure on world leaders to ban live exports, once and for all.
THEME: Global solidarity against live exports.
This year's global theme is simple, yet more relevant now than ever. The global live export trade connects us all. Animals who begin their journeys in Scotland endure gruelling journeys to Spain. When shipments in Australia stop, importers look to countries like South Africa and Romania to fill the gap. Plus, we're becoming ever-more connected in our global efforts to end live exports. The international outrage sparked by recent live export tragedies – such as the tragic loss of 14,600 sheep after an overloaded vessel capsized off the Romanian coast – shows that the world is waking up to the cruelty of live exports. Now is the time to say "never again" to such tragedies; now is the time to push for an end to this barbaric trade forever.
Take action on 14th June:
Social media has become a more important tool than ever in our fight for farm animals. It's keeping us connected, united, and enabling our voices to be heard all over the world.
So, for the 2020 day of global action, we want to harness the power of platforms like Facebook, Twitter and Instagram to raise awareness and build pressure on world leaders to ban live exports, once and for all.
We hope the 'virtual' focus of this year's International Awareness Day will also allow people who can't usually travel to events – and campaigners in more countries than ever – to take part.
Join the global Twitterstorm from 11am – 1pm BST on Sunday 14th June – let's get #BanLiveExports trending!
Join the Facebook event for Ban Live Exports: International Awareness Day
For more information , please visit https://stoplivetransport.org/
Please print off this A4 poster image and tweet #BanLiveExports or post on Instagram or Facebook to show your support to end live exports on 14 June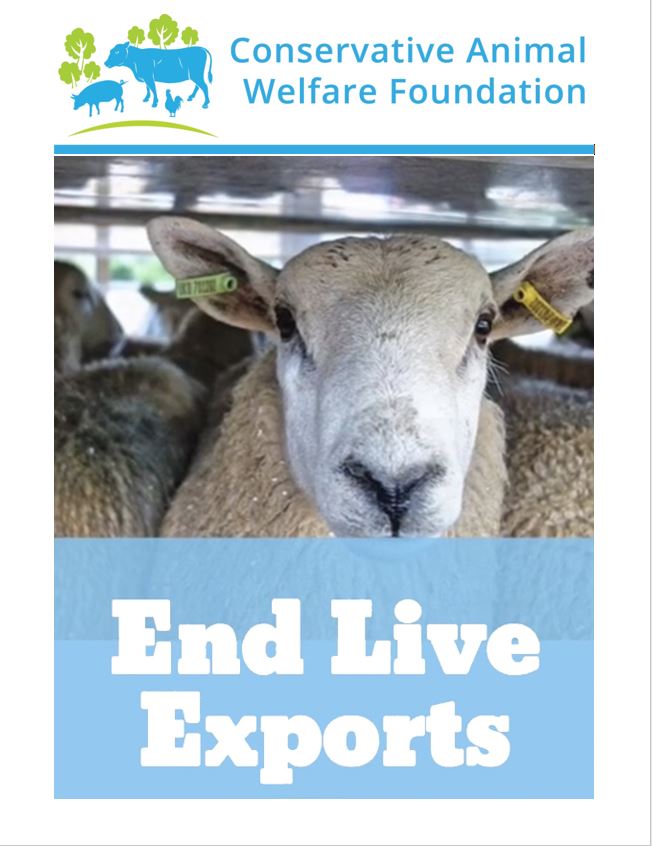 Gallery of past global awareness days in 2017, 2018 and 2019 to end live exports , including photos with our Patrons – Rt Hon Lord Goldsmith, Rt Hon Theresa Villiers MP, Rt Hon Sir Roger Gale MP, Sir David Amess MP and John Flack. Photos show Craig Mackinaly MP, Giles Watling MP and Mark Pritchard MP.