London, 19th October 2023
Yesterday (Wednesday 18th October) – Conservative Animal Welfare Foundation (CAWF) was pleased to join a coalition of leading charities and NGOs including Compassion in World Farming (CIWF), Humane Society International UK (HSI/UK) and RSPCA for a joint parliamentary reception hosted by former Secretary of State for Defra George Eustice MP.
The event called for legislation to:
End live exports from Great Britain for slaughter or fattening
Ban the import of puppies and kittens under 6 months, along with other restrictions such as the import of dogs with cropped ears
Make dog abduction a specific offense
In May, the UK Government announced they had discontinued the Animal Welfare (Kept Animals) Bill and committed to delivering its provisions through alternative legislative vehicles. With a General Election expected next year, there is limited parliamentary time to honour this pledge.
Ending live exports is a key Conservative Manifesto pledge. During long journeys, animals experience overcrowding, stress, exhaustion, dehydration, hunger and even death. In recent months, other countries have taken action to ban or phase out the trade, which now risks the British Government falling behind.
In addition, 86% of the public support measures to end the illegal puppy trade, 76% support a ban on imports of dogs with cropped ears and 81% measures to make dog theft a specific offence*. Yesterday's coalition called on the Government to raise the minimum age for dogs to be transported into the UK to six months and limit the maximum number of dogs that can be transported in one journey to three dogs.
More than 40 MPs from the Conservatives, Labour, Lib Dem, SNP and DUP parties were in attendance, including Leader of the House of Commons Penny Mordaunt MP.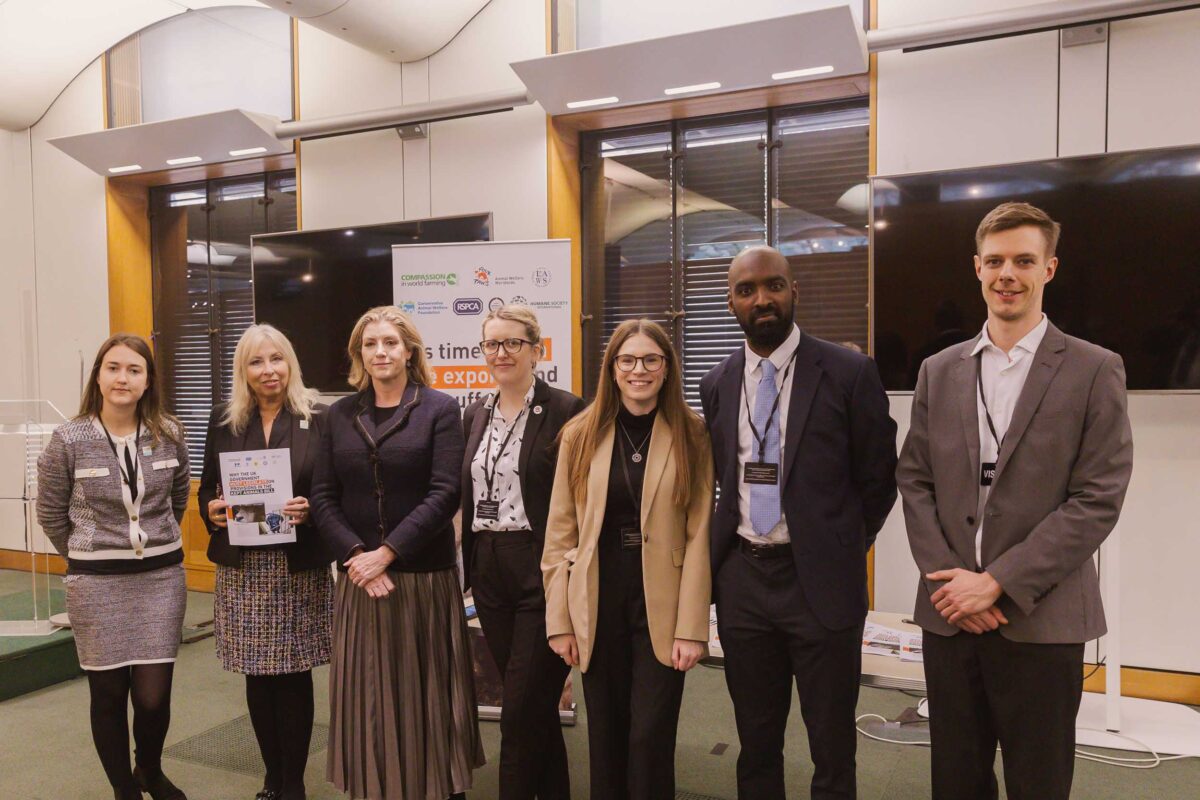 The Rt Hon George Eustice MP, who hosted the event, said: "The Kept Animals Bill was packed with measures that improved animal welfare and enjoyed cross party support. It was great to see so many MPs showing their support for taking the various components forward as stand alone Bills in the final session of this parliament and we will work together to take these forward".
Lorraine Platt, Co-Founder of Conservative Animal Welfare Foundation commented: "We were delighted to join Compassion in World Farming, Humane Society International UK, RSPCA and others in calling for the provisions of the Kept Animals Bill to be delivered in legislation. It was encouraging to see many MPs attend and show their support for critical measures like ending live exports for fattening and slaughter, a key Conservative Manifesto commitment. We would like to thank all of the MPs who came along yesterday, including our host George Eustice MP and Leader of the House of Commons Penny Mordaunt MP. We will continue to call for these policies to be delivered as soon as possible."
James West, Chief Public Affairs Manager at Compassion in World Farming UK, said: "We know that a ban on live exports has huge public support, and it's great to see that reflected in the large number of MPs who attended the event today. It is now time for the UK Government to take note and finally deliver the long-awaited Bill to ban live exports so this trade is ended once and for all. Thank you to all those MPs that attended today's session and for helping to keep up the pressure to ensure legislation to ban live exports remains on the UK political agenda."
Sonul Badiani-Hamment, Country Director at FOUR PAWS UK said: "With FOUR PAWS UK's new report, 'Tricks of the Trade: the truth about the illegal puppy trade in the UK', revealing that almost half of all puppies sold on Gumtree were found to have been illegally imported into the UK between 2020 and 2021, it is clear that legislative change is urgently needed to tackle puppy smuggling.
"We urge the Government to reintroduce the measures contained in the dropped Kept Animal Bill, that had overwhelming cross party and public support, in the next Kings Speech to protect both consumers and animals and help demolish this cruel trade for good."
About Conservative Animal Welfare Foundation (CAWF)
The Conservative Animal Welfare Foundation was established in 2016 to raise awareness on the lives of billions of animals reared on intensive farms around the world and how this impact upon animal welfare, the environment and people's health. We want to highlight the action people can take to help advance farm animal welfare.
Animal welfare is an increasing concern amongst the public, who frequently look to Government to take the lead in both maintaining and improving standards.
The Conservative Animal Welfare Foundation believes it is highly important that the welfare of farm animals is placed at the forefront of the Governments plan for food and farming along with its focus on productivity, competitiveness, and technology.
Media contact: Sophia Stileman (sophia.stileman@conservativeanimalwelfarefoundation.org)
Notes to editors:
*Savanta October 7th – 9th 2022, 2309 public polled
The event in Parliament was hosted by the Rt Hon George Eustice MP and organised by Compassion in World Farming, Humane Society International/UK, RSPCA, FOUR PAWS UK, Battersea Dogs & Cats Home, World Animal Protection, Dogs Trust, Conservative Animal Welfare Foundation and Labour Animal Welfare Society.