End of Live Animal Exports for Slaughter Could be a Step Closer 
A reception took place on Monday 29 January at the House of Commons calling for an end to live animal exports for slaughter.
It was hosted by Craig Mackinlay, MP for South Thanet who includes the port of Ramsgate within his constituency and where this cruel practice can be witnessed. Over 50 MPs attended the event organised by the Stop Live Exports Petition Team, the Conservative Animal Welfare Foundation and Compassion in World Farming. It included the RSPCA, Kent Action Against Live Exports, Eyes On Animals and celebrity supporters Selina Scott, Joanna Lumley, Georgina Toffolo, Celia Hammond, Jan Leeming,  Mark Abraham, Frederick Forysth, Stanley Johnson,  and Sir Ranulph Fiennes.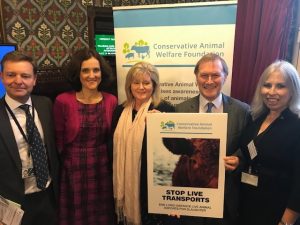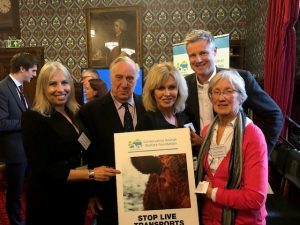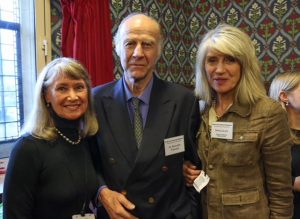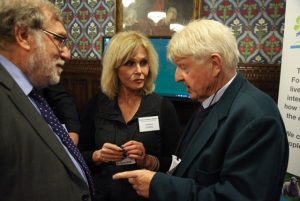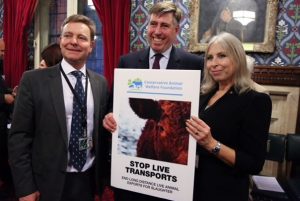 The event was well attended by MPs including Conservative Animal Welfare Foundation Patrons, Sir David Amess MP, Henry Smith MP, Zac Goldsmith MP, Theresa Villiers MP and Carrie Symonds.
The event was particularly timely given that Chipping Barnet MP, Theresa Villiers' Private Members' Bill on ending live animal exports is due to have its second reading in the House of Commons later in the week on 2 February.
Ms. Villiers was one of several speakers who highlighted the cruelty of live animal transport. Other spokespeople were Selina Scott of the Stop Live Export Petition Team (SLEPT),Philip Lymbery, CEO Compassion in World Farming, David Bowles, Head of Public Affairs, RSPCA, Ian and Yvonne Birchall, Co-founders of Kent Action Against Live Exports(KAALE), Lorraine Platt, Co-founder of the Conservative Animal Welfare Foundation and Nicola Glen, representing Eyes on Animals charity.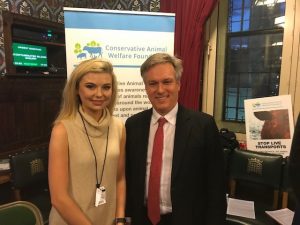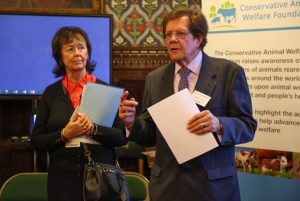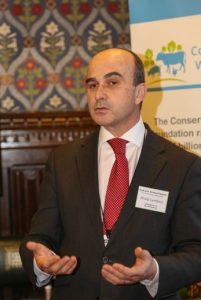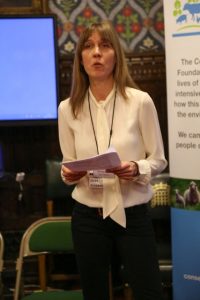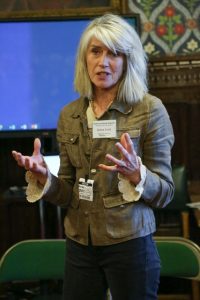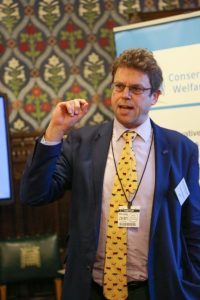 A Westminster Hall debate on the issue has also been scheduled to take place on 26 February and the campaigners were keen to use the event to obtain the support of as many MPs as possible. The debate has been secured thanks to a petition started by a pensioner from Romford, Janet Darlison.
Towards the end of 2017 the petition was launched https://petition.parliament.uk/petitions/200205 and in just 15 weeks attained over 50,000 signatories. The campaigners recognise the need to maintain pressure and gather as many additional signatures as possible to demonstrate the strength of support for a change in the law and to get as many MPs on side as they can.
BREXIT may well be positive for animal welfare and offers an opportunity to improve on the existing EU legislation. After Brexit the UK would be able to stop the EU law that allows live cattle and sheep to be exported to the Continent for slaughter. This is a grim trade in which animals are sent sometimes without a vet, water, or food in cramped conditions, thousands of miles to be killed. EU law allows this barbaric practice but after Brexit the law could be changed to ban it.
The Secretary of State Mr Michael Gove has been making positive comments about restricting the trade and even a possible ban on live exports.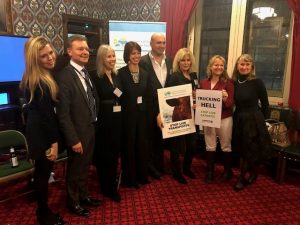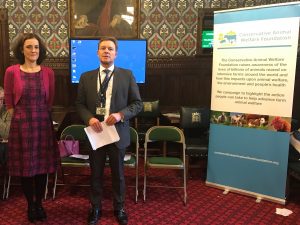 South Thanet MP and host of the End Live Exports Parliamentary Reception said:
"The live animal export trade in the UK is now wholly focused on Ramsgate in my constituency and I remain committed to do all I can to see this incoherent trade stopped. That is why I am so pleased to be hosting this important event in Parliament.
"The pressure that I and other colleagues are bringing to bear on the Government to finally put a stop to this barbaric practice once we leave the jurisdiction of the EU will hopefully be reflected in a future Agriculture Bill that will set out the framework of post-Brexit farming. On this issue, I will not stop until we are successful."
Lorraine Platt, Co- Founder of Conservative Animal Welfare Foundation added:
"With the UK set to leave the EU, we now have a unique opportunity to stop live exports for slaughter, once and for all. By leaving the European Union, we are free to ban live animal exports. Conservative Animal Welfare Foundation urges the government to end live animal exports for slaughter.
We have had two private meetings with Farming Minister George Eustice to end live exports and more farm animal welfare issues. Indeed, as Co-Founder I had a one to one meeting last week with the Secretary of State Mr. Michael Gove and urged for an end to live exports for slaughter amongst other animal welfare issues.
We are pleased that our Secretary of State spoke on steps to tackle live exports at the Conservative Animal Welfare Foundation and Conservative Environment Network joint parliamentary event last month hosted by Sir Roger Gale MP. We want to do all we can to support our Secretary of State to achieve a ban on live exports. We want to thank Craig Mackinlay for hosting this event today and for his hard work on this issue for years. We also want to thank Theresa Villiers for leading her Bill to end live exports and wish her much success with the second reading of her Bill on 2 February.
We call on everyone to contact their MP and ask them to speak out against live exports for slaughter at the Westminster Hall debate on the 26 February. Animals have no voice of their own and we must use ours to ban live animal exports. Let's seize this opportunity that Brexit presents, so that future generations of animals no longer have to endure the practice of live exports for slaughter".
-Ends-
 MEDIA COVERAGE OF THE EVENT:
Farming UK:
https://www.farminguk.com/news/Over-50-MPs-attend-House-of-Commons-event-calling-for-live-export-ban_48480.html
Farmers Weekly:
http://www.fwi.co.uk/livestock/mps-urged-to-ban-live-animal-exports-for-slaughter.htm
Stackyard. Com- Agriculture News On The Net
http://www.stackyard.com/news/2018/01/business/13_cawf_export.html
For further information about this press release and hi-res images, contact:
Lorraine Platt on info@conservativeanimalwelfarefoundation.org