EU investigates 'illegal' 56-hour lorry journey of two-week-old calves destined for veal market
'They are bellowing because they want their mothers' milk – it's a haunting sound'
European Union lawyers are investigating a formal complaint from animal welfare campaigners who claim that hundreds of unweaned calves were sent on a 56-hour journey without water to a veal farm.
The 315 animals were among a consignment of 5,000 calves sent on a ferry journey of 19 hours from Ireland – 10 hours more than the legal time limit, according to Eyes on Animals, a Netherlands-based animal rights organisation.
They said it is one example of how the law on live exports is routinely flouted.
The Irish agriculture minister said an investigation is under way after authorities there were accused of turning a blind eye to transport time regulations.
Eyes on Animals said it monitored 17 lorries loaded onto a ferry at Rosslare in the Irish Republic that were heading for Cherbourg.
The calves, between two and four-weeks-old, were destined for farms in Belgium and Holland, where, despite still being dependent on their mothers' milk, they spend several weeks in pens, fed a mostly liquid low-iron diet to keep their meat white for Europe's veal market.
Only three attendants were on board the ferry to ensure the calves' welfare, instead of 17 – one for each lorry as required by law, according to the monitors.
Under EU law, unweaned calves may be transported for no more than nine hours, followed by an hour's rest, before another nine hours of travelling.
The witnesses said that once in France, at least six of the 17 lorries did not stop at the first available resting post, in breach of the law.
Instead they said they drove another five hours to a post at Abbeville that had been knowingly approved by the Irish authorities.
Eyes on Animals investigators trailed one lorry, containing 315 calves, on a total journey of 56 hours 11 minutes to a Dutch veal farm – the sort that is banned in Britain because they are considered too cruel.
Footage showed the animals had no water in all that time because the drinking teats were not facing into the truck and some were missing.
Calves on the first level did not have enough headspace and their backs almost touched the ceiling, and the water system was then switched off for the journey from France to Holland, Eyes on Animals claimed.
A driver told the investigators that such breaches continued even after they were reported to the Irish authorities.
Eyes on Animals, together with Compassion in World Farming and French and German animal welfare groups, sent their formal complaint to the European Commission.
They are also petitioning the ferry giants Stena Line and Irish Ferries Limited to stop accepting live transport cargos.
The groups say this is the ninth time since 1999 that investigators have trailed live-animal trucks being exported from Ireland and reported breaches of EU laws to the authorities – but that nothing is done to enforce welfare regulations.
Nicola Glen, of Eyes on Animals, told The Independent: "These calves are only 14 days old, they need to be fed every seven or eight hours, they're suffering because they're given no nutrition and they're usually seen lying down because they're tired and lethargic.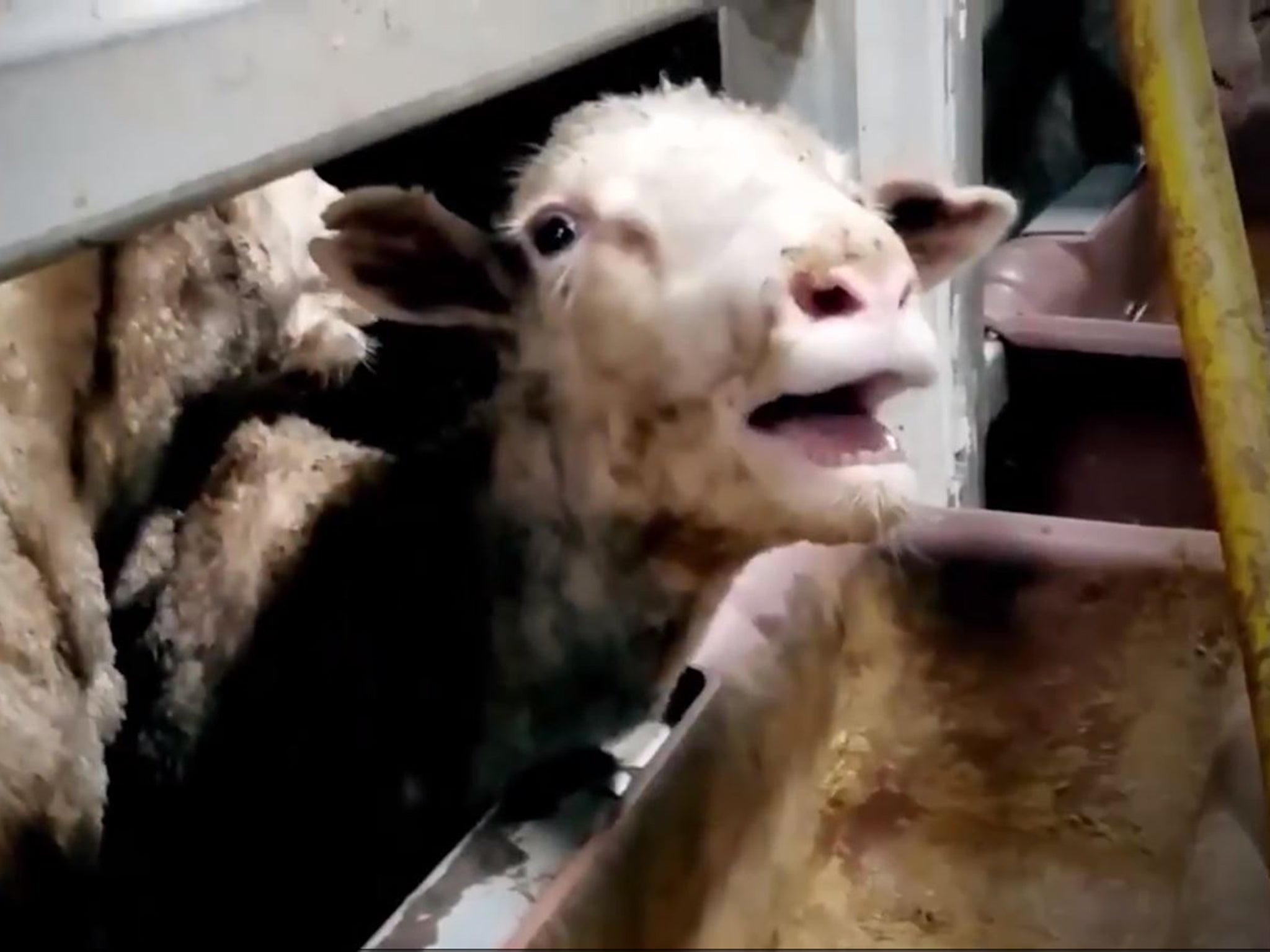 If you're a compassionate meat-eater, you should oppose live exports
"They are bellowing because they want their mothers' milk – it's a haunting sound."
Unweaned calves are particularly vulnerable during transport because their immune systems are undeveloped, welfare experts say.
Ms Glen believes that because ferry journeys alone from Ireland to France last 18 to 20 hours – beyond the nine-hour limit – all live exports from the republic to Europe are illegal.
Ireland's agriculture minister Michael Creed told his country's parliament, the Dail, that a thorough investigation was under way in conjunction with the French authorities.
The Independent has contacted the Irish Agriculture Department to ask for a comment.