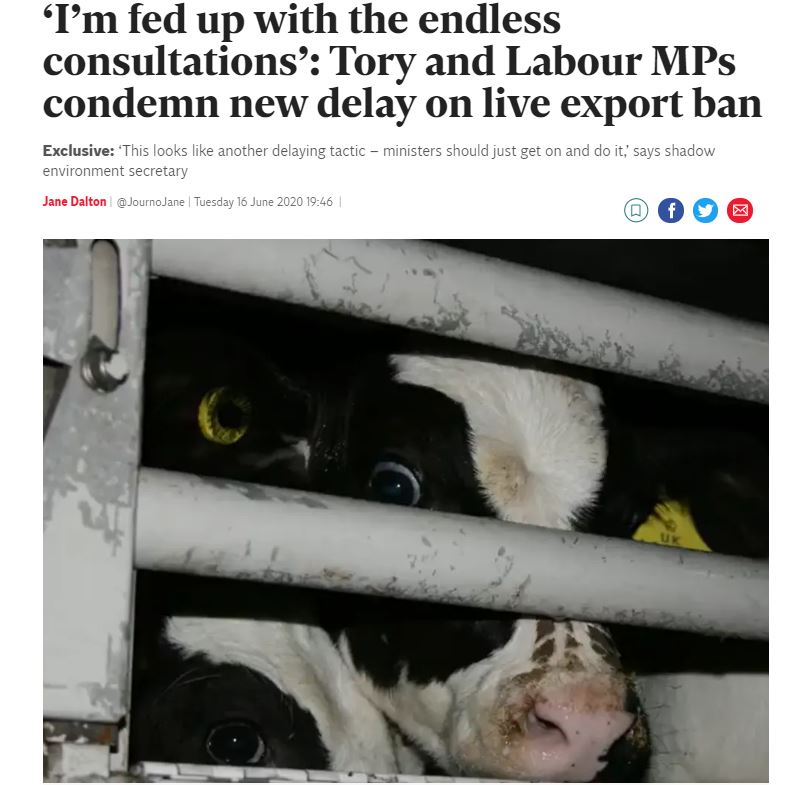 Jane Dalton writes for Independent on live exports, 16 June 2020:
'Conservative and Labour MPs say they are dismayed the government plans to hold another public consultation on live exports – again delaying a decision on a ban after years of signalling support for one.
One senior Tory is writing to the environment secretary demanding an explanation.
The department of environment, food and rural affairs (Defra) says ministers are planning a fresh consultation, just two years after the last one.
The 2017 Conservative manifesto said it would be "possible to take early steps to control" the export of animals for slaughter, and last year's manifesto promised to end "excessively long journeys for slaughter and fattening" after Brexit.
Michael Gove, when he was environment secretary, in 2018 strongly signalled he wanted to end live exports, saying "all options" would be considered. He issued a call for evidence on curbing live exports for slaughter and improving animal welfare during transport.
The same year, as Boris Johnson campaigned to become Tory leader, he held out hope to animal lovers of a ban, condemning the trade as "barbaric".
But the government then asked advisers to make recommendations on improving conditions – and again no plans for a ban materialised.
MP Sir David Amess, a member of the Conservative Animal Welfare Foundation, told The Independent:
"It sounds churlish but I'm fed up with the endless consultations, so I'm surprised we're having another one.

"I've always listened to ministers on this, and always got the impression that we agreed that live exports of animals is not acceptable and we're going to do something about it. So I don't understand why we're having yet another consultation."
He said he would be writing to George Eustice, the environment secretary, to ask why there would be another consultation and would raise questions in the Commons.
The UK exports more than half a million animals abroad each year. The trade was worth £1.6bn in 2014-18. Another shipment of live animals is due to go from Ramsgate on Thursday.
"You've only got to look at these animals to see the way they're squashed together – it's disgraceful," he said.

"I think there are many Conservative MPs who feel as strongly as I do. I'm mystified by the way the department is dealing with this. I want the voice of the silent majority to be heard."
Shadow environment secretary Luke Pollard said:
"If true, this looks like another delaying tactic. Ministers should just get on and do it, while maintaining transport on the island of Ireland.

"The government does not need another consultation to ban live animal exports. The number of animals exported is very small but there is political agreement on a ban.

"We should not need another costly consultation for the same groups to say the same thing for ministers to act."
Defra says its new proposed consultation is wider in scope than the last one as it would cover "excessively long journeys for slaughter and fattening".
In a new report on the export of EU animals by sea, the European Commission documents sub-standard vessels, inadequate checks on ships and poor legal accountability.
It also identifies illegally high temperatures in lorries, and under-reporting of animals that are unfit to travel.
Animals are regularly moved across the border between Northern Ireland and the republic in both directions, with many thousands sent from the north to Europe via the south. Last year, the republic exported nearly 300,000 live animals.
Ministers of successive governments have argued that under the rules of the EU single market, which guarantee free movement of goods, it is not possible for any member state to ban live animal exports.
Veteran Tory MP Sir Roger Gale, a patron of the foundation, said the government should ban live exports from 1 January, when the Brexit transition period ends, and set up a chain of local abattoirs to replace those that have closed over the years.
"If a consultation is a way of kicking this into the long grass, it's bad news but if it's a way of producing a thorough response that would a good thing," he said.
A Defra spokesperson said:
"The government has committed to improving the welfare of animals during transport and ending excessively long journeys for slaughter and fattening, and will be launching a public consultation in due course."
https://www.independent.co.uk/news/uk/home-news/live-exports-ban-delay-uk-eu-defra-david-amess-a9569366.html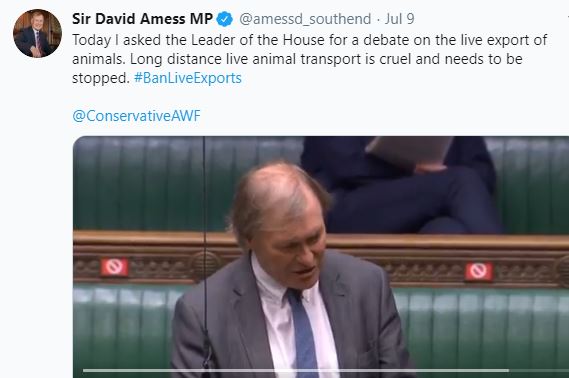 Sir David called for a debate on banning real fur imports and live animal exports
From the website of Sir David Amess MP
On Thursday 9th July, Sir David Amess, MP for Southend West, spoke at Business Questions and called for a debate on the export of live animals. Sir David has been a champion for animal rights and welfare his whole life and has been outspoken about the topic continuously during his Parliamentary career.
Sir David has signed the Early Day Motion against real fur imports. It urges the Government to introduce legislation to ban the imports and sales of real fur products. The UK has banned the main methods of fur production, namely leg-hold trapping and fur factory farming, due to their cruelty. Therefore, the import of real fur should not be allowed.
The fur industry in the UK has significantly declined over the last 40 years and is now rejected by the majority of global fashion houses and UK high street retailers. A comprehensive fur ban will help maintain the UK as a global leader in the promotion of animal welfare.
Sir David said
"Will my Rt hon. Friend find time for a debate on the live exports of animals. I was horrified to learn that yet again we are going to have more consultation on the subject. All Members are being inundated with emails about the import of real fur. Exporting live animals is cruel. It needs to stop. We don't need any more consultation".
Jacob Rees-Mogg replied:
"My hon Friend makes his case as always with passion and energy … One of the many advantages of leaving the European Union is that we will be able to make these types of laws for ourselves and we won't have to give way to a higher power. And his energetic championing of these issues in Parliament will have its consequences".
Want to take action? Write to your local MP!