MEDIA RELEASE – LONDON, Monday 16th August

The Conservative Animal Welfare Foundation (CAWF) has today welcomed the Government's announcement that it will become the first country to ban the import and sale of shark fins.

The measures, announced yesterday (15th August), are designed to promote shark conservation and encourage other nations to follow suit. Overfishing and the international shark fin trade have put significant population pressures on the global shark population, with 143 species of shark currently categorised as "under threat" under the International Union for Conservation of Nature. The ban on detached shark fins will also extend to products including shark fin soup.

Animal Welfare Minister Lord Goldsmith has said: "Shark finning is indescribably cruel and causes thousands of shark to die terrible deaths. It is also unforgivably wasteful. The practice is rightly banned in UK waters, but the trade continues, with serious implications for the future of these magnificent creatures."

The Government's full announcement can be read here.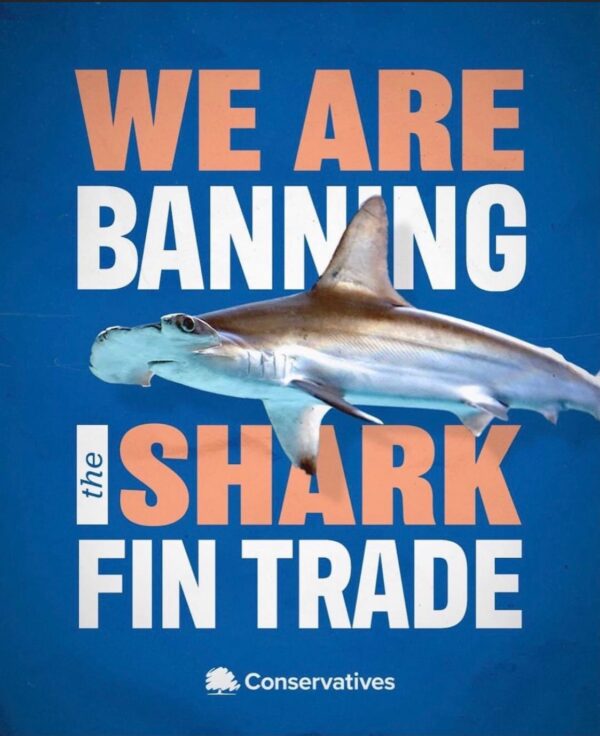 Lorraine Platt, Co-Founder of Conservative Animal Welfare Foundation, commented: "We are delighted to hear that the Government will ban the import and sale of shark fins in the UK. The practice of shark finning is incredibly cruel and completely incompatible with our nation's high regard for animal welfare.
"We know that a number of species of shark are sadly classified as "critically endangered", with the practice of shark finning playing a significant role in their decline. It is our hope that by banning the import and sale of shark fins the UK will send a strong message when it comes to protecting endangered species and standing up for the welfare of animals abroad.
"Yesterday's announcement follows a string of measures by the Government included within the Action Plan for Animal Welfare, designed to strengthen the UK's role as a global leader in animal welfare. The CAWF fully supports these efforts and will continue to champion these Bills as they progress through Parliament."

About Conservative Animal Welfare Foundation (CAWF)

The Conservative Animal Welfare Foundation was established in 2016 to raise awareness on the lives of billions of animals reared on intensive farms around the world and how this impact upon animal welfare, the environment and people's health. We want to highlight the action people can take to help advance farm animal welfare.

Animal welfare is an increasing concern amongst the public, who frequently look to Government to take the lead in both maintaining and improving standards.

The Conservative Animal Welfare Foundation believes it is highly important that the welfare of farm animals is placed at the forefront of the Governments plan for food and farming along with its focus on productivity, competitiveness, and technology.