The Conservative Animal Welfare Foundation (CAWF) has today published a new report into the use of cleaner fish on salmon farms in the UK.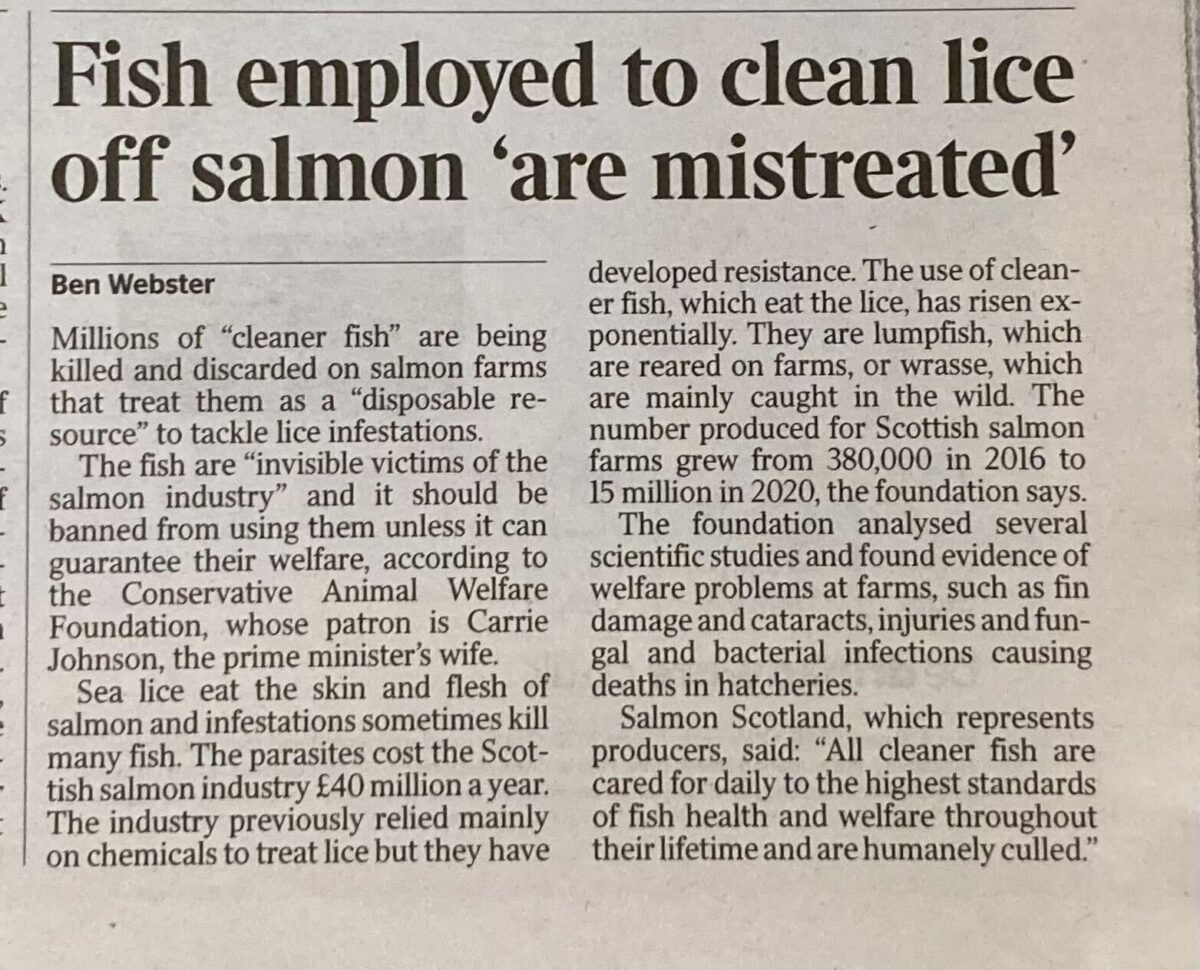 The report, 'Cleaner Fish – the millions of hidden casualties of the salmon industry', spotlights the use of lumpfish and wrasse species as cleaning tools to consume sea lice on salmon farms, primarily in Scotland. Specifically, it highlights:
The inefficiency and high mortality rate associated with the use of cleaner fish. The 15 million cleaner fish produced in Scotland each year would have a lifespan of up to 29 years in the wild but are slaughtered and discarded at the end of every salmon production cycle when kept on farms. This represents a significant waste, given these fish do not enter the UK food chain, nor are they used for fishmeal or pet food, after slaughter.
The lack of legal protections for cleaner fish: Lumpfish and wrasse species are protected by the Animal Health and Welfare (Scotland) Act 2006 which places a duty of care on those responsible for these animals to safeguard them from needless pain and suffering. However, there are no stand-alone standards to help safeguard their welfare, and Scottish fish farms are not legally required to report or publish the number of cleaner fish they use, their origin, or provide mortality figures.


The lack of knowledge about how they operate: There are currently significant gaps in our understanding of the wrasse and lumpfish used in the salmon industry. There is not a sufficient level of data or insight into their use, effectiveness, and welfare needs.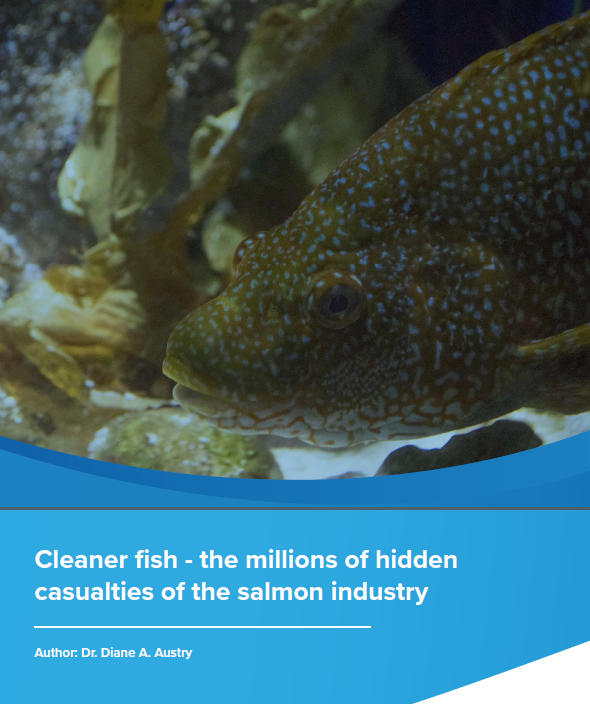 Following these findings, the Conservative Animal Welfare Foundation has made a number of core recommendations. These are:
That Marine Scotland commissions research and a full review into the use of cleaner fish in the aquaculture industry, with a specific focus on the ability of the industry to effectively meet the welfare needs of 'cleaner fish', the numbers of cleaner fish used and killed per annum by the aquaculture industry in Scotland, and the efficacy of cleaner fish as a tool to tackle sea-lice within the aquaculture industry.
That data is collated on an ongoing basis regarding the ability to meet key welfare indicators for cleaner fish, their mortality and escape rates, and the number of 'cleaner fish' slaughtered per annum.
A suspension of the use of 'cleaner fish' by 2027, unless substantial evidence of the availability to meet the welfare needs of cleaner fish, and their efficacy as a tool to tackle sea-lice within the aquaculture industry, is proven. This timeframe would allow for evidence and data to be collected, reviewed and for recommendations to be made and published.
You can read today's report by the Conservative Animal Welfare Foundation here. You can also read CAWF reports into fish sentience here, and the case for mandatory CCTV in fish slaughterhouses here.
"Every year millions of lumpfish and wrasse species are produced by the salmon industry in Scotland for their natural cleaning abilities, only to be discarded at the end of every salmon production cycle. Today's report is an important step in shining a light on this practice, and the welfare and waste issues associated with it.

"Perhaps most concerning is just how little data and research exists into the industry's availability to ensure their welfare needs are protected – particularly considering the sheer numbers of cleaner fish produced each year. It is our hope that today's report will spark change to raise awareness of the widespread use of cleaner fish, increase transparency and the collection of data into how cleaner fish are being used, and ultimately see steps taken to safeguard their welfare going forward."

Chris Platt, Co-Founder of Conservative Animal Welfare Foundation