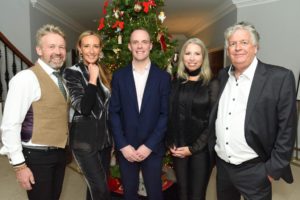 Rt Hon Dominic Raab MP today declared his intention to run in the Conservative leadership contest. Dominic is a Patron of Conservative Animal Welfare Foundation and supports our aims to help advance farm animal welfare and the Environment.
Dominic is a Human Rights Lawyer and served as Secretary of State for Exiting the European Union. The Esher & Walton MP has been a Founder Patron of our voluntary wildlife protection sister organisation Blue Fox ( Conservatives Against Fox Hunting) launched in 2010 and has spoken at Blue Fox wildlife protection welfare events in the House of Commons for many years.
Dominic was the first MP to speak at the initial wildlife protection fringe event organised by our Co-founders at the Conservative party conference in 2010 in Birmingham. He has supported our animal welfare parliamentary events and spoke out to end bull fighting at a fringe event our Founders organised at the Party conference in 2014 in Manchester.
Dominic presents a bold, inspiring, optimistic vision for change and is a hard working much respected MP who speaks out powerfully for the vulnerable.
Other declared leadership contestants at time of publishing include
Rt Hon Michael Gove MP, Rt Hon Boris Johnson MP, Rt Hon Matt Hancock MP, Rt Hon Jeremy Hunt MP ,Rt Hon Andrea Leadsom MP, Rt Hon Esther McVey MP, and Rt Hon Rory Stewart OBE MP.
Photo shows Patrons Rt Hon Dominic Raab MP, Mrs Elise Dunwebber, Chairman of Esher & Walton Conservative Womens Organisation and Founders Lorraine and Chris Platt with Mr Tommy Dunwebber