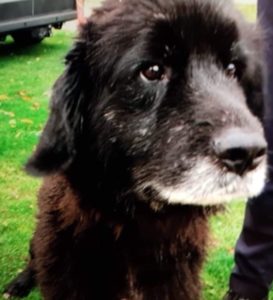 Our Patron Lady Suzy Gale writes a moving account on Bonnie, an adopted Newfoundland, found abandoned from a puppy farm and now has a loving family home with Sir Roger and Lady Suzy Gale. Obviously never buy a puppy off the Internet, insist on seeing both parents if possible and the kennels, make sure it comes with a full "vet check" and if you think your neighbours are running a puppy farm (noise, barking, people coming and going) REPORT it!
BONNIE'S STORY
We lost our wonderful boy Newf, Leo, in May 2018. This left us totally bereft but with our Newf girl, Lollie, remaining and at 11 years old we felt after a while she would need a companion again.
A few months later we heard that a large number of dogs had been abandoned near a village in Norfolk, and outside Grantham in Lincolnshire – and it was felt these two incidents were related. Four of these poor dogs were Newfoundlands.
With a bit of negotiation, assistance and advice from the Kennel Club and a great deal of work by Newf Rescue the RSPCA, who had taken all these dogs in, agreed that they would be willing to hand over the Newfoundlands to Newf Rescue – a splendid decision.
Kirsteen visited the Newfoundlands and was completely horrified at the state they were in, so she set about finding forever homes for these poor creatures.
We were fortunate to be chosen as a suitable home and on 27 November I collected Bonnie from the RSPCA in Grantham. She weighed 36 kg. and looked totally unlike any Newfoundland I had ever seen. She was completely shaved, totally traumatised and it was clear she had probably never lived anywhere but some sort of puppy farm where it is likely she had been used to breed endless puppies. She had sore feet due, no doubt, to living on urine soaked flooring.
We were told she is likely to be about five years old so 27th November is now her "official" birthday, and she will be six this year.
I brought her home and she remained living on her bed in a corner in our hall for weeks. She was, of course, not housetrained, terrified of doors and doorways, and men. Fortunately, she would eat, and loves her food. Water was another matter. The only way I could get her to drink was to cup water in my hands and offer it to her, or use a syringe.
Lollie, and our four cats, were incredibly kind and gentle with her and this seemed to help just a little in beginning to settle her in. Our vet came over to check her out and was able to offer good advice and to just give her time. We also got a great deal of advice and support from other Newf owners, for which we are extremely grateful.
Bonnie stayed in the hall but we gradually managed to coax her out into the garden with a great deal of patience and a fair number of treats! Her fur began to grow but she still had a dreadful look of sadness and fear in her eyes. I just used to sit beside her on her bed in the hall and talk to her, and brush her gently.
About three months in something a little strange happened as she started barking and howling at night having never made a sound before. I ended up sleeping on a sofa every night in a room off the hall where she could see me which seemed to settle her down.
We recently moved to a small, one-storey cottage in our back yard and I have no idea why but Bonnie just loves it and potters into every room and sleeps in our bedroom with Lollie each night.
I am glad to report after many months we have made great strides. Bonnie now goes out for walks twice every day with Lollie and our son's Lab pup. She has been in the car to the local dog groomer, apparently really enjoyed her "session" and came out looking like the beautiful swan I always promised her she would become. She now looks and behaves like a fully-fledged Newfie.
It has been a total labour of love but worth every single moment. Bonnie is and has always been the dearest of dogs, incredibly gentle despite the fear. We love her to bits and one of the nicest aspects is that she loves our son, Tom, and my husband has turned her into a real "Daddy's girl", so thankfully a happy future for a most deserving Newfoundland.