Live Animal Exports (Prohibition)
25 October 2017
Motion for leave to bring in a Bill (Standing Order No. 23) 1.00 pm
Theresa Villiers (Chipping Barnet) (Con)
I beg to move,
That leave be given to bring in a Bill to prohibit the export of live farmed animals for slaughter or fattening; and for connected purposes.
The export of live farm animals can cause immense and unnecessary suffering to many of the animals involved. There is evidence that public concern on this issue dates back as far as the 1950s, and even further in the case of the export of horses. I am sure that many Members present will remember the mass protests that featured on our TV screens during the 1990s.
The objection to the live export of animals for slaughter is essentially twofold. First, some countries in Europe have far weaker animal welfare rules than we have. Secondly, there is a real risk that the rules on the transport and slaughter of animals that are supposed to apply throughout the European Union will not be enforced effectively once the animals leave our shores.
Figures from the Animal and Plant Health Agency show that every year around 40,000 sheep are exported from Britain for slaughter on the continent. The long journeys are stressful for the animals, and in some cases they result in suffering caused by overcrowding, high summer temperatures and animals sustaining injuries en route.
Many of those 40,000 sheep are sent to France. Regular film reports by the organisation L214 have revealed inhumane and illegal slaughter practices in French slaughterhouses. In one shocking case, a slaughterman is seen stabbing a knife into the eye of a conscious sheep. A 2016 report by a French Assemblée Nationale committee of inquiry confirmed that there are serious welfare problems in French abattoirs. In my view, and in the view of many of my constituents, it is not acceptable for the UK to send animals to die in such horrendous conditions.
Around 20,000 calves were exported from Northern Ireland to Spain in 2016, and 3,000 were exported from Scotland to Spain. On the Scotland exports, the animals are first shipped to Northern Ireland and then taken by road to the Republic of Ireland, from where they are sent on a 20-hour sea journey to northern France. Finally, they are driven all the way through France to Spain.
Scientific research indicates that young calves are not well adapted to cope with such lengthy journeys. Their immune systems are not fully developed and their bodies' capacity to control their internal temperature is limited, making them particularly susceptible to both heat and cold stress. Morbidity and mortality following transport can therefore be high. Once they are in Spain, it is entirely permissible for calves to be reared in barren conditions without bedding. Keeping animals in such conditions would be illegal in the United Kingdom, where we apply tougher rules than the EU minimum.
The Bill is drafted to cover all parts of the UK. Animal welfare is devolved, but exports are a trade issue and therefore a reserved matter. Although the Bill would cover and ban exports for either slaughter or fattening, it would not prohibit the export of animals for breeding. Because of their higher value, breeding animals are generally transported in better conditions, so their transport does not give rise to the same animal welfare concerns.
Because the Bill deals only with exports, it would not prevent the transport of animals from the Scottish islands to the mainland. It also includes an exception to allow the cross-border export of live animals from Northern Ireland to the Republic of Ireland to continue. That is essentially a local trade and I have seen no evidence to indicate that journeys are excessively long. Nevertheless, the exception is framed to try to ensure that the Republic of Ireland could not be used as a back-door route for continued live exports from the UK to mainland Europe.
The fear has been expressed that were a ban to be introduced, there would be a risk of challenge under the rules of the World Trade Organisation, but WTO rules provide for certain clear exceptions to their general prohibition on trade restrictions, one of which covers public morals. The WTO appellate body has ruled that it is possible for animal welfare matters to fall within the public morals exception. For example, the United States ban on the import of cat and dog fur and the EU ban on seal fur remain in place, despite both being members of the WTO.
There are therefore good grounds to believe that the UK would be able to defend a WTO challenge, were one to be made, by showing that the export ban proposed in the Bill would be a proportionate response to the deeply held concerns of many members of the UK public, with strong opposition to live exports dating back around half a century. Indeed, only recently the Royal Society for the Prevention of Cruelty to Animals delivered to the European Commission a petition with more than 1 million signatures, expressing grave concern about the suffering caused by the poor enforcement of rules on the long-distance transport of animals. Signatures came from many countries throughout Europe.
Over the years, there have been repeated calls for this harsh trade to be brought to an end—I first got involved in the issue some 18 years ago, when I was a Member of the European Parliament—but, so far, all attempts to ban it have failed. They have failed because a ban would contravene EU law. In 1992, the Conservative Government then in power sought to restrict live exports and refused licences to export sheep to Spain. Their decision was overturned by the European Court of Justice on the grounds that it would breach EU rules on the free movement of goods.
Now that the UK has voted to leave the EU, we have the opportunity to make the decision here, in this House, on whether to allow or prohibit the export of live animals. But that will be the case only if we leave the customs union and the single market. If we do not, we will remain subject to the restrictions that make a ban impossible today. That provides a further important reason to respect the result of the referendum and create a new partnership with our European neighbours, outside the customs union and the single market.
The case for a ban has been made clearly by a wide-ranging coalition of animal welfare organisations, including Compassion in World Farming, the RSPCA, the Conservative Animal Welfare Foundation and World Horse Welfare. The Conservative manifesto states:
"As we leave the European Union, we can take early steps to control the export of live farm animals for slaughter."
The Bill provides the Government with an opportunity to do exactly that.
We need to deal with not only the slaughter trade but the export of calves for fattening, which can also lead to serious and unnecessary suffering. Nor should we just "control" the trade; we should end it. Nor should we wait until the UK leaves the EU to take action; we should put a prohibition on live export on the statute book now, to come into effect on exit day, as soon as the United Kingdom leaves the European Union. The time has come to end this inhumane, cruel and unnecessary trade, which has no legitimate part to play in modern farming. Exports should take place on the hook, not the hoof. I commend the Bill to the House.
Question put and agreed to.
Ordered,
That Theresa Villiers, Zac Goldsmith, Craig Mackinlay, Richard Graham, Henry Smith, Caroline Lucas, Angela Smith, Kelvin Hopkins, Sir Roger Gale and Kate Hoey present the Bill.
Theresa Villiers accordingly presented the Bill.
Bill read the First time; to be read a Second time on Friday 2 February 2018, and to be printed (Bill 117).
https://twitter.com/ConservativeAWF/status/923258348010647553 Video of Theresa Villiers speaking on the Bill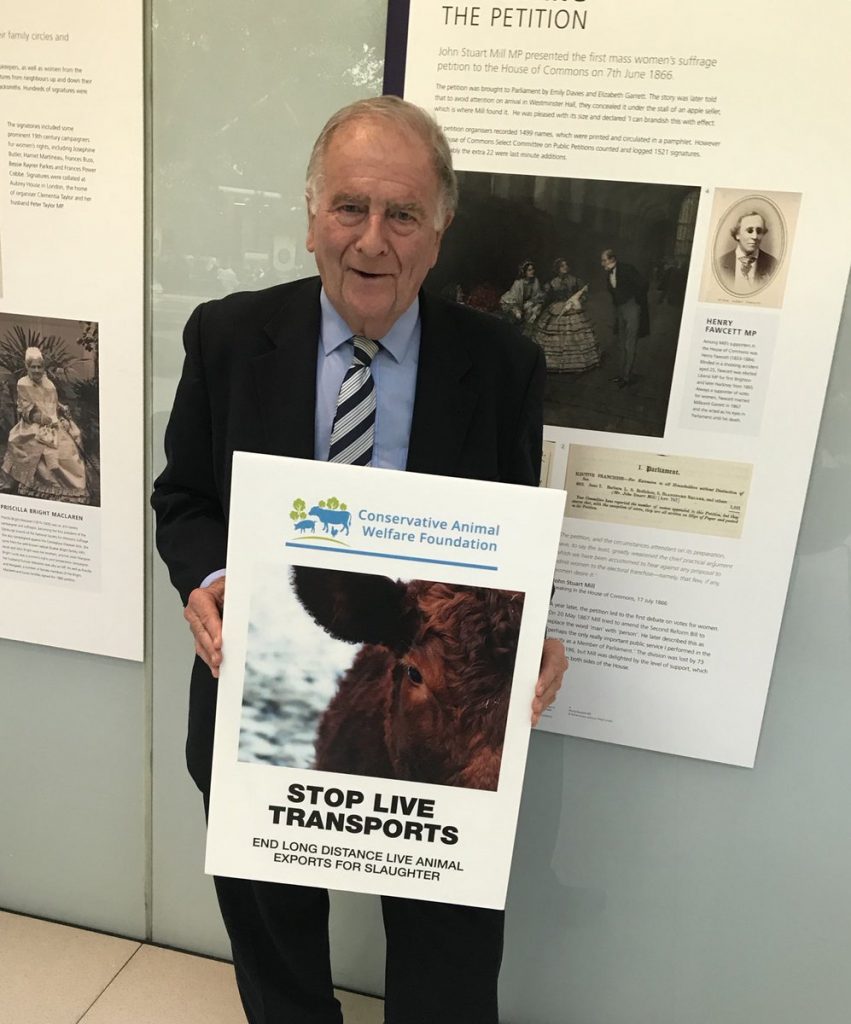 Our Patron Sir Roger Gale is a Co- Sponsor of the Bill to ban live animal exports
Media release: Theresa Villiers' Bill to ban the live export of animals for slaughter.
Conservative Animal Welfare Foundation welcomes MP Theresa Villiers' Bill to ban live animal exports for slaughter.
The Live Animal Exports (Prohibition) Bill was introduced in Parliament on the 25th October 2017 as a 'Ten Minute Rule Bill' co – sponsored by ten MPs including Craig Mackinlay, Zac Goldsmith and two of our Patrons Sir Roger Gale and Henry Smith.
The Bill presents powerful arguments to bring about an end to the cruel unnecessary trade of live animal exports for slaughter and fattening.
Lorraine Platt our Co-Founder said:
"Conservative Animal Welfare Foundation supports Theresa Villiers' Bill to ban the live export of animals for slaughter.
As the UK will soon no longer be bound by the EU's free trade rules, we urge the Government to ban the live export trade which over the years has caused immense suffering to our animals.
Thousands of UK sheep are exported each year on long journeys to France. UK calves are also exported – and travel as far afield as Spain, despite the fact that scientific research shows that young calves suffer greatly during long journeys.
Long-distance live animal transports can cause huge suffering. Overcrowding will mean that some cannot lie down at all, while those who do may be injured or trampled to death. Others endure long journeys with legs trapped and injured, or painfully stooping as they are not given sufficient headroom.
They can be in transit for days, suffering extremes of temperature and often without sufficient food, water or rest and can be exhausted and dehydrated. Many die as a result. Animals are transported in both blistering heat and freezing conditions.
Water may not be provided throughout these long journeys. In particular, when animals are exported from Europe to countries outside the EU they leave behind them all the legal protection they once received.
We believe animals should be slaughtered as close as possible to their place of birth and live transports to be replaced by a trade in meat.
We want people to speak up for the voiceless and tell the world: 'Animals Are Not Freight'.
Brexit provides a welcome opportunity to bring about an end to the vile trade. EU law prevents any restriction on live exports.
After Brexit, the UK will be in a position to ban live exports."
The Secretary of State, Michael Gove, has said that the government is 'committed to taking steps to control the export of live farm animals for slaughter as we leave the EU.'
Conservative Animal Welfare Foundation supports a ban on the live export of farm animals for slaughter and for fattening.
We also support a journey time limit of 8 hours.
We are very grateful to Theresa Villiers for her excellent speech on the suffering of farm animals involved in the live exports trade and for leading the Bill to end live exports.
We hope that the cruel trade will soon be banned.
Support our campaigns on:
www.conservativeanimalwelfarefoundation.org
Follow us on twitter at @ConservativeAWF
On Facebook featuring our name
Please ask your MP to sign MP Zac Goldsmith's Motion to end live exports on :
http://www.parliament.uk/edm/2017-19/412
Please sign the Petition to end live animal exports :