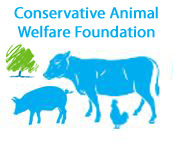 Conservative Animal Welfare Foundation welcomes the news that there has been a U-turn on plans to repeal farm animal welfare codes, that were scheduled to come into force later this month.
The Department for Environment, Food and Rural Affairs released a statement confirming the U-turn, saying the decision was taken "in light of views raised".
The Guardian newspaper reported on Thursday 7th April:
'The move to scrap the official code on farming chickens for meat and breeding was revealed last month by the Guardian, prompting an outcry from animal charities and opposition parties.
The change in favour of an "industry-led" guidance, which was to be written and supervised by the British Poultry Council, was part of the deregulatory agenda being led by Liz Truss, the environment secretary.
Other sectors that were to get control of their own guidance in future included the cattle, sheep and pig farming industries.
But a Defra spokesman said on Thursday 6th April: "We have the highest standards of animal welfare in the world, and no changes have been proposed to the legislation upholding them. We want to draw more closely on the expertise of the farming industry to ensure our welfare codes reflect the very latest scientific and veterinary developments.
"In light of views raised, we have given the matter further consideration and believe we can achieve this objective by retaining the existing statutory codes. The work of the farming industry has been invaluable and we will continue to work with them to ensure our guidance is updated to best help them to comply with our high welfare standards."
Concerns that welfare standards could be weakened had been raised by the RSCPA and Compassion in World Farming as well as by Labour, which this week called for an urgent parliamentary debate on the changes.
Kerry McCarthy, the shadow environment secretary, wrote to Elizabeth Truss on Wednesday, saying: "Abolishing statutory animal welfare codes flies in the face of common sense and risks a return to dangerous days in Britain when animal welfare standards were lax and food scares were rife.
"This government has failed to keep the codes updated and now wants to wash its hands entirely of this responsibility.
"They have encouraged the industry to make its own rules but will only make this new 'guidance' public after the existing statutory codes have been scrapped."
Last week, the British Veterinary Association (BVA) joined the calls for a rethink warning the changes risked' undermining public confidence in the high animal welfare standards set for English farms'.