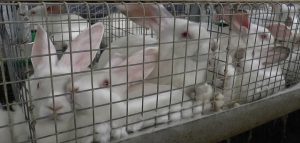 Photo from Compassion in World Farming https://action.ciwf.org.uk/ea-action/action?ea.client.id=119&ea.campaign.id=51039
EU urged to improve lives of 340 million rabbits raised for food.
MEPs, including Conservative MEPs Jacqueline Foster, Judy Girling and Anthea McIntyre support a report calling for minimum standards and improved conditions for  farmed rabbits.
Millions of rabbits are slaughtered for meat every year in the EU. 98% are raised in battery cages. Some rabbits have hardly any space to turn around. MEPs want to end this and supported a report calling for minimum standards and improved conditions for rabbits. European legislation exists for pigs, calves, chickens but not for rabbits. Rabbits have been forgotten.
The European Parliament calls for gradually replacing battery cages with affordable welfare alternatives.
The UK already has the Welfare of Farmed Animals Regulations( 2007) which contains species- specific requirements for rabbit farming.
The INDEPENDENT  reports :
The European Parliament has urged lawmakers to improve the lives of 340 million rabbits raised for food in Europe every year.
Independent MEP Stefan Eck tabled a law on rabbits that calls for the animals to be protected in the same way as pigs or chickens raised for meat, which was quickly approved by the Parliament in Strasbourg.
"There are regulations for pork, veal, and poultry chickens, but nothing at all for the protection of rabbits," he said.
Mr Eck joined the European Parliament as a member of an animal rights party and spoke passionately about the plight of rabbits.
He argued in his directive that rabbits are "kept in old-fashioned cages" that leave a space per animal "that is less than the area of two ordinary A4 sheets of paper."
The directive is not a law but effectively a plea to the European Commission, the EU's executive arm, to take action to protect the animals.
The directive also stated rabbits "are extremely sensitive animals and can suffer from a wide range of welfare problems and diseases caused by inappropriate breeding conditions, including fatal viruses, respiratory diseases and sore hocks from sitting on wire-mesh cage floors."
However, the European Commission denied there was a need for rabbits to receive the same special treatment as other farm animals.
"The Commission does not consider it appropriate to propose an initiative on the welfare of farm rabbits," said Consumer Affairs Commissioner Vera Jourova at a debate on the topic.
She said rabbit production in the EU "is essentially concentrated in a few member states mainly Italy, Spain and France", and therefore should remain a national concern.
Read more: https://www.theparliamentmagazine.eu/articles/news/eu-parliament-backs-measures-improve-farmed-rabbit-welfare
MEPs have voted to back measures to improve farmed rabbit welfare, which ending the use of battery cages 
---
The measures were supported by 410 MEPs with 205 against.
The Commission will now be requested to initiate new legislation with minimum standards for the protection farmed rabbits.
There are around 340 million rabbits slaughtered for meat in the EU every year and almost 100 per cent are raised in barren battery cages.
The mortality rate in the cages is extremely high, between 15-30 per cent a year – higher than for any other farmed animal. This is because rabbits are highly sensitive animals who are completely unsuited to these intensive and unnatural conditions.
Despite being the second most numerous farmed animal in the EU (after chickens), there are no legal minimum standards to protect them.
Investigations on more than 75 farms revealed the pain and suffering that caged rabbits endure, including rabbits left with open and infected wounds and countless dead rabbits left to rot in cages alongside living rabbits, and even cases of cannibalism due to the unnatural and stressful conditions.
Animal Equality and other groups had lobbied MEPs across Europe, sending more than 120,000 emails urging MEPs to support the long-fought initiative to protect farmed rabbits.
They included Vicky Ford, a UK ECR group member, who told this website she had received over 25,000 emails.
She said, "It's not clear which countries the senders come from. But the emails have helped to raise awareness of the issues with rabbit farming and the campaigners should be congratulated on their success in this."
The measures were supported by German GUE/NGL group MEP Stefan Eck.
Speaking after the vote in Strasbourg, he said Parliament had "rewritten history."
He added, "It proved that it can make a difference by listening to the voice of the people and act independently of the powerful industry lobbyists.
"By voting in favour of EU-specific legislation for farmed rabbits, the majority of the European Parliament has decided to take animal welfare and food safety seriously and to call on the Commission to close the existing legal loophole.
"MEPs have taken a huge step in the path to higher standards in animal welfare for hundreds of millions of animals. Now let's hope that the Commission will respond promptly to its mandate. I really hope they don't ignore our call."
GUE/NGL's Anja Hazekamp, a Dutch member of the Parliament's agriculture and rural development committee, said, "Farm rabbits are kept in atrocious conditions across the EU: they are locked up in cages which are far too small and cause injuries to their paws.
"On average, 25 per cent of farm rabbits do not survive these battery cages. For chickens, an EU-wide prohibition on battery cages is already in place. I am delighted that finally we are moving forward to getting legislation that will put an end to the suffering of farm rabbits as well."
Further reaction to the vote came from Toni Shephard, executive director of Animal Equality UK, who said, "History has been made. One of the cruellest farming practices ever invented, confining animals in tiny barren cages for their entire lives, could soon be obsolete in Europe.
"This is amazing progress for hundreds of millions of rabbits who currently endure extreme suffering in battery cages on European farms. Animal equality will keep working with European and national politicians until rabbit cages are confined to history."
Footage taken by Animal Equality investigators on rabbit farms in Spain and Italy was said to be instrumental in what Shephard hailed a "landmark decision."