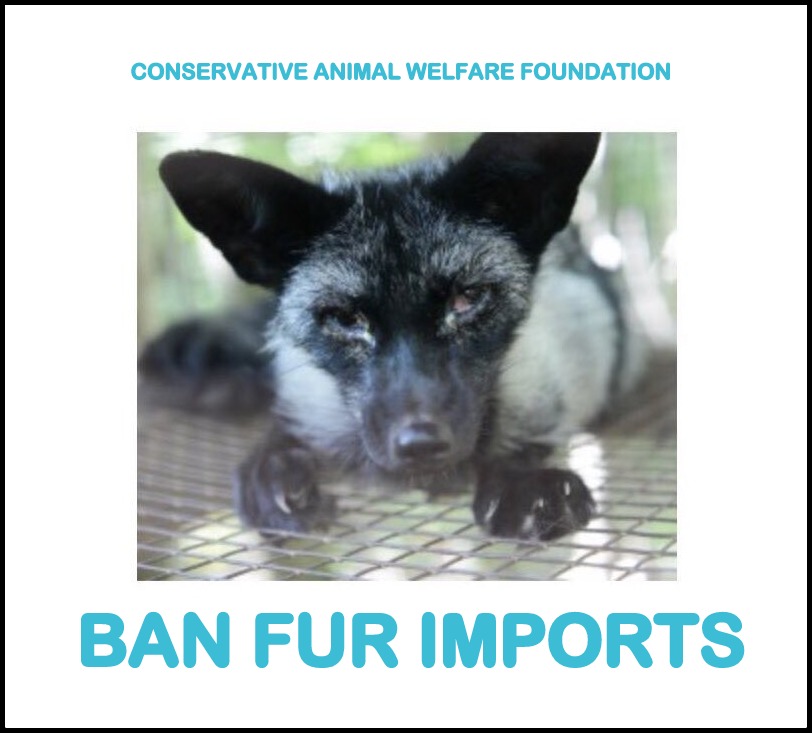 MPs call on Government to ban UK fur imports in House of Commons debate, June 2018
In a landmark debate, MPs of all political parties at a Westminster Hall debate in Parliament passionately spoke out in favour of banning fur imports from the UK, with MPs calling the fur trade "vile", "loathsome" and the "grimmest of human activities".
The debate was in response to the submission of a 425,834-strong petition delivered to No. 10 Downing Street by the #FurFreeBritain coalition led by Humane Society International /UK.
Conservative Animal Welfare Foundation Patrons Sir Roger Gale, Henry Smith and Zac Goldsmith spoke in favour of a ban on fur imports. We include a proposal to ban fur imports in our blueprint document handed to No 10 in January 2017 with our Patron Sir Roger Gale MP titled ' Brexit: Opportunities For Animal Welfare'
The UK banned fur farming in 2000 as unethical and inhumane.
We believe Fur farming cannot be made humane. and as long as we keep importing it animals will keep suffering. We are simply outsourcing that same cruelty overseas.
The Fur Trade – Retailers "Conning the public" – 
North Thanet`s MP, Sir Roger Gale, has accused High Street retailer of "conning the public" over the sale of real fur products as "faux fur".  Intervening in the Commons debate on the fur trade the MP
Said that "we should throw the book at people doing that", later adding that "We must not and cannot absolve the retailers from their duty of care. It is absolutely vital that people understand that this trade is revolting and that they should have no part of it".
"Far too often" says Sir Roger, who is a Patron of the Conservative Animal Welfare Foundation and an Honorary Member of the British Veterinary Association, "people are sold items, garments, shoes, trimmed with what they are led to believe is "faux" or fake fur.  Much of these trimmings are in fact the real thing, taken from animals bred in squalid conditions in tiny cages on "fur farms" that have been outlawed in Britain since 2000. As my :Labour colleague Kerry McCarthy said during the debate "A lot of these items have been found in shops such as Boots, Tesco, FatFace, Groupon, House of Fraser and MissGuided – well-established chains that need to get their own houses in order".
Later in the debate, during which members called for the banning of the sale of real fur in Britain, Sir Roger added
"When the House voted to ban fur farming in Britain in 2000 we did so because we believed that it was a vile practice and that it had no place in modern British society. We did not vote to move the problem from A to B. Therefore it is only logical to say that having willed the ends we must now will the means and ban the trade".
After the debate Sir Roger said "I propose to take the opportunity to raise this further with the Secretary of State (Michael Gove) to see how best we can take this forward to, legally, end the importing of fur and fur products".
Later, in the Main Chamber Sir Roger intervened during the Secretary of State`s introduction of the Ivory Bill (designed to bring an end to the trade in ivory goods in the UK) to say:
"My Rt. Hon. Friend will know that there was a debate on the fur trade earlier in the afternoon. During that debate the point was made very clearly that the vile trade should stop, that there was no need for it. Is that also not the case with ivory? That there is no need for it?"
Replying, Michael Gove said:
"That is absolutely the right point. There is no need for it. This trade has been driven by a belief that, as a result of goods being worked or fashioned in ivory, they have a merit or a capacity to confer on the owner some sort of status. That is completely inappropriate. We need to send a message through this legislation that, through its effective operation, we can end that trade
Notable quotes from MPs during the debate included:
Conservative MP for Clacton Giles-Watling said: "Even though we should celebrate our world leading ban on fur farming.. we have only outsourced this form of animal cruelty, and that is why I believe this import ban should be put in place… By waiting for this to happen we only prolong our role in supporting an enabling these terrible animal welfare practices and I do not believe this is in keeping with our British values"
Labour MP for Bristol East Kerry McCarthy said "Fur farming was banned in England and Wales in the year 2000 and two years later in Scotland on the grounds of public morality and the fact that fur produced in the same methods is allowed to be imported into the country is fundamentally illogical and surely it must be immoral too…A lot of our fur imports come for countries where animal welfare standards are even lower than the UK's were before we introduced a fur farming ban, in some countries you could say the standards are simply non-existent"
Kerry McCarthy continued "The idea of ethical fur farming even in countries which report to be high welfare has been shown time and time again to be a complete fiction… the UK's ban on fur farming was introduced only after our farm animal welfare council spent years gathering evidence eventually concluding that fur farms are simply unable to satisfy even the most basic needs of the wild animals kept in them. The council explicitly stated it was not possible to safeguard the welfare of animals kept on fur farms"
SNP MP for North Ayrshire and Arran Patricia Gibson said "Consumers have made an ethical choice away from fur, a ban is important to keep these loathsome and vile products from our country, to help us wash the blood from our hands…The door for a fur import ban is open, will the Minister walk through it?"
Read the debate here: https://hansard.parliament.uk/commons/2018-06-04/debates/8F9B6212-E631-4151-ABA7-AED8560CBBEB/FurTrade
Further information:
More than 130 million animals suffer each year in the global fur trade, the majority reared in terrible conditions on fur factory farms.
Around the world in countries such as the U.S., France, Poland and China, wild species are kept in small, barren battery cages for their entire lives before being killed by gassing or electrocution.
Wild animals such as coyotes fair no better – they can languish in agony in cruel traps for hours or even days before dying from dehydration, starvation or attacks by predators, or being shot or crushed to death when the trapper returns.
A 2018 YouGov poll commissioned by HSI UK shows that more than two thirds of the British public support a UK fur import ban, with only 8% opposed to the idea.
The #FurFreeBritain campaign calls on the government to make the UK a fur-free zone by extending existing cat, dog and seal fur bans to cover all fur-bearing species.
·        Last week Environment Secretary Michael Gove received a letter from 50 vets and animal experts speaking out against cruel fur farming. The full letter and list of signees can be read here:  http://www.hsi.org/assets/pdfs/letter-vets-experts-fur.pdf
Ahead of the debate, over 100 #FurFreeBritain campaigners from Humane Society International UK and Open Cages were at Westminster holding placards showing the grim conditions on fur farms across 15 countries such as France, Poland and China that import fur into the UK.
The #FurFreeBritain campaign calls on the government to make the UK a fur-free zone by extending existing cat, dog and seal fur bans to cover all fur-bearing species.  Although fur farming was outlawed in the UK on moral grounds in 2000, and EU regulations ban fur from domestic cats, dogs and from commercial seal hunts, Britain still imports and sells fur from a range of other species such as fox, rabbit, mink, coyote, racoon dog, and chinchilla. According to the most recent trade statistics from HMRC, in the last year* the UK imported almost £75 million of animal fur (£74,154,873).
The campaign has garnered strong celebrity support 31 of the country's biggest celebrities – including Dame Judi Dench and Ricky Gervais – sent a letter sent to the Prime Minister calling for a fur import ban