This article was published in the  Daily Star newspaper on the 7th August 2016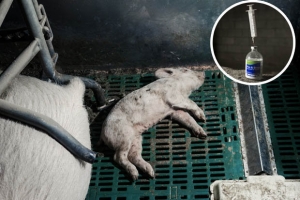 http://www.dailystar.co.uk/news/latest-news/535883/animal-cruelty-pig-farm-UK-supermarket-supplier-squalid-dirty-video
WATCH: Shocking scenes of neglect at UK farm that supplies meat to British supermarkets
By Isobel Dickinson and Jimmy Mccluskey, EXCLUSIVE / Published 7th August 2016
PILES of dead pigs lie in a rotting heap at a British farm supplying meat to leading supermarkets.
The sickening images of neglect show pigs in cramped pens with huge open wounds, cuts and dripping with blood.
Heartbreaking footage shows used syringes and bottles of antibiotics strewn around. In one scene, a tiny sick piglet lies shaking on the hard metal floor as its siblings sniff at its twitching body.
The video was shot by activists who visited the farm, run by Neil Warkup, three times.
PIG FARM
They gave it to animal rights charity PETA, which handed it to Daily Star Sunday.
It shows pigs with open wounds forced to live in filthy pens next to piles of rotting carcasses.
The heaps of discarded syringes and drug equipment seen are used to prevent disease linked to squalid and severely crowded farming conditions.
It also shows pigs wedged into cramped farrowing crates – metal cages which prevent sows from turning around.
The video, taken at Marcliff Farm in Driffield, Yorks, is the latest footage to highlight the suffering still happening at some British pig farms.
It follows an equally distressing PETA exposé of four pig farms in Yorkshire and Norfolk in March
PETA spokesman Elisa Allen said: "The suffering exposed in this video is not the exception – it is almost certainly the rule."
According to the animal charity many piglets on UK farms have their teeth clipped or ground down and their tails cut off without being given painkillers.
Pigs are also impregnated over and over again – only for their litters to be taken from them days after birth. The RSPCA described the footage as "upsetting".
A spokesman said: "There are issues here concerning poor general management practice such as not placing dead pigs in an appropriate container despite them being removed from their pens.
"Similarly, medicines should be securely stored and clinical waste disposed of appropriately after use.
"There are some pigs that appear ill or injured
"In any farming system, animals can become sick and injured but when this occurs they should receive prompt and effective treatment."
Yesterday Mr Warkup denied the claims made against him by PETA.
He said that the dead pigs had died of pneumonia, and conceded their bodies should have been moved earlier.
But he insisted that their deaths had not been cruel. Mr Warkup told Daily Star Sunday: "I work my heart and soul off in this place. It's soul-destroying
"There was a few dead in a shed, they were pulled out ready to be taken away the next morning.
"They got pneumonia. It's animals, they die.
"Maybe we should have taken them away, but that's the only thing we did wrong."
Mr Warkup claimed they had recently been visited by farm food assurance agency Red Tractor, which had found no fault at the farm.
.