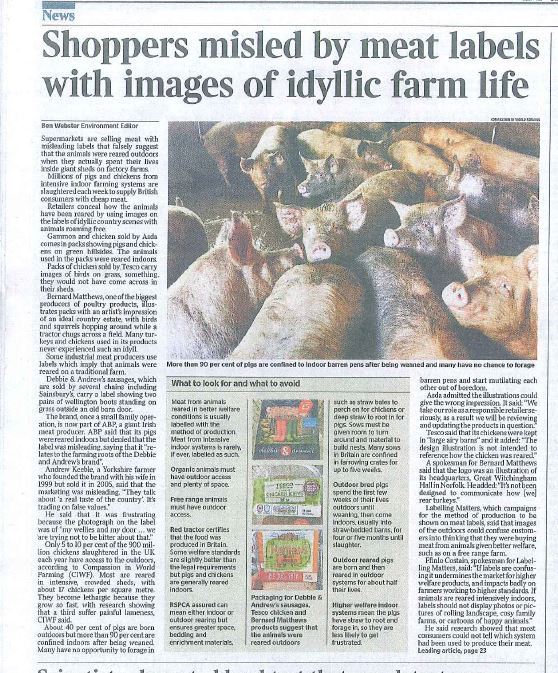 The Times article 'Shoppers misled by meat labels with images of idyllic farm life' and editorial on Saturday 6th February 2016, drew attention to the widespread use of confusing meat labels. Labels which inaccurately portray the method of production used to produce food are widespread and consistently undermine the market for higher welfare meat products.
The article reported that supermarkets are selling meat with misleading labels that falsely suggest the animals are reared outdoors when they actually spent their entire lives inside giant sheds on factory farms.Millions of pigs and chickens from intensive indoor farming systems are slaughtered each week to supply British consumers with cheap meat. The article further reports that retailers conceal how the animals have been reared by using images on the labels of idyllic country scenes with animals roaming free.
Evidence shows that confusing labels are widespread.  But bizarrely, consumer protection is delegated to consumers themselves who must spot inaccuracies and report them to trading standards. In the meantime higher welfare producers are caught in a market which seems designed to penalise them.
A mandatory safety net is needed – a brief, front of pack description of the method of production.  An EU-wide labelling system for shell eggs has been in place since 2004.  Egg packs must be labelled 'eggs from caged hens', 'barn eggs' or 'free range eggs'.  As a result, over half of the eggs produced in the UK are now from higher welfare systems, and the British Egg Industry Council has called for the scheme to be extended to egg products such as egg sandwiches and quiches.
Evidence shows that more than three quarters of consumers support the extension of mandatory method of production labelling from eggs to all meat and dairy products.
Importantly, mandatory labelling adds value along the chain, supporting producers, processors and packers, and retailers.
Labelling Matters is a joint project of Compassion in World Farming (CIWF), Eurogroup for Animals, RSPCA, Soil Association. They believe that consumers should be able to drive standards from the marketplace, but that it is impossible for them to do so if they do not have clear information about the farm system used to produce their food.  Mandatory method of production labelling is the best way to provide consumers with clear, objective information, so that they can drive standards from the supermarket.  http://www.labellingmatters.org/
The Farming Minister, George Eustice, has said that he favours voluntary labelling schemes.  However, voluntary schemes have failed to deliver the level of possible change, partly because misleading labels on products from intensive systems distort the market. We feel that there is a clear case for the introduction of a mandatory labelling framework, around which brands and voluntary assurance schemes may flourish.
In fact, we see method of production labelling as the missing half of the origin story.  Just as country of origin labelling is mandatory, farm system labelling should be too.  Mandatory labels will not replace brands, but provide a framework around which brands and voluntary assurance schemes may flourish.
Crucially, the introduction of this labelling system would deliver enormous improvements in farm animal welfare – sustainably, at a rate the market can sustain.
It is possible for EU Member States to mandate method of production labelling nationally under consumer protection rules, and Germany is already considering this for primary chicken and pork products.  Britain is strongly positioned on welfare, with a larger number of outdoor or well-designed indoor systems than key European competitors, so an EU-wide scheme would benefit British producers exporting to mainland Europe