The Conservative Animal Welfare Foundation has today (3rd November 2021) published a research report detailing the impact of intensive animal agriculture on the environment. The report, titled 'The unpalatable truth: large-scale industrial animal agriculture cannot remain at current levels in the UK and still meet environmental targets', coincides with the COP26 summit in Glasgow.
New figures produced for this research show that a relatively small change in diets could return enough land to compensate for all the remaining emissions from livestock. Reducing animal agriculture (both the number of animals and the land usage) by just 19% and converting this land to forest could allow the remaining methane emissions to be balanced by the carbon equivalent captured by the new forest.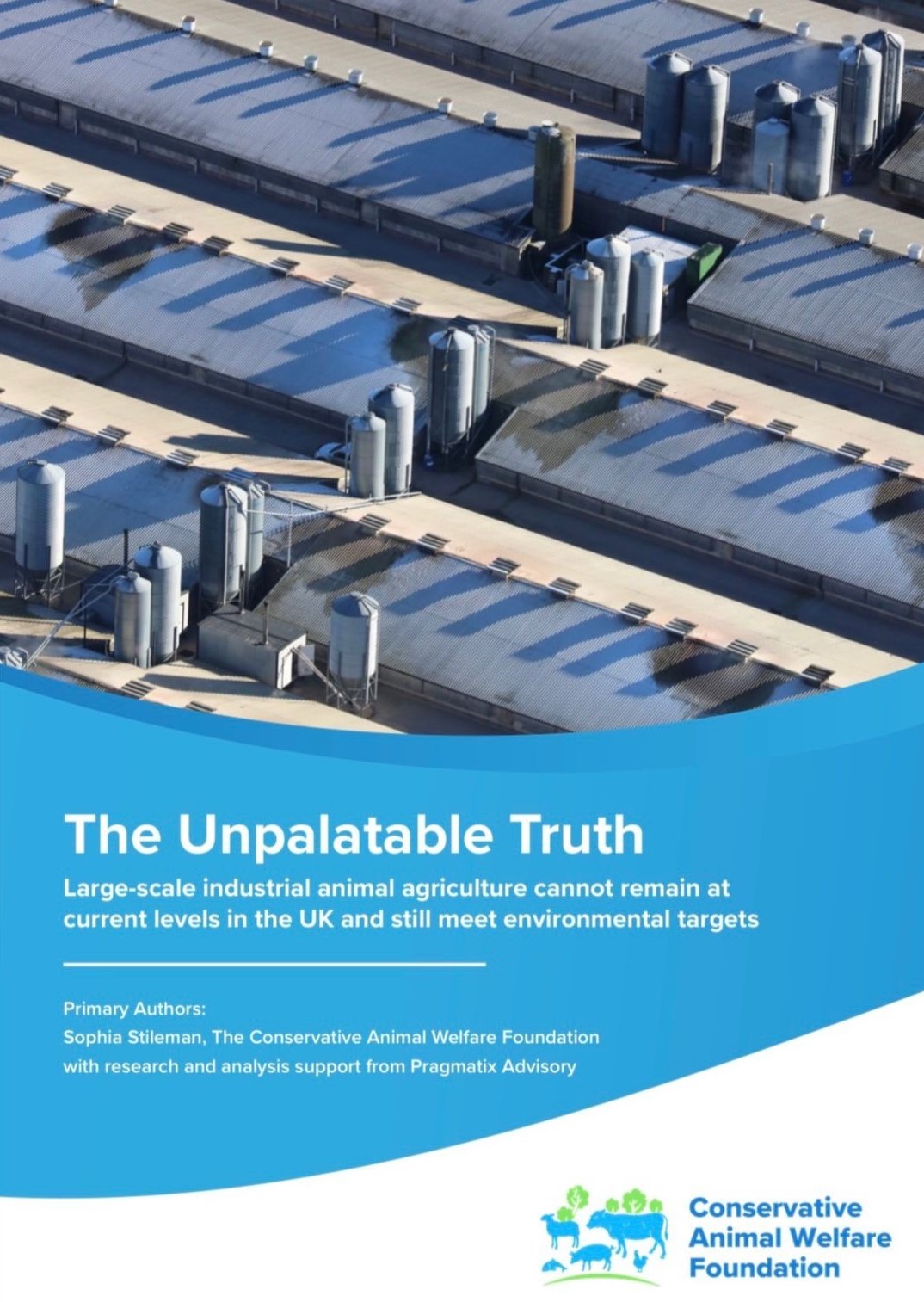 The report spotlights the high greenhouse gas contribution from the UK's large-scale intensive farming sector and warns that time is running out to act in response. Key recommendations include:
A multipronged approach entailing both a reduction in meat consumption and a shift in UK land use.
Working closely with the animal agriculture industry as a whole to ensure the sector is appropriately supported and compensated through this transition.
Benefits of taking such an approach are said to be far reaching – including wildlife restoration, soil health, reduced antibiotic resistance, lower mortality rates from heart disease, and increased resilience to future pandemics.
The full research report can be accessed here
Lorraine Platt, Co-Founder of Conservative Animal Welfare Foundation commented: "With the world's attention on COP26 in Glasgow, now is the time to be principled and pragmatic in our approach to intensive animal agriculture and the clear evidence around its staggering impact on our environment. It is now not a question of whether this impact exists, but the strength of the action we pursue in response.
"There is, however, much to be optimistic about. Positive progress is being made and the Government has already set a global example by legislating to reduce greenhouse gas emissions to net zero by 2050. We are seeing a steady population shift towards 'flexitarian' and vegetarian diets, and our research has found that relatively small changes can make a huge difference.
"We must now work closely with the animal agriculture sector as we transition away from current levels of meat production towards a more sustainable future."
Henry Smith MP, Patron of the Conservative Animal Welfare Foundation commented: "We are the Party of conservation, and I am proud that it was this Government who set our current world leading environmental targets. It is vital, however, that we take note of the clear evidence of current impact from large-scale industrial animal agriculture. Livestock farming accounts for approximately 15 percent of global greenhouse gas emissions, more than all transportation, that is simply not sustainable."