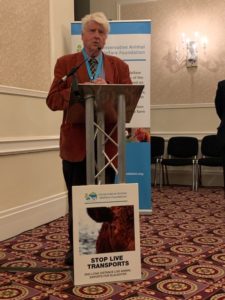 Stanley Johnson has campaigned on animal welfare for over 40 years. As a Member of the European Parliament, he was Vice-Chairman of the Environment Committee and Founder-Chair of the All-Party Group on Animal Welfare.
Stanley is a trustee of the Gorilla Organisation and a board member of Plantlife International. In 1983 he received the RSPCA Richard Martin Award for Outstanding Services to animal welfare, and in 1984 he received the Greenpeace Award for Outstanding Services to the Environment. He is an ambassador for the UNEP Convention on the Conservation of Migratory Species of Wild Animals based in Bonn, Germany
Stanley has supported our campaigns including our parliamentary reception to end live animal exports and was a Speaker at our fringe event at the Party conference in September 2019.
We are delighted that Stanley is joining us as a Patron and look forward to working together to end live animal exports, cages for hens, pig farrowing crates and to introduce honest labelling on how farm animals are reared and slaughtered and much more