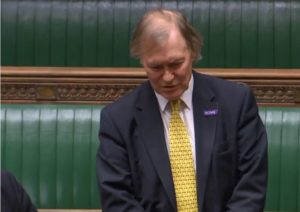 On the 14th March, Sir David Amess MP called for a debate on the practice of testing chemical weapons on animals.
On the 26th of February Sir David tabled an Early Day Motion, 'Use of Animals for Warfare Experiments'. The motion calls on the Government to introduce a ban on the use of living animals for warfare experiments.
Sir David asked the Leader of the House, The Rt Hon Andrea Leadsom MP: "Will my right hon. Friend find time to ban the use of living animals for warfare experiments? In the last year 3,865 animals were experimented on for chemical weapons at Porton Down, which is an absolute disgrace and totally unacceptable in what is supposed to be a civilised society".
The Leader responded, "My hon. Friend raises an important matter that I know is of interest to many Members of this House. The Defence Science and Technology Laboratory at Porton Down has an active programme to minimise the use of animals in experiments, in accordance with the principles of the three R's—reduction, refinement and replacement. The Ministry of Defence does not conduct animal experiments for the development or testing of offensive weapons, and the Home Office does not grant licences for those purposes".