BBC 24th Feb
A group of Conservatives have urged the UK government not to abandon its plans to ban imports of foie gras and fur.
The BBC revealed on Saturday that the measure is likely to be dropped from a new law, amid opposition from some cabinet ministers.
But in a letter to the Times, a group including six Tory MPs said the products were cruel and a ban should go ahead.
The government said no final decisions have been made.
But sources have previously said the measures are likely to be shelved for now, provoking anger among animal welfare campaigners.
British farmers are already banned from producing foie gras, a liver-based luxury French food opposed by campaigners because it is made by force-feeding ducks or geese.
Fur farming has also been illegal in the UK since 2000, but campaigners have long been pushing for an import ban on fur farmed abroad.
A UK import ban was meant to be included in the Animals Abroad Bill, one of three laws the government says will boost animal welfare.
But cabinet ministers opposing a ban include Brexit opportunities minister Jacob Rees-Mogg, who believes ministers should not restrict consumer choice.
Defence Secretary Ben Wallace has also raised concerns about banning the bear fur used by some British soldiers in ceremonial uniforms.
Northern Ireland Secretary Brandon Lewis also said a ban might not be allowed in Northern Ireland, which continues to follow product rules from the EU – where foie gras is traded freely – under the UK's Brexit deal.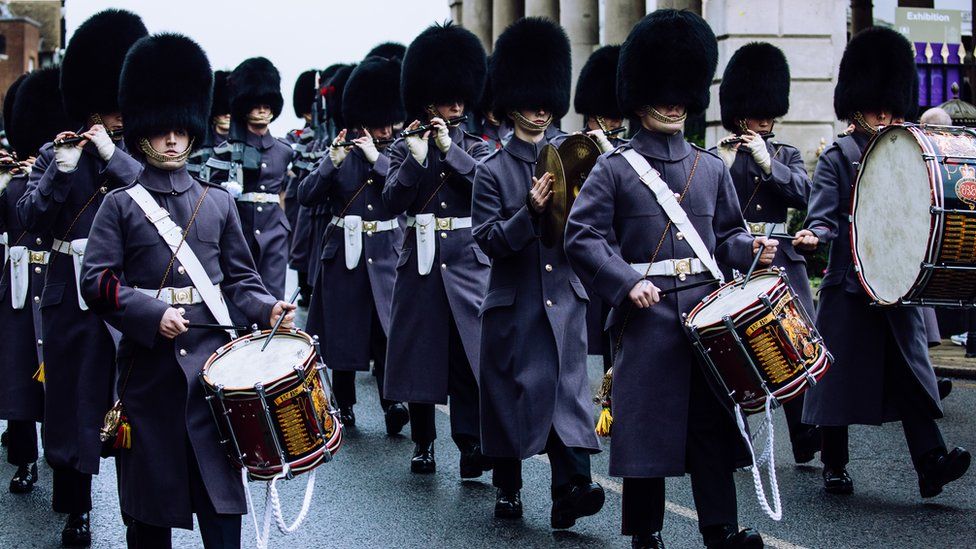 In their Times letter, the Conservatives argue fur and foie gras production involved "inhumane practices" that are "rightly banned in the UK".
They wrote that products derived from "such cruel industries" should also not be allowed – and said polling showed the public support an import ban.
"It is right to limit the choice of a tiny minority of consumers when failing to do so causes great harm," they added.
"Fur and foie gras bans would uphold a commitment to high animal welfare standards both here and overseas."
The letter was signed by Tory MPs Bob Blackman, Tracey Crouch, Louie French, Sir Roger Gale, Tim Loughton, and Chris Loder – as well as Tory peer Lord Randall of Uxbridge and former Tory MEP John Flack.
'Far greater cruelty'
It was also signed by the co-founders of the Conservative Animal Welfare Foundation – a pressure group that counts the prime minister's father Stanley Johnson and his wife Carrie Johnson among its prominent backers.
Environment minister Zac Goldsmith, another supporter of the group, told the Guardian this week the public is "strongly in favour of measures to curb the fur trade and foie gras".
He added: "There are some who view the issue as a matter of personal choice, but no one would extend that principle to things like dog-fighting or bear-baiting, so it's not clear why fur farming or force-feeding geese, which arguably are associated with far greater levels of cruelty, should be any different."
The government said it was committed to "world-leading" reforms "at home and abroad" as part of its action plan for animal welfare.
A spokesperson added that a summary of responses to a recent call for evidence on the current fur sector would be published soon.
Letter to The Times published February 23rd, 2022
BANNING FOIE GRAS
Sir, As Conservatives we hope that reports suggesting that bans on imports of fur and foie gras have been blocked by certain cabinet members, are inaccurate. Fur farming, and force-feeding ducks and geese to produce foie gras, are inhumane practices, rightly banned in the UK. Neither should products from such cruel industries be allowed. It is right to limit the choice of a tiny minority of consumers when failing to do so causes great harm. Polls consistently show that a compelling majority of the public back these bans.
Defra's "Call for Evidence" on the fur trade received 30,000 responses last year. We urge publication of the results, and for policy to be based upon them. We welcome the government's pledge to act as a world leader in animal welfare. Fur and foie gras bans would uphold a commitment to high animal welfare standards both here and overseas, and meet the expectations of the public.
Bob Blackman MP; Tracey Crouch MP; Louie French MP; Sir Roger Gale MP; Tim Loughton MP; Chris Loder MP; Lord Randall of Uxbridge; John Flack, former MEP; Lorraine Platt and Chris Platt, co-founders, Conservative Animal Welfare Foundation
---
The Times: Thunderer our patron Tracey Crouch February 24th, 2022
We cannot back down on banning trade in fur and foie gras
As a long-term advocate of better protection for animals, I feel compelled to challenge any suggestion that political action to ban the indefensible trade in products of animal cruelty, such as fur and hunting trophies, is a "woke" distraction, or somehow at odds with "Tory values".
On the contrary, such political action is entirely aligned with Conservative Party values. These are values that the party must continue to be guided by, in order to deliver on the expectations of society. That's why I was disappointed to learn that the government may be set to abandon plans to introduce bans on the import and sale of animal fur and foie gras.
Over the past ten years, this government has delivered enormous progress on animal welfare and has a record to be proud of. We now have tougher sentences for animal cruelty offences; the world's strongest ivory trade ban; bans on commercial third-party sales of puppies and kittens; and the use of wild animals in circuses; and much more.
We also have two key pieces of legislation for animals progressing through parliament. The Sentience Bill and the Kept Animals Bill will make good on various manifesto commitments and help to improve the lives of millions of animals. Furthermore, just before Christmas
I was delighted to see the government commit to introducing a very robust ban on the import of horrific hunting trophies.
As well as being undeniably popular policies (supported by more than 70 per cent of the public), closing our borders to trade in products that are cruel and unsustainable is an incredibly important precedent as we define Britain's post-EU identity.