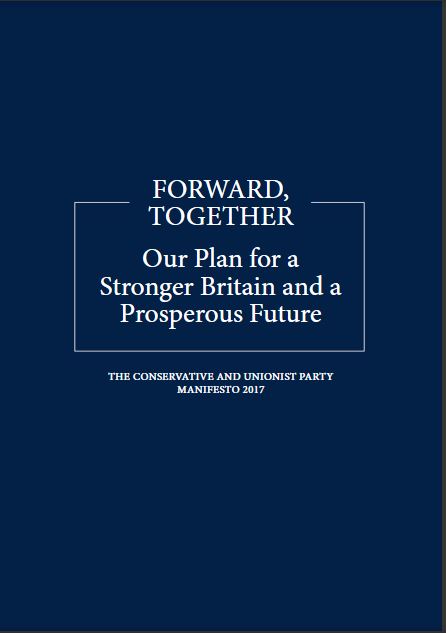 Conservative Animal Welfare Foundation welcomes the Conservative manifesto pledge for mandatory CCTV recording in all slaughterhouses.
Co Founder, Lorraine Platt commented:
'Our Patrons Lady Suzy Gale, Sir Roger Gale, Sir David Amess, Dominic Raab and Henry Smith have all spoken on the need for mandatory CCTV in all slaughterhouses in parliamentary debates on farm animal welfare.
We presented our document to advance farm animal welfare document for the Prime Minister to No10 Downing Street in January which urged for mandatory CCTV in all slaughterhouses, an end to live animal exports for slaughter, an end to cages for hens and farrowing crates for pigs and method of production labelling on how animals are reared and slaughtered.
Henry Smith, the Co Chairman of the All Party Group For Animal Welfare in the House of Commons led an adjournment debate calling for mandatory CCTV in the main chamber in 2015 on the need for CCTV in all slaughterhouses to help lessen animal suffering in slaughterhouses.
Conservative Animal Welfare Foundation's Co- Founder and Patrons were pleased to support Animal Aid's recent Westminster briefing on CCTV in all slaughterhouses.
Previous investigations by Animal Aid have shown terrible suffering of animals in abattoirs, when slaughter is not carried out humanely and according to standards of best practice. Although an increasing number of slaughterhouse operators have installed CCTV cameras in all or part of their premises, without a law to enforce installation, it currently remains voluntary.
Our Co- Founder had a meeting in April with UNISON's Paul Bell, who represents Veterinary officials and Meat Hygiene Inspectors who recently delivered a letter of complaint to the Chairman of The Food Standards Agency on animal cruelty at a slaughterhouse. The letter stated their members support for mandatory CCTV in all slaughterhouses and for it's monitoring.
Conservative Animal Welfare Foundation also welcomes the manifesto's commitment to take early steps to control the export of live farm animals for slaughter as we leave the European Union. We support an end to live animal exports for slaughter. We are grateful to Craig McKinlay for his work to end live animal exports and raise awareness on this issue.
The manifesto also included a focus on reforming pet sales and licensing. Read the Conservative manifesto here: https://www.conservatives.com/manifesto
Page 26 extract from the manifesto:
We have huge ambitions for our farming industry: we are determined to grow more, sell more and export more great British food. We want to provide stability to farmers as we leave the EU and set up new frameworks for supporting food production and stewardship of the countryside. So we will continue to commit the same cash total in funds for farm support until the end of the parliament. We will work with farmers, food producers and environmental experts across Britain and with the devolved administrations to devise a new agri-environment system, to be introduced in the following parliament.
Our countryside and rural communities have been moulded by generations of farmers. We will help Natural England to expand their provision of technical expertise to farmers to deliver environmental improvements on a landscape scale, from enriching soil fertility to planting hedgerows and building dry stone walls. We will deliver on our commitment to improve natural flood management, such as improving the quality of water courses to protect against soil erosion and damage to vulnerable habitats and communities. We will continue to ensure that public forests and woodland are kept in trust for the nation, and provide stronger protections for our ancient woodland. We will continue to take action to improve animal welfare. We will implement our proposed reforms on pet sales and licensing and will make CCTV recording in slaughterhouses mandatory. As we leave the European Union, we can take early steps to control the export of live farm animals for slaughter.
page 27:
When we leave the European Union and its Common Fisheries Policy, we will be fully responsible for the access and management of the waters where we have historically exercised sovereign control. A new Conservative government will work with the fishing industry and with our world-class marine scientists, as well as the devolved administrations, to introduce a new regime for commercial fishing that will preserve and increase fish stocks and help to ensure prosperity for a new generation of fishermen. To provide complete legal certainty to our neighbours and clarity during our negotiations with the European Union, we will withdraw from the London Fisheries Convention. We will continue our work to conserve the marine environment off the coast of the United Kingdom