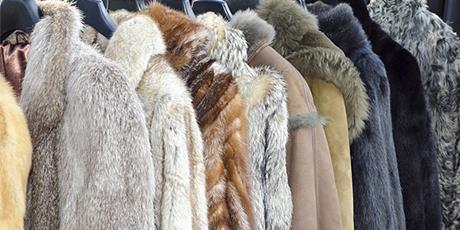 Conservative Animal Welfare Foundation welcomes the enforcement notice on misleading 'Faux Fur' claims from the UK's Advertisement Regulator to clothing retailers
Clothing retailers have been informed to take immediate action to ensure items they advertise as containing fake fur are not made from real fur.
Patron Sir Roger Gale MP comments:
"We welcome this much needed action. Far too often, people are sold items, garments, shoes, trimmed with what they believe is 'faux' or fake fur. Much of these trimmings are in fact the real thing, taken from animals bred in squalid conditions in tiny cages on 'fur farms' that have been outlawed in Britain since 2000."
Sir Roger accused High Street retailers of "conning the public" over the sale of real fur products as 'faux fur' in the Westminster Hall debate in 2018 on the fur trade. Intervening in the Commons debate, the MP said that" we should throw the book at people doing that". Later adding that "We must not and cannot absolve the retailers from their duty of care. It is absolutely vital that people understand that this trade is revolting and that they should have no part of it".
The Compliance function of the Committees of Advertising Practice (CAP), which is part of the Advertising Standards Authority (ASA) regulatory system, has today [Thur 17 Jan 2019] issued an Enforcement Notice on Misleading 'Faux Fur' Claims in Clothes and Accessories which is applicable to all relevant advertisers in the UK across all media, including online and social media.
This action has been informed by ASA rulings, which have banned ads for advertising products that contain real fur as 'faux fur' (fake fur). The ban applies across the market.
The Enforcement Notice requires companies to take immediate action to ensure their advertising complies. If the CAP Compliance function continues to see problems in this area after 11 February 2019, it will sanction the companies involved. Where advertisers are unwilling to comply, these sanctions may ultimately include referral to the ASA system's legal backstop for misleading advertising; Trading Standards.
Companies fulfilling customer orders on retail sites are advised to take a stricter approach to checking the supply chain and the accuracy of claims relating to 'faux fur' before putting the products on sale. The Enforcement Notice provides guidance on how to tell the difference between animal fur and faux fur and how to prevent misleading claims. For example:
• Don't assume that the low cost of the product from a supplier is a good indicator that the product does not contain animal fur. Current market conditions means that animal fur is not necessarily more expensive than faux fur.
• Test the faux fur products yourself before putting them on sale – if they are repeat orders, make sure to test a sample from each batch.
• Laboratory testing is the best method to differentiate between real and faux fur but if this is not feasible, there's a three-step approach that may help:
1. Check the base of the fur – the base of faux fur will have a mesh or threaded fabric from where the "hairs" emerge; animal fur will have a base of leather or skin.
2. Check the tips of the hair – if it tapers as opposed to being blunt, it's likely to be real fur, although sometimes animal fur has been sheared or cut to a uniform length.
3. The burn test – cut off some of the fur and burn it safely. Real fur singes and smells like burnt human hair while faux fur melts and smells like burnt plastic.
• Don't use suppliers that make repeated mistakes in supplying real fur instead of the claimed 'faux fur' products.
 In 2018 the The Environment, Food and Rural Affairs Committee  a cross-party group of MPs  led by Chairman Neil Parish MP led an inquiry into the fur trade and published a report. The Committee's key recommendations and conclusions are:
Consumers should be able to have confidence in the product they are purchasing. All retailers, including online sellers and marketplace sellers, have a responsibility to ensure that they are selling items as described. We recognise that it is more difficult for online market sellers to examine all the products they sell, but that does not remove the responsibility they have to ensure that the products they sell on their site are correctly described. All retailers must comply with the law and those named in the Report have not done enough to track the risk of selling real fur accidentally. This is not something that should have been discovered by campaign organisations and the media.
https://publications.parliament.uk/pa/cm201719/cmselect/cmenvfru/823/82303.htm#_idTextAnchor000