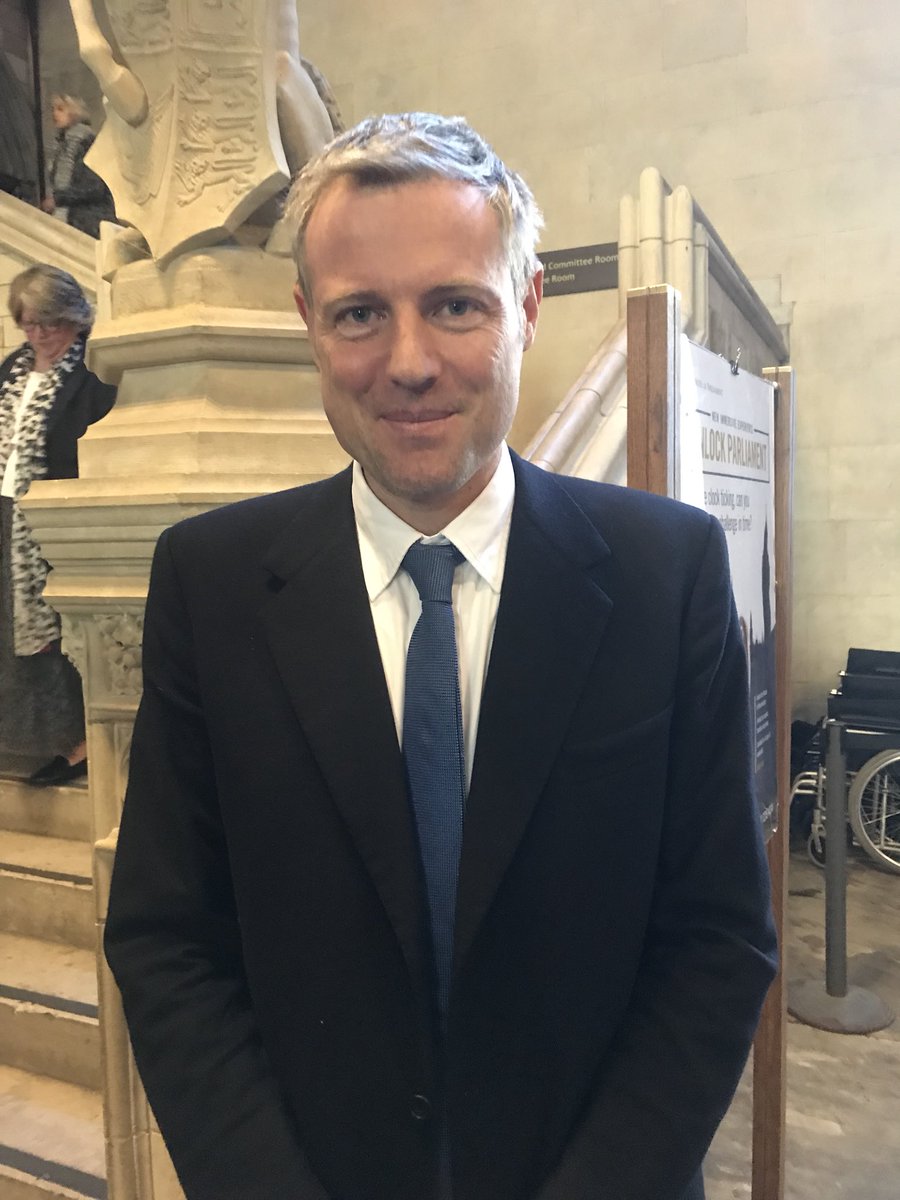 Conservative Animal Welfare Foundation Patron Zac Goldsmith MP right after his excellent debate
Zac Goldsmith MP led a great Westminster Hall debate on an important list of animal welfare issues-to end live animal exports, end cages for hens, pig farrowing crates, reduce farm antibiotics, ban wild animals in circuses, spoke against badger cull, asked Minister on the Hunting Act, ban puppy farming, ban trophy hunting body part imports, ban monkeys as pets, procurement and much more. The Hansard notes can be read below.
Animal Welfare
12 December 2017 Volume 633
11.00 am
Zac Goldsmith (Richmond Park) (Con)
I beg to move,
That this House has considered the Government policy on animal welfare.
It is a pleasure to speak under your chairmanship, Mr Robertson. It is often said that we are a nation of animal lovers and in many respects we are a world leader in animal welfare. That is something we can be proud of.
In the months since the general election we have seen a blizzard of activity from the Government that will build on that proud record. They have committed to putting CCTV into all abattoirs to prevent abuse; they have committed to increasing the maximum sentence for animal cruelty from six months to five years; they have committed to closing down the ivory trade in the UK, to remove loopholes allowing new ivory to be sold as if it is old ivory; they are banning neonicotinoids, pesticides that are wiping out bees and many other pollinators; they are bringing in measures to tackle plastic waste that is clogging up our oceans, as we have all seen on the extraordinary "Blue Planet" series; and they are banning microbeads, those tiny particles of plastic that are causing mayhem to marine life.
On a bigger scale, we have seen over the past few years the creation of a network of giant marine protected areas. Our 14 overseas territories represent the fifth-largest marine estate in the world and include some of the most important biodiversity hotspots in the world. This Government have committed nearly 4 million square kilometres to protection by 2020—an area way bigger than India. That represents the single biggest conservation measure by any Government ever.
Despite that, there remains much to be done if we want to bring our animal welfare and environmental policy laws up to date, as we should. In this debate, I want to centre on animal welfare. It is timely that the Government have announced today that they will bring forward a new animal welfare Bill to deliver some of the commitments that have already been made.
As hon. Members know, we are putting EU environment and animal welfare laws into UK law, but there has been some controversy over one issue in particular: animal sentience.
Sir Hugo Swire (East Devon) (Con)
Does my hon. Friend share my sense that there are some who have been mischievous and misleading on that subject, because they refuse to believe that the Government take animal welfare seriously and are legislating more than any previous Government have done?
Zac Goldsmith
My right hon. Friend makes the point well and I agree with him. It was reported two weeks ago, as hon. Members will remember, that MPs had voted as if they felt that animals do not have feelings. That story took on a life of its own. It became a forest fire on social media. In fact, it became the top political story of the year. I have to say, notwithstanding what he has just said, it is a wonderful reflection on the British people that they made it the top story of the year, but it was, as he has said, fake news.
There has never been any disputing the fact that animals have feelings or that animal sentience needed to be enshrined in UK law. The Secretary of State for Environment, Food and Rural Affairs made clear at that time that he intended to find the best legislative vehicle for translating sentience into law, and today, as expected and as promised, he has, in a new animal welfare Bill. Also as expected and as promised, the new rules will go further, because our sentience principle will apply to all policy decisions and relate to all animals. It will not be narrowly restricted to those policy areas under EU control, as it is today. That point was made earlier today by the Royal Society for the Prevention of Cruelty to Animals.
John Lamont (Berwickshire, Roxburgh and Selkirk) (Con)
I pay tribute to my hon. Friend for raising this important cause. As a farmer's son, I know all too well the importance of protecting animal welfare. Does he agree that Brexit gives us an opportunity to strengthen our animal welfare rules and laws, so that we are putting animal welfare at the heart of our programme going forward?
Zac Goldsmith
I could not agree more with my hon. Friend and I will making that point in more detail shortly.
The new Bill that was announced at midnight last night will also increase the maximum jail terms for animal abusers from six months to five years. Both of those commitments are enormously welcome. It is great news and I can hardly exaggerate my thanks to the Secretary of State for the breathtaking leadership he has shown since being appointed to his role, but I believe it would be a mistake not to use the opportunity of a new animal welfare Bill to create something truly comprehensive, so I want to make the case for some key areas that I believe should be included and I want to start with farming.
John Howell (Henley) (Con)
Does my hon. Friend agree that preventing people who abuse animals from owning animals is a very good thing to include in the Bill?
Zac Goldsmith
I could not agree more with my hon. Friend and I thank him for making that point.
The Secretary of State has said:
"As we leave the European Union there are opportunities for us to go further and to improve… animal welfare".
Of course, he is right. For example—this goes to the point my hon. Friend the Member for Berwickshire, Roxburgh and Selkirk (John Lamont) was making—as we leave the EU, we will be able to end the live export of animals for slaughter and fattening, which is a grim process for tens of thousands of animals every year. Last year, 3,000 calves were transported from Scotland via Ireland to Spain and over 45,000 sheep were taken from the UK through continental Europe. Under EU single market rules, the UK has not been able to stop that—we have tried, but we have not succeeded. I am thrilled that Ministers have indicated that they are minded to act as soon as we are allowed. If we do, we will be the first European country to do so and will be setting what I hope will become a trend.
Procurement is another area where we can make a relatively easy and significant impact. The Government spend around £2 billion a year on food for schools, hospitals, prisons and military barracks. Currently, that food is required to meet only a very basic standard of animal welfare—basic standards that still leave chickens in tiny cages, pigs in cramped and stressful conditions, cows in sheds all year long and so on.
Neil Parish (Tiverton and Honiton) (Con)
I congratulate my hon. Friend on securing this debate. The five-year sentencing for animal cruelty is excellent. We need to procure food that is of a very high standard and British. We also need to ensure that, as we do our Brexit deals in future, we do not allow in food with much lower welfare standards, so that our farmers who have high-quality and high-welfare standards also have a real chance to maintain a competitive edge.
Zac Goldsmith
My hon. Friend makes an extremely important point. I am reassured by a number of statements that have been made by the Secretary of State in relation to that. Putting sentience into UK law across the entire range of Government policies will also help us ensure that we do not lower our standards in return for trade deals.
Kevin Foster (Torbay) (Con)
I congratulate my hon. Friend on securing this debate. Does he agree that it is very welcome that the Secretary of State has made clear that our sentience law will be much stronger than both French and EU law, which declares animal sentience, but then allows disgraceful practices such as cock fighting and bull fighting?
Zac Goldsmith
That is a very good point. The sentience principle in EU law has been held up by some as a gold standard, but it is a gold standard that has allowed foie gras, veal production, fur farming, in some cases donkey torture, bull fighting and much more besides. It is not a gold standard. We are setting a gold standard. We are going to go so much further, which we should be proud of.
Returning to procurement, we have £2 billion at our disposal, which we currently spend each year on food of a pretty low standard. In my view, that is a wasted opportunity. There are hundreds of schools and hospitals in this country already, including in my own constituency, that are choosing to use their buying power to support suppliers who guarantee higher standards. The Government need to take that best practice and make it into the norm.
Sir Hugo Swire
Share this contribution
My hon. Friend is making some extremely good points. Does he agree that one thing that has hitherto prevented our schools and particularly our armed forces from buying British products is EU procurement legislation? When we leave the EU, we will not have to do that, so we will be able to sell our own British-made products to British institutions.
Zac Goldsmith
That is exactly right. That has been a barrier all the way along from the Government's point of view. However, they can now begin to take that best practice and make it the norm. I would like to see them commit to using their vast buying power to boost the most sustainable and highest animal welfare standards.
When I first raised this point in Parliament as a new MP seven years or so ago, I was told all the time by Ministers: "You cannot do it. It will be too expensive. It is a luxury." I helped to set up a group called School Food Matters, originally in Richmond, to try it out in my own area. We persuaded Richmond Council and then Kingston Council to rewrite their contracts. Today, every single primary school in Richmond serves Food for Life gold standard food—the very best people can get. They prepare all their food in house and take-up by parents has trebled, and we are doing nearly as well in Kingston, where it started slightly later. Here is the thing: the cost per meal went down by 38p—it did not go up; it went down. In my view, that removes the only argument against pursuing this policy.
There is no reason not to use that simple but powerful lever to support the highest standards, but the Government can do more than that: they can raise the standards as well. There are two important ways in which the Government should do so. The first, simply, is to update the rules around cages. Millions of animals are currently trapped in appalling conditions on our farms. Pregnant sows are stuffed, unable to move, into farrowing crates, typically from a week before giving birth until the piglets are weaned. Those have been banned in Sweden and Norway, and we should do the same. Chickens are no luckier. We banned battery cages in 2012, but the so-called enriched cages that replaced them are more or less the same. They are hideously restrictive, and there is virtually no additional room at all. The life of a factory chicken just does not bear thinking about. Luxembourg and Germany have banned the cages, so why cannot we?
The second way in which we can easily raise standards is by tackling the overuse and abuse of antibiotics on farms. This is an animal welfare issue because antibiotics have been used in farming to keep animals alive in conditions where they would otherwise die, but it is also a major human health issue. The abuse of antibiotics has allowed the growth of resistant bacteria, which can spread to the human population and reduce medicines' effectiveness in treating our own infections. The brilliant chief medical officer Dame Sally Davies has warned:
"If we don't take action, deaths will go up and up and modern medicine as we know it will be lost."
It is worth thinking about that pretty profound statement from the chief medical officer. She has talked about a "catastrophic threat": the risk of millions of people dying each year from common infections.
The good news is that, after a lot of campaigning, the issue has risen up the political agenda and the Government have taken action. Sales of antibiotics to treat animals in the UK fell by 27% from 2014 to 2016. That is clearly good news, but the threat remains acute and the Government need to get a stronger grip. There should be absolutely no mass medication of animals simply to prevent illness. It should be outlawed. There should be no use of antibiotics, such as Colistin, that are classified as critically important to human health. They should have no place on a farm. If we stop this madness, we stand a chance of preventing a human health disaster and, as it happens, we will also force a kinder, more civilised form of farming.
Finally, on agriculture, an issue that merits, and has indeed had, many debates all of its own is the badger cull. The Government have always said that their policy of culling badgers to stop the spread of bovine TB is based on science, but that position is becoming harder to justify. The only full Government study into bovine TB transmission between cattle and badgers, which ran from 1998 to 2006, concluded that
"badger culling can make no meaningful contribution to cattle TB control in Britain."
More recently, the independent expert panel appointed by the Department for Environment, Food and Rural Affairs to advise on the current pilot cull stated that it was ineffective and inhumane. Nobody doubts the importance of dealing with TB or the devastating impact that it can have on livelihoods—
Neil Parish
I could not disagree with my hon. Friend more on this particular point. If there is a pool of the disease bovine TB within badgers, and someone tests their herds of cattle, ensures they are clean and then puts them out in fields where there are badgers carrying bovine TB, the badgers will then re-infect the cattle. We have to deal with both. I am sorry, but on this occasion I could not disagree with him more.
Zac Goldsmith
Well, we normally agree, and I thank my hon. Friend for his intervention. I do not believe that there is anything like enough evidence to justify culling tens of thousands of native wild animals, the vast majority of which are disease-free. This year is likely to see a trebling in the number of badgers culled, and yet in Wales, where no general culls are taking place, TB has halved. In the absence of robust science, the very least the Government should—
Simon Hart (Carmarthen West and South Pembrokeshire) (Con)
Does my hon. Friend recognise that the decline in bovine TB in Wales is no more distinct in the areas where vaccination takes place than it is in areas where vaccination does not take place? Indeed, the Welsh Government are now considering whether they need to bring in a limited cull because the existing methods are not working. I hope he takes that into account.
Zac Goldsmith
I am going to move on, but the chief veterinary officer in Wales takes a different view.
Neil Parish
She is in favour of culling.
Zac Goldsmith
She wants selective, as opposed to general, preventive culls, and that is different to our approach here in England.
Neil Parish
Share this contribution
Ours is selective.
Zac Goldsmith
Our approach is not selective. There are huge numbers of animals involved, The approach in England is a preventive cull, as opposed to a selective cull. My view is that at the very least the Government should suspend the cull and commission a proper study into the alternatives, so that we can be sure that the policy we adopt is based on science, and not assumption.
I shall hold off on taking interventions for a few moments, as in the time I have remaining I want to briefly look at how we treat exotic wild animals. In so many areas we are world leaders, but in others we lag behind. For example, at least 23 countries worldwide have banned the use of wild animals in circuses; but despite British Government promises going back five years, it is still legal to use lions, tigers, zebras and other wild animals in travelling circuses in the UK. It is time for Ministers to make good on a promise that has been made and repeated over the past five years.
The keeping of monkeys as pets is a similar issue. Primates are highly intelligent wild animals; they are not suitable pets. Like us, they enjoy complex social lives and form deep and lasting relationships, but despite that thousands upon thousands of squirrel monkeys, capuchins and marmosets languish alone in cages across the country. Because they become very tricky as they grow old, they are often simply abandoned and then have to be picked up by wonderful, but overstretched, organisations such as Monkey World in Dorset. The emotional and physical damage that they endure takes years and years to undo. Fifteen European countries have banned the trade, and more than 100,000 British people signed a petition demanding that we do the same. Again, we need to get a grip on this issue.
It is not just individual private ownership that needs looking at. There are 250 licensed zoos in the UK. Some, such as Howletts in Kent, really do represent the gold standard. The welfare of the animals is their principal concern, and the conservation of the species that they harbour is at the forefront of their campaign. They release animals back into the wild in a way that no other zoo in the country does. However, recent incidents, such as the exposé of the grotesque conditions at South Lakes Safari Zoo, show that there is a gulf between best and worst practice, and a need for better standards and a more rigorous inspection process. I believe that we need to establish a new, independent zoo inspectorate and give it the job of drawing up fresh standards for animal welfare in UK zoos and then enforcing them.
I want to join in the applause that the Government rightly earned last month when the Secretary of State announced that we would ban the trade in ivory here in the UK. Globally, the trade takes the lives of 20,000 elephants a year—one every 26 minutes—and they are hurtling towards extinction. We in this country—I do not think that many people are aware of this—are the largest exporter of legal ivory in the world, stimulating demand for ivory and giving the traffickers a means to launder new ivory as if it were old.
The Government's promise is not merely symbolic—it is much more than that—but I hope they will go further. Evidence is mounting of an increase in the trade in hippo ivory. There are only 100,000 or so hippos in the world, so the slightest shift in demand could be devastating for that species. I hope that the Government will expand their consultation, or the policy when it eventually emerges, to include other ivory-bearing species such as hippos, the walrus and the narwhal.
Finally on the international dimension, hon. Members will remember the outrage that followed the killing of Cecil the lion in 2015 and, too, the announcement a few weeks ago that the United States President was thinking of reversing the decision of his predecessor to ban the import of elephant and lion parts from trophy hunting. At the time it went largely unreported that this country also allows the import of wild animal trophies, including from species threatened with extinction. We need to change that. It should simply be illegal to import body parts of any animal listed as endangered by the convention on international trade in endangered species
The last point that I want to make moves into a different field. It relates not to farmed or exotic animals, or to our role overseas; it relates to puppies.
Dr Lisa Cameron (East Kilbride, Strathaven and Lesmahagow) (SNP)
The hon. Gentleman is making an excellent speech. He is a great advocate for animal welfare. Will he join me in supporting Lucy's law, which was launched in Parliament last week and looks for a ban on third-party puppy sales? Basically, it would ensure that the scourge of puppy farming no longer exists in this country. Also, will he support the early-day motion on Lucy's law launched today?
Zac Goldsmith
I thank the hon. Lady very much for her intervention, and I could not agree with her more strongly. I pay tribute to Marc Abraham who led the campaign for Lucy's law. It is probably inappropriate to mention that I can see him in the Public Gallery, but he has been an absolute champion for the cause. I believe that we will see some results in the next few months and will perhaps hear from the Minister on that shortly.
I will cut my speech down, because I have taken far too many interventions and am running out of time. I have provided a long but not exhaustive list of measures that I think we should take. It is an important list, however, and taking those measures is the right thing to do and would put the Government on the right side of public opinion. If there is any doubt about that, we need only to look at the public reaction to the albeit false stories about MPs believing that animals do not have feelings, or at the reaction from voters to the 2017 Conservative manifesto proposal on holding a vote to abolish the Hunting Act 2004—something that I hope the Government will now rule out.
I want to give the Minister enough time to respond. I know she will be unable to respond to every point I have made, but I hope that she will do her best in the 10 minutes we have left.
11.20 am
The Parliamentary Under-Secretary of State for Environment, Food and Rural Affairs (Dr Thérèse Coffey)
It is a pleasure to serve under your chairmanship, Mr Robertson. I congratulate my hon. Friend the Member for Richmond Park (Zac Goldsmith) on securing the debate. He covered a wide range of issues in the first 20 minutes, and as a consequence I am afraid I will not be able to take any interventions.
I reiterate that the Government share my hon. Friend's and the public's high regard for the welfare of animals. We extend that regard to animals whether they are companion animals, farm animals or wild animals. I reaffirm the principles on which the Government's policies on animal welfare are based: our recognition that animals are sentient beings, contrary to the fake news spread recently by certain media outlets. That is certainly true of this Government and of predecessor Governments. In fact, back in 1822, this Parliament was the first ever legislature to implement laws to protect animals, with the Act to Prevent the Cruel and Improper Treatment of Cattle. The Government believe that the direct effect of the principle of sentience is recognised throughout the statute book, but for the avoidance of doubt, I am sure that hon. Members will join me in celebrating this morning's announcement by my right hon. Friend the Secretary of State of a new Bill that will not only increase the maximum penalties for animal cruelty, from six months' imprisonment to five years imprisonment, but enshrine animal sentience in law.
The draft Bill will embed the principle that animals are sentient beings, capable of feeling pain and pleasure, more clearly than ever before in domestic law. There was never any doubt or question that our policies on animal welfare are driven by the fact that animals are sentient beings. The Government are committed to raising animal welfare standards and to ensuring that animals will not lose any recognitions or protections when we leave the EU. The draft Bill makes our recognition of animal sentience clear. It contains an obligation, directed towards Government, to pay regard to the welfare needs of animals when formulating and implementing government policy. That provision does not apply to Ministers in the devolved Governments of Wales, Scotland and Northern Ireland, but we will work closely with the devolved Administrations on that important matter.
That will build on the long list of legislation that Parliament has passed to protect animals. The first significant general legislation was the Protection of Animals Act 1911, which introduced the offence of causing unnecessary suffering to an animal. That Act stood the test of time and was used every year by the RSPCA to successfully prosecute about 1,000 people a year for animal cruelty. It was eventually replaced by the Animal Welfare Act 2006, which introduced the added offence of failing to provide for the welfare needs of an animal. That offence had been present in on-farm legislation, but its inclusion in that Act meant that it applied to all kept animals.
I could read out a very long list of Acts of Parliament, but it would take too long; however, it is an indication of how much animal welfare means to Parliament and the public, and I will mention one or two in particular. The Performing Animals (Regulation) Act 1925 regulates circuses and other acts involving animals; it is still in force, although the Government are in the process of replacing it. The Cockfighting Act 1952, as the name suggests, made it an offence to organise a cockfight. The Wildlife and Countryside Act 1981 stepped up provision for wildlife, including banning methods of killing certain animals—for example, wild birds—to avoid bodily injury in a particular way. The Zoo Licensing Act 1981 imposed strict welfare and conservation standards on our zoos.
We have also introduced regulations through EU law, and we will bring into UK law any that are not already in place through powers granted by the European Union (Withdrawal) Bill. Those include the Welfare of Farmed Animals (England) Regulations 2007, which implemented EU legislation on minimum standards of welfare for different species of farmed animals, and the Welfare of Animals (Transport) (England) Order 2006, which implemented EU legislation on the welfare standards for animals in transit. As I indicated, the Government intend to go further on improving the welfare of all animals, be they wild, companion or farmed.
The UK has been at the forefront of driving global efforts to safeguard the world's most vulnerable species and we remain absolutely committed to protecting global wildlife for generations to come. As my hon. Friend the Member for Richmond Park pointed out, that is why we are taking action to preserve elephants and are now consulting on our proposed ban of the sale of ivory in the UK that contributes directly or indirectly to the poaching of elephants. The proposals, on which we are consulting, are designed to put the UK front and centre of global efforts to end the insidious trade in elephant ivory.
Historically, the United Kingdom has been ahead of international trends on trap humaneness, outlawing leg-hold traps and establishing an approval system for spring traps in the 1950s. We propose to consult next month on UK-wide implementation of the agreement on international humane trapping standards. That agreement between the EU, Canada and the Russian Federation puts in place humaneness standards to improve the welfare of wild animals commonly caught in traps for their pelts. Under the agreement, we are required to prohibit traps and trapping methods that do not meet the standards for a list of species, five of which are currently present in the wild in the UK: stoat, badger, pine marten, otter and the European beaver. I know that my hon. Friend takes a great interest in them. When the UK legislation comes into force, only traps and trapping methods that meet the standards for species covered by the agreement will be permitted under licence.
Alex Chalk (Cheltenham) (Con)
Will the Minister give way?
Dr Coffey
I am afraid I cannot at the moment, but if I have time at the end, I will.
We will tighten the rules regarding dog breeding, pet shops, animal boarding, performing animals and riding stables. Irresponsible dog breeders and dealers are a stain on our national conscience and such people who exploit that trade must be stopped. We will introduce new regulations on the welfare of dogs in dog breeding establishments. We will ensure that more breeders need to be licensed. Statutory minimum welfare standards will be applied to licensed breeders and will be enforced by local authority inspectors. Detailed guidance will be provided to inspectors to assist them with the new regulations.
All pet vendors will also have to provide information to new owners to educate them about their new pet. It will be made clear that any business selling pet animals online will also need to be licensed. We continue to work closely with the Pet Advertising Advisory Group on minimum standards for such sellers. We are enormously grateful for the input from local authorities and other organisations on drafting the new regulations. I hope that they will be in place by the end of next year.
As my hon. Friend the Member for Richmond Park highlighted regarding farm animals, to improve welfare of animals at slaughter and to deliver our manifesto commitment, we recently carried out a public consultation on our proposals to require CCTV in every slaughterhouse in England. The consultation closed in September. There was strong support: of the nearly 4,000 responses, more than 99% were in favour, which is an overwhelming endorsement of the policy. We published the Government's response to the consultation last month and will follow that up by laying secondary legislation before Parliament early in 2018.
In particular, my hon. Friend raised the issue of the live export of animals, which is of significant concern to hon. Members. Compared with 20 years ago, there has been a dramatic fall in the trade in live animals going directly for slaughter. Nearly 2 million animals were exported every year, but in 2016, 50,000 sheep were exported, with 5,000 going directly for slaughter from Great Britain. Sheep are the main livestock species to be exported for those purposes, and I know the issue still causes considerable concern.
My hon. Friend will be aware of the restrictions we have now within the EU, but we have always been clear that the Government would prefer to see animals slaughtered as near as possible to their point of production. We believe that a trade in meat is preferable to a trade based on the transport of live animals, particularly when journeys may result in livestock travelling long distances across Europe. As we move towards a new relationship with the EU and the rest of the world, we have a unique opportunity to shape future animal welfare policy to ensure the highest standards in every area. Our manifesto commitment made it clear that we would take early steps to control the export of live farm animals for slaughter once we leave the EU. We are currently considering options, but the issue is rather complex and any future proposals would have to consider trade between the UK and Ireland, whether that is with Northern Ireland or across the Republic of Ireland.
On farm codes, as well as laying new statutory welfare codes for cats, dogs and horses before Parliament shortly, we are also raising standards on farms by modernising the farm animal codes, a move that has been welcomed by industry. A new code for meat chickens will be laid before Parliament shortly and we will consult on new codes for laying hens and pigs in the new year. The updated codes of practice for England will provide clear guidance to producers on how to comply. We continue to work closely with DEFRA's delivery bodies, including the Animal and Plant Health Agency, on the enforcement of animal welfare standards.
My hon. Friend raised a wide variety of issues. The Government and the farm sectors, such as the meat chicken industry, have taken significant strides on reducing the amount of antibiotics used, although I recognise that that may still not be enough for him. He also mentioned trophy hunting, and I think he would find it worthwhile to read Professor Macdonald's report, which DEFRA commissioned, about the balance of conservation and hunting for commercial purposes in that way. The restriction that he referred to, which President Trump was considering removing, has put a pause to that—it was specifically from Zimbabwe. I believe that the US does allow other elements still to be imported, but that is done on a conservation basis.
The measures that I have set out clearly demonstrate the Government's intention to avoid animal suffering and show we are taking steps to strengthen standards. In future, when we are outside the EU, we intend to take full account of the scope for the UK to set the very highest standards in animal welfare and to encourage action on a global level.
I have 30 seconds left, so I will take a brief intervention from my hon. Friend the Member for Cheltenham (Alex Chalk).
Alex Chalk
In considering the welfare of wild animals, does the Minister welcome the plans approved by the Government to release beavers into the Forest of Dean for the first time in 400 years? Does she agree that that should be the beginning of a longer process of reintroducing, when practical, species that were previously wiped out by human activity?
Dr Coffey
Beavers have not really been present for 400 years on this island, although my hon. Friend will be aware of the releases that have happened in Scotland. I am aware of the River Otter trial, and further trials are to come. It matters that our approach is based on science and rigour, which is what this Government will ensure.
Question put and agreed to.
11.30 am
Sitting suspended.