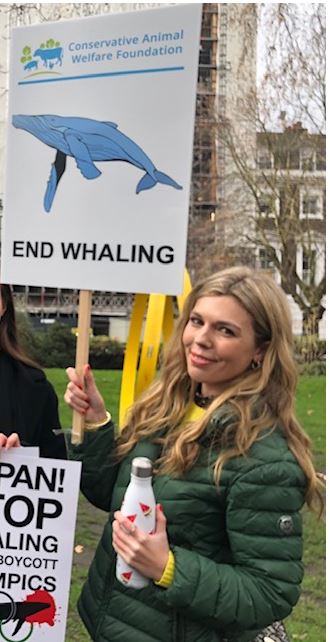 Carrie Symonds will speak at Birdfair this evening at 7.30pm at the event ' State of the Earth' on the importance of conservation and wildlife protection. The panel includes Chris Packham, Tony Juniper, Philip Lymbery, Dominic Dyer and Deborah Meaden.
Carrie is a Patron of the Conservative Animal Welfare Foundation which campaigns to end intensive cage systems for egg laying birds, pig farrowing crates, live animal exports and more.
The British Birdwatching Fair or Birdfair is an annual event for birdwatchers, held every August at Rutland Water in England. It is described as the birder's "Glastonbury". Birdfair encompasses the whole spectrum of the birdwatching industry whilst at the same time supporting global bird conservation.
Lorraine Platt, Co- Founder of Conservative Animal Welfare Foundation commented:
"Carrie has been a Patron of the Conservative Animal Welfare Foundation since December 2017 and has helped campaign on issues like the ivory ban, animal cruelty sentencing, trophy hunting and plastic pollution. We are thrilled that she will be representing us at Birdfair today where I'm sure she is likely to touch on some of these issues. We are proud that Carrie is our much valued Patron and it's fantastic that we have such an active animal welfare campaigner at No10 to help advance animal welfare. We were delighted that our new Prime Minister Boris Johnson included promoting animal welfare in his first speech on the steps of Downing Street which sends a powerful global message on the importance of this issue to the British public."
Conservative Animal Welfare Foundation Patrons include Secretary of State for the Environment Theresa Villiers, Defra Minister Zac Goldsmith, Sir Roger Gale MP, Sir David Amess MP, Henry Smith MP, John Flack former MEP and Elise Dunweber, Chairman of Esher & Walton Conservative Women's Organisation.
Sir David Amess MP will host the 'What Next For Animal Welfare?' reception for Conservative Animal Welfare Foundation jointly with Compassion In World Farming on 30th September at the Conservative party conference.