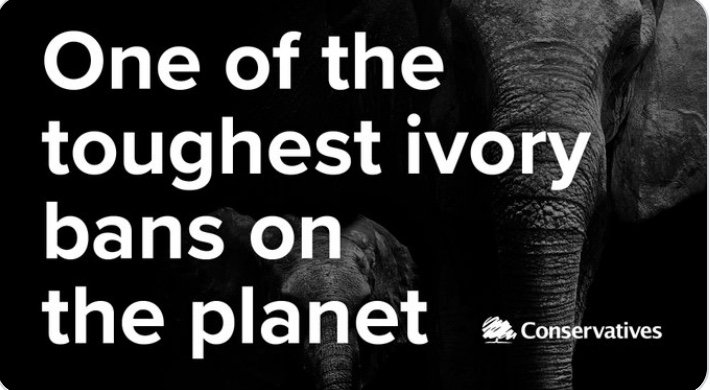 Michael Gove, the Secretary of State for Environment, Food and Rural Affairs, opened the debate. His opposite number, Sue Hayman, responded on behalf of the Opposition.
The bill passed its second reading without a division. The bill will now be considered by a Public Bill Committee.
Summary of the Bill
The purpose of the Bill is to prohibit commercial activities concerning ivory in the UK and the import and re-export of ivory for commercial purposes to and from the UK, including intra-EU trade to and from the UK.
The Ivory Bill is taking a step closer to coming into force with its introduction in Parliament. Read the debate here: https://hansard.parliament.uk/Commons/2018-06-04/debates/209B22F2-123F-4CEF-B6DC-A1A7B0AAC755/IvoryBill
Elephants are one of the world's most iconic animals and we must do all we can to protect them for future generations.
All MPs sounded support. This was a great and important day for the elephants, not only for the poor African elephants, slaughtered in their hundreds of thousands for trinkets, but also for the often overlooked Asian elephants for whom ivory poaching is an even graver peril: first, because their numbers are far lower (only 40,000 or less now) but secondly, because only males of the Asian elephants have significant tusks so the species' chance to breed is decimated by ivory poaching.
Our Patron Sir David Amess MP said:
"I congratulate all the animal organisations that have encouraged the Government to introduce the Bill, and I completely agree with what my hon. Friends the Members for Richmond Park (Zac Goldsmith) and for Mid Derbyshire (Mrs Latham) said. However, there are three people I wish to single out. The first is Mr Attenborough, whose wonderful films and programmes have transformed people's perceptions and views of animals, not just throughout our country but throughout the world. If only I had a voice like Mr Attenborough's, Madam Deputy Speaker, wouldn't I be worth a lot of money?
I also wish to congratulate a lady called Lorraine Platt. I do not wish to upset a number of my colleagues—I do not think that there are any farmers in the Chamber at the moment—but I have been here for quite a while, and there was a time when it seemed that if an animal walked or moved a bit quickly, one might be encouraged to shoot or snare it. Lorraine Platt has transformed my party's perception of the way in which we treat animals, and I salute her for that.
Finally, I congratulate the Secretary of State. We heard from my right hon. Friend the Member for North Shropshire (Mr Paterson), but this is a moment for celebration—and here I come to the remarks made by the hon. Member for Workington (Sue Hayman). Looking around the Chamber, I think that I have been a Member of Parliament for longer than anyone else who is present, and I have a good memory of how we have dealt with animal welfare measures in the past. We have not always been brilliant on the issue. In fact, it was David Mellor, when he was a Minister, who amended a raft of legislation—I happened to be a member of the Committee considering the Bill in question—but the hon. Lady mentioned the Labour party. It is absolutely true that when Tony Blair took office, animal welfare organisations were very enthusiastic about the way in which the party would develop, and huge amounts of money were given to it.
I salute what I see as a major victory on foxhunting. Indeed, I can tell my colleagues that I was one of the only five Conservatives who used to vote in favour of banning it. How that has changed in 2018. Colleagues saw that when our Prime Minister made an off-the-cuff remark about a free vote on bringing back foxhunting, it went down like a lead balloon. However, let me say gently to the hon. Lady that by the time Tony Blair left office, at a time when I had strong contacts with many animal welfare organisations, I felt that there was some disappointment, so I salute what the Secretary of State is doing. I cannot keep up with it. Each week, each month, all the things we have been asking for for such a long time are happening. The House will be united in encouraging him.
Elephants are wonderful animals. I have kept most kinds of animal, but I have never owned an elephant. We have not had room for one—although, according to my wife, I sound like a herd of elephants when I go up and down the stairs. It is impossible to imagine a world without elephants: that is unthinkable. We need only see the television programmes in which an elephant dies and all the others gather round it. They are absolutely wonderful animals, and what has been happening is barbaric.
I recently met Mr Duncan McNair, founder of Save the Asian Elephants, a remarkable association, and I gently say to the House that we must discourage our constituents from going on safaris where they ride on elephants. They should learn in detail how these elephants are restrained; it is quite wicked.
I was in Strasbourg last week. It was the first time I have ever been there, and it was wonderful. I addressed the Intergroup on the Welfare and Conservation of Animals, and it is going to follow our lead in this regard.
I do not judge a society just on how it treats human beings; I judge it also on how it treats animals. This is a great day for the House of Commons and a great day in terms of progress in animal welfare."
YouTube) https://youtu.be/Y2S8ovAjwbA
Patron Sir Roger Gale MP said (North Thanet)
"My right hon. Friend will perhaps know that there was a debate in Westminster Hall on the fur trade earlier this afternoon. During that debate, the point was made very clearly that one of the reasons that that vile trade should stop was that there was no need for it. Is that not also the case for ivory? There is no need for it."
Patron Zac Goldsmith MP said: (Richmond Park)
"It is a great honour to follow the hon. Member for Bassetlaw (John Mann) and I strongly endorse much of what he said. This Bill is pure good news, which is a very rare thing in Parliament, from my short experience. I thank the Secretary of State for being true to his word and actually delivering the Bill, having promised that he would do so.
The situation today is desperate. As we have heard, every 25 minutes, an elephant is killed for its tusks. That is 20,000 elephants a year. There has been a 90% collapse in the elephant population in the last century. Notwithstanding the leadership that this country has undoubtedly shown in recent years, the UK has historically been a very big part of the problem. According to TRAFFIC, it is estimated that the amount of ivory equivalent to that from more than 1 million elephants was transported from Africa to the UK between 1860 and 1920. As we have heard, we are still significant exporters of ivory today.
We are on the brink of losing forever the world's most iconic species—a sentient, highly intelligent animal. And we are not doing it for any justifiable or noble reason; we are doing it so that a few people can have trinkets. It is a brutal, barbaric business that directly funds some of the most abhorrent organisations on the planet today. In the case of al-Shabaab, the organisation responsible for the appalling events in the shopping mall in Nairobi six years ago, it is estimated that 40% of its funding comes from the ivory trade. We know that, where poaching happens, it enriches the worst possible people, but it also destabilises and impoverishes whole communities.
We also know that bans work. In 1989, we had a worldwide ban approved by CITES and immediately poaching levels fell dramatically—as did, by the way, the price and the value of ivory. Tragically, 10 years later, after suspicious levels of lobbying, so-called one-off sales were allowed, and the market was flooded with legal ivory, in turn making it easier for traders to launder illegal ivory. That is exactly why the Bill that we are passing today—I very much hope we are passing it—is so important. If it is passed, we will have introduced one of the toughest ivory bans in the world.
That is fantastic news but, at the risk of sounding churlish, I want to make a few minor suggestions. First, I very much hope that the Bill is passed—I am speaking more quickly as the great Secretary of State departs the Chamber; I hope that he catches this point—before the illegal wildlife trade conference in October, because otherwise we will lack the authority that we are going to need in order to be able to ask other countries to do their bit, and we are going to need to ask a lot of other countries to do a great deal.
Secondly, the ban will be meaningful only if it is properly enforced, so we need to provide a long-term settlement for the National Wildlife Crime Unit, as well as resources for the CITES border force team. Thirdly, as we have heard, the Bill currently applies only to elephant ivory. The risk is that we will be displacing demand from elephants to other ivory-bearing species such as killer whales, sperm whales, walruses, hippos and narwhals, all of which are under varying levels of threat. There are only 100,000 hippos in the world today. That is staggeringly depressing. I hope that the Government will look again at including a wider range of species in the Bill.
In October, we have the IWT conference, following the first one four years ago. It is right that we should celebrate some of the good news. It is fantastic that China is closing down its state-owned carveries and banned all domestic ivory trade at the end of last year. The US has introduced a near-total ban. Hong Kong is promising to do the same. However, we must also acknowledge that the problem is growing, not shrinking, despite everything we have heard and seen over the past few years. The conference is an opportunity for us to exhibit real ambition. We need to use every lever at our disposal to encourage other countries, including the members of the European Union, to introduce their own ivory bans as a matter of urgency.
We need to tackle online crime. We heard a bit about this from the hon. Member for Bassetlaw. So much of the trade has shifted online. I recommend that colleagues read a recent report by the International Fund for Animal Welfare called "Disrupt: Wildlife Cybercrime". It paints a very bleak picture, but it also gives reason to be cheerful. In March this year, 21 companies, including Google, eBay, Facebook, Instagram, Microsoft and Alibaba, joined forces with the WWF, IFAW and TRAFFIC to launch the Global Coalition to End Wildlife Trafficking Online. And it works: in just one year, eBay removed more than 25,000 listings from its site.
We need to expand the focus of the summit beyond ivory. In the past decade, more than 7,000 rhinos have been poached for their horns. Grey parrots are being hoovered out of the African continent at a totally unsustainable rate. Since 2000, l million pangolins have been caught and sold for meat and medicine. Fisheries are being desecrated by illegal fishing operations all around the world, plunging the communities that depend on them into desperate poverty. This is organised crime on a massive scale. That needs to be reflected in our approach.
Finally—again, I echo some of the remarks by the hon. Member for Bassetlaw—we need to see a much greater emphasis on this and a greater level of commitment to it from the Department for International Development. It is extraordinary that just 0.4% of our vast official development assistance budget goes towards nature, let alone tackling the illegal wildlife trade. We may be part of a small club of nations honouring our commitment to meeting the UN target on overseas aid, but we are miles behind countries such as Germany, the USA and others when it comes to funding restoration of ecosystems, tackling wildlife crime and protecting the environment. There is a link between poverty alleviation and environmental sustainability—that is well established and unarguable. That must now finally be reflected in the work of DFID, not least so that the public, many of whom are very sceptical about its very existence, can buy into it and understand what it does. It is time for DFID to wake up."
Patron Henry Smith MP said: (Crawley) (Con)
"My right hon. Friend is making a fantastic start to his speech. It is estimated that some 20,000 African elephants are being poached every year, the equivalent of about 55 a day. Does that not mean that it is important for us to pass the Bill as soon as possible?"
Bill to ban all ivory sales to be chaired by Mark Pritchard MP
Conservative MP Mark Pritchard said he was delighted to have been asked to lead the bill through parliament.
Mr Pritchard described the bill as "ground breaking" and said it would held reduce the demand for ivory.
He said: "I am delighted to have been asked by the chairman of Ways and Means to chair this key animal welfare legislation through Parliament.
"It is a ground breaking piece of legislation which will help reduce the demand for ivory with all that means for declining elephant populations. It is robust and protective."