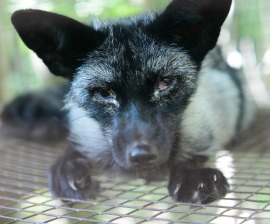 Conservative Animal Welfare Foundation welcomes the The Environment, Food and Rural Affairs Committee inquiry into the fur trade in the UK. We support a ban on the import of fur in the UK and this is included in our' Brexit: Opportunities for Animal Welfare' proposals document which we delivered by hand to No10 with our Patron Sir Roger Gale MP in January 2017. Each year, millions of animals suffer and die to make trims on clothing and accessories, and those products are for sale in markets and on high streets across the UK, right now. There have been growing calls for a foreign fur imports ban after fur farming was banned in the UK more than a decade ago.
Sir Roger was interviewed by Sky News in December 2017 and said: 'It is crazy that we banned it here, and that we are still permitting imports… with the retailer, it's not an excuse to say, 'Oh we didn't know' – damn well find out!"
The Sky News report has been working with HSI UK to highlight mass farmed foreign fur being mislabelled as' faux' in UK stores. Read the report here: https://news.sky.com/story/more-retailers-selling-real-fur-labelled-as-fake-sky-news-investigation-finds-11177979
Visit HSI UK for more information on the fake faux fur scandal: http://www.hsi.org/world/united_kingdom/work/fur/facts/mis-labelled-fur-uk.html
On the 20th December, Neil Parish MP ,the chairman of the Environment, Food and Rural Affairs Committee, told Sky News it was an issue the Government needed to look at quickly. He said: "Due to your Sky investigation, we will now very much put pressure on the Government to bring in a ban.
"I'm also going to talk to the Secretary of State Michael Gove for DEFRA, who is extremely keen on animal welfare and within the select committee of Environment, Food and Rural Affairs, which I chair.
"I would use the fact that Sky have had this investigation to look at a way we could have an inquiry into the issue as well."

Fur trade in the UK inquiry launched
07 February 2018
The Environment, Food and Rural Affairs Committee launches an inquiry into the fur trade in the UK.
Fur farming was banned in the UK in 2000. EU regulations ban trade in fur from domestic cats, dogs or commercial seal hunts. The UK still imports and sells fur from a range of other species such as fox, rabbit, mink, coyote, racoon dog and chinchillas.
Fake faux fur
There have been recent high-profile cases of fur being sold as fake fur by major high-street and online retailers. This "fake faux fur" was made from a variety of animal including rabbit, fox and chinchilla.
The Committee wishes to examine the current fur trade and how the industry can be made more transparent for the consumers. Longer-term, Brexit may provide an opportunity for the UK Government to look at legislation around the import of fur.
Neil Parish, Chair of the Environment, Food and Rural Affairs Committee, said:
"Fur farming has been banned in the UK for 18 years, and the sale of legal fur sourced from outside the UK should be tightly regulated. Reports in recent weeks that real fur is being sold as fake fur concerns us greatly, and so we have chosen to formally inquire into the matter.
"Retailers have a duty of care to their customers who have the right to know what they are buying. Our inquiry will determine where responsibility lies for the increase in illegal fur sales, and identify the steps that need to be taken to stop it in its tracks."
Terms of Reference:

1. The Committee would welcome written submissions which addressed the following questions:How large is the fur trade in the UK?
2. How effective is the current law with regards to animal fur, and does it go far enough?
3. Is the legislation sufficiently enforced?
4. What improvement, if any, can be made to the current labelling of fur products and fake fur products, and how could these be enforced?
5. What improvements should be made to the regulation of the fur industry?
6. What opportunities does Brexit offer to change current legislation?
Deadline for submissions

Written evidence should be submitted through the inquiry page by Friday 23 February. The word limit is 3,000 words. Later submissions will be accepted, but may be too late to inform the first oral evidence hearing.
Please send written submissions using the form on the fur trade in the UK inquiry page.