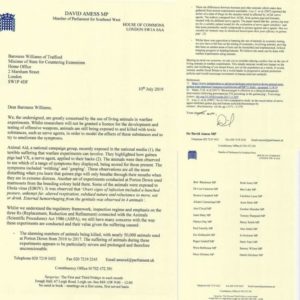 In 2017 alone, 3,865 innocent animals were used for testing at Porton Down, with a total of 48,654 between 2010 and 2017. Porton Down admits to producing small quantities of chemical and biological agents which, if transferred to animals, can cause mental impairment, breathing problems, seizures and death.
The Government cannot grant licences for the testing of offensive weapons, but authorities are currently able to consider the awarding of a licence for the development of ways of protecting or treating service men and women.
The signatories of the letter, representing the Conservatives, Labour, Liberal Democrats, SNP, DUP, Plaid Cymru and The Green Party have made clear that the proposed change would not put at risk UK armed forces, or the population more broadly.
Sir David Amess, MP for Southend West said:

"It is extremely concerning that innocent animals are being used for the testing of substances like nerve agents. The UK has a proud record of protecting and advancing animal rights and we cannot allow tens of thousands of animals to continue to suffer in the way which they are today. I am delighted to be one of 25 MPs who have come together from across the political divide to call on the Government to ban this form of testing."

MPs are committed to ensuring the welfare of animals, and hope to receive a positive response from the Minister in due course.