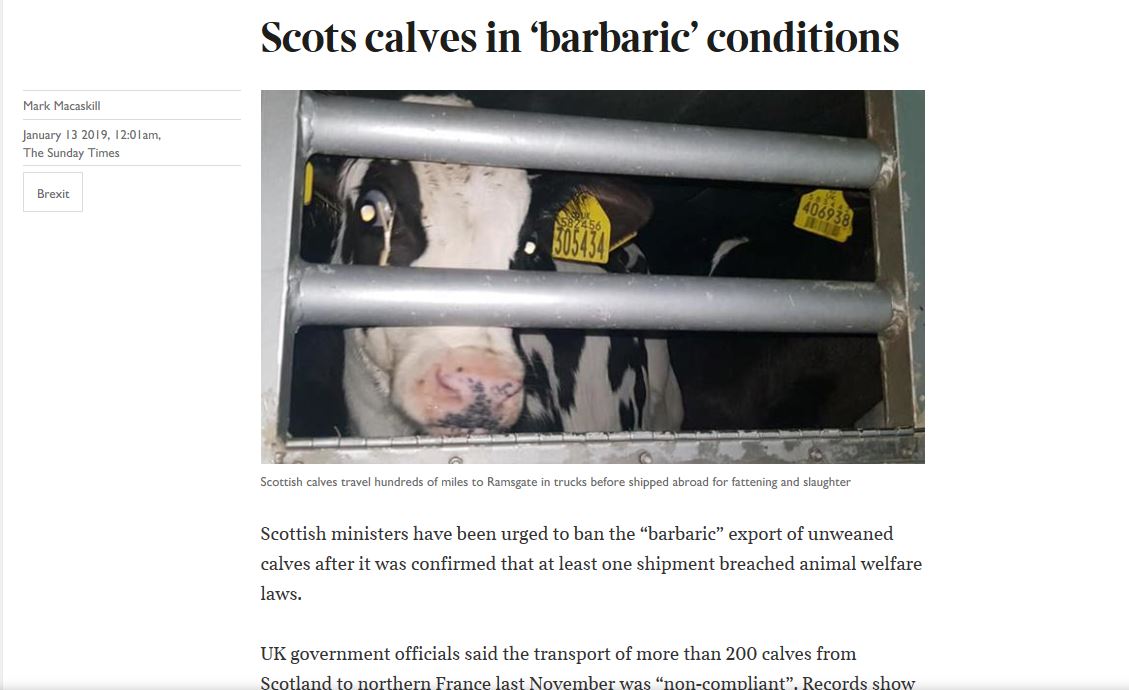 Scottish calves travel hundreds of miles to Ramsgate in trucks before shipped abroad for fattening and slaughter 
Scottish ministers have been urged to ban the "barbaric" export of unweaned calves after it was confirmed that at least one shipment breached animal welfare laws.
UK government officials said the transport of more than 200 calves from Scotland to northern France last November was "non-compliant". Records show that the animals, aged between four to six weeks, were driven to the English port of Ramsgate in Kent and spent almost 12 hours in the back of a cramped truck without adequate rest — three hours longer than the legal maximum of nine hours.
It took almost 20 hours to reach a rest stop in northern France, during which time one animal died.
Opposition politicians said this weekend that live exports must stop and warned that Brexit border delays will worsen animal suffering. "This trade is barbaric and completely unnecessary and the Scottish government must finally back a comprehensive live export ban," said Mark Ruskell, the Green MSP. "With selective breeding, unwanted male dairy calves can be incorporated into Scotch beef production. There is no excuse for shipping animals for days on end or shooting them at birth."
Kay Hamilton, the Dowager Duchess of Hamilton and a keen animal rights campaigner, called for the trade to end. She buys milk from an ethical dairy south of the border. "Surely Scotland can keep the bull calves with their mothers till weaned? Fancy a Scot buying her milk from England," she said.
A Scottish government spokeswoman said: "The APHA, which approves route plans on behalf of the Scottish government, is aware of this incident and we expect any necessary regulatory action to be taken in all instances. We are absolutely committed to the highest possible welfare standards for animals and to ensuring livestock in Scotland are reared, transported and treated throughout their lives humanely and with respect. We expect EU legislation and rules on the transport of livestock in all circumstances to be adhered to and where necessary, vigorously enforced. We recognise the complexities around livestock transportation and are working with the sector to explore other options."
https://www.thetimes.co.uk/edition/scotland/scots-calves-in-barbaric-conditions-9wzm9dljw
We are grateful to our Patron Henry Smith MP for asking if live exports could be banned to Minister Michael Gove on the 10 January 2019 and for the encouraging response from the Minister:

In January, our Patron Zac Goldsmith MP tabled New Clauses 17 and 18 amendments to the Agriculture Bill to end live exports and introduce method of farming labeling.