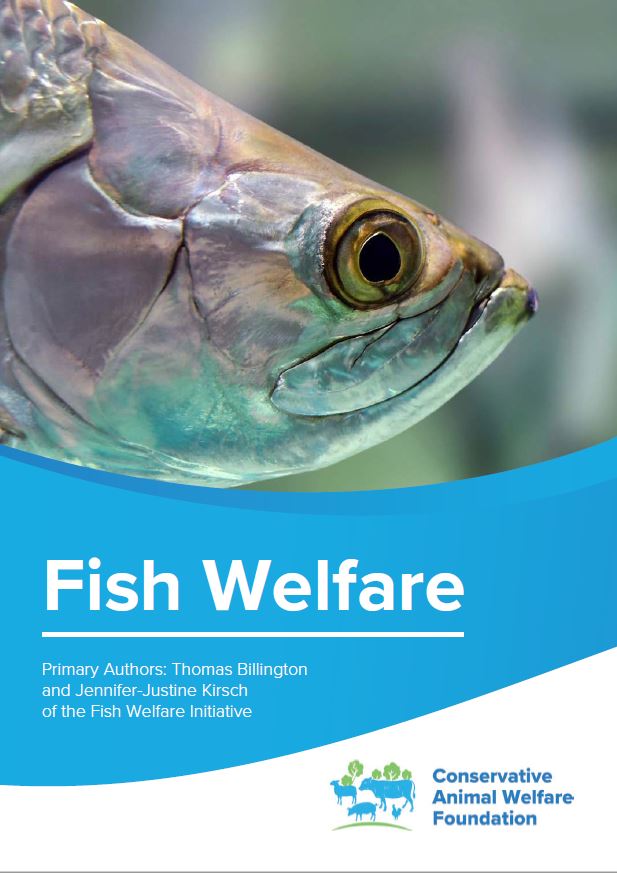 The Conservative Animal Welfare Foundation launches its new Fish Welfare report.
Thanks to our friends at the Fish Welfare Initiative, Jennifer Kirsch and Thomas Billington, for their expertise in putting this report together.
The UK was one of the first countries to introduce animal welfare legislation. However, fish have typically been left out of this progress. Today, the UK farms an estimated 28 to 77 million fish1 and catches a further 1.5 to 2.7 billion 2 every single year, with close to no regulation on the treatment of these animals.
76% of people in the UK believe the welfare of fish should be safeguarded to the same extent as other animals farmed for food.3 However, the current lack of legislation has created an animal welfare crisis that is as massive as it is inhumane.
Co- Founder Lorraine Platt said:
"We believe that the suggestions outlined in our report stand as ambitious but important steps towards properly engaging with the World Organisation for Animal Health standards that the UK has committed to. They will help put the UK at the forefront of fish welfare and stimulate world-wide change.

Ultimately, our report states that fish deserve a seat at the table, and their interests should be included as a factor within any decision that affects them. Stereotypes of fish as unintelligent and unsophisticated have prevented this from happening before now. It is time the question is shifted from whether fish can suffer, to how we are going to protect their interests given they can".
Ends
Conservative Animal Welfare Foundation Fish Welfare Report: https://www.conservativeanimalwelfarefoundation.org/wp-content/uploads/2021/03/CAWF-Fish-Welfare-Report-1.pdf
1 Fiscount. (2018). Estimated numbers of individuals in aquaculture production (FAO) of fish
species (2017). fishcount.org.uk/studydatascreens2/2017/numbers-of-farmed-fish-B0-2017.php?countrysort=United%2BKingdom%2Fsort2
2Fishcount. (2017). Estimated numbers of individuals in average annual fish capture (FAO) by
fishcount.org.uk/studydatascreens/2016/numbers-of-wild-fish-B0-2016.php?countrysort=United%2BKingdom%2Fsort2country fishing fleets (2007 – 2016).
3ComRes. (2018). Eurogroup for Animals/CIWF Fish Welfare Survey.EuroGroup for Animals / CiWF Fish Welfare Survey « Savanta ComRes (comresglobal.com)