The Animals Are Not Freight Day of Action takes place on 29th August 2016-  the 20th anniversary of the biggest live export disaster when more than 67,000 sheep died as the ship carrying them burned.
Groups all over the world, – including in South Africa, Canada, Australia, Israel and Iraq – have already pledged to take part http://www.notfreight.org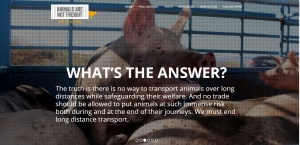 LONG DISTANCE SUFFERING
Animals are crammed into vehicles.
Overcrowding will mean that some cannot lie down at all, while those who do may be injured or trampled to death. Others endure long journeys with legs trapped and injured, or painfully stooping as they are not given sufficient headroom.
EXHAUSTION AND DEHYDRATION
They can be in transit for days, suffering extremes of temperature and often without sufficient food, water or rest. Many die as a result.
PAIN, STRESS, AND DISEASE
Animals are sentient beings and feel pain and stress just like we do.
Animals are transported in both blistering heat and freezing conditions. Trucks may be faulty, and cause limbs to be trapped or animals to stoop for days on end. Some will be injured as those around them panic. Water may not be provided throughout these long journeys.
Animals' immune systems are often reduced as a result of the hardship of long distance transport, resulting in diseases being caught more easily.
INHUMANE SLAUGHTER
Animals will often be shipped alive, only to be slaughtered at journey's end using inhumane methods.
In particular, when animals are exported from Europe to countries outside the EU they leave behind them all the legal protection they once received. This means they can face terrible abuse during transport and at the time of slaughter.