On April 6 2016, the annual Ceva Animal Welfare Awards paid tribute to people who improve the lives of animals. A glitzy celebration at the Burlington Hotel, Birmingham, announced the winning candidates across the seven award categories. The awards now in their fifth year, serve to raise the profile of animal welfare around the world and within the veterinary industry.
 The Awards dinner ceremony took place ahead of the BSAVA Congress.
The Co founder of Conservative Animal Welfare Foundation was delighted to be included as one of three finalists (for a campaign on wildlife protection) for the Ceva Animal Welfare Volunteer of the Year Award 2016
Judges included Christopher Laurence MBE BVSc and James Yeates, Chief Veterinary Officer of the RSPCA, who selected winners from an exciting selection of entries across the categories which recognise Vets and Vet Nurses, volunteers and charity professionals.
This year saw an additional award offered in special recognition by Ceva Animal Health to The Brooke, a charity dedicated to the support of working horses, donkeys and mules in some of the world's poorest communities.
Head judge Christopher Laurence, said: "It only feels like yesterday that the awards started and every year it seems to get better. As we have seen tonight there are people who have given their lives for the animals and asked for nothing, working for years and years.
"Animal welfare is part of our life in this country but it doesn't just happen. It requires those dedicated individuals who work week in, week out, year on year. They are just fantastic."
Christopher Laurence Vet of the Year Award – in association with the Veterinary Times
Winner: Heather Bacon, The Royal (Dick) School of Veterinary Studies
VN Times Welfare Nurse of the Year Award
Winner: Shakira Free Miles, Beaumont Veterinary Hospital
Farm Animal Welfare Award – in association with R.A.B.I and N.A.D.I.S
Winner: Ruth Clements, FAI
Charity Professional of the Year – in association with PDSA
Winner: David Yates, Hospital Director RSPCA Greater Manchester Animal Hospital
Charity Team of the Year – in association with Your Cat Magazine and Your Dog Magazine
Winner: ACTAsia
Volunteer of the Year Welfare Award– in association with Blue Cross
Winner: John and Judith Morton, East Midlands Retired Greyhound Trust
International Cat Care Welfare Award- in association with Agria Pet Insurance
Winner: Harry Eckman, Change For Animals Foundation (CFAF)
The winners were presented with their awards on stage by the judges, alongside a representative from each of the category sponsors, which this year included Blue Cross, PDSA, International Cat Care, Agria Pet Insurance, N.A.D.I.S and R.A.B.I, and media titles, Veterinary Times, VNTimes, Your Dog magazine and Your Cat magazine.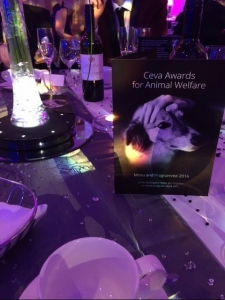 For further information regarding the awards go to:   http://www.cevawelfareawards.com