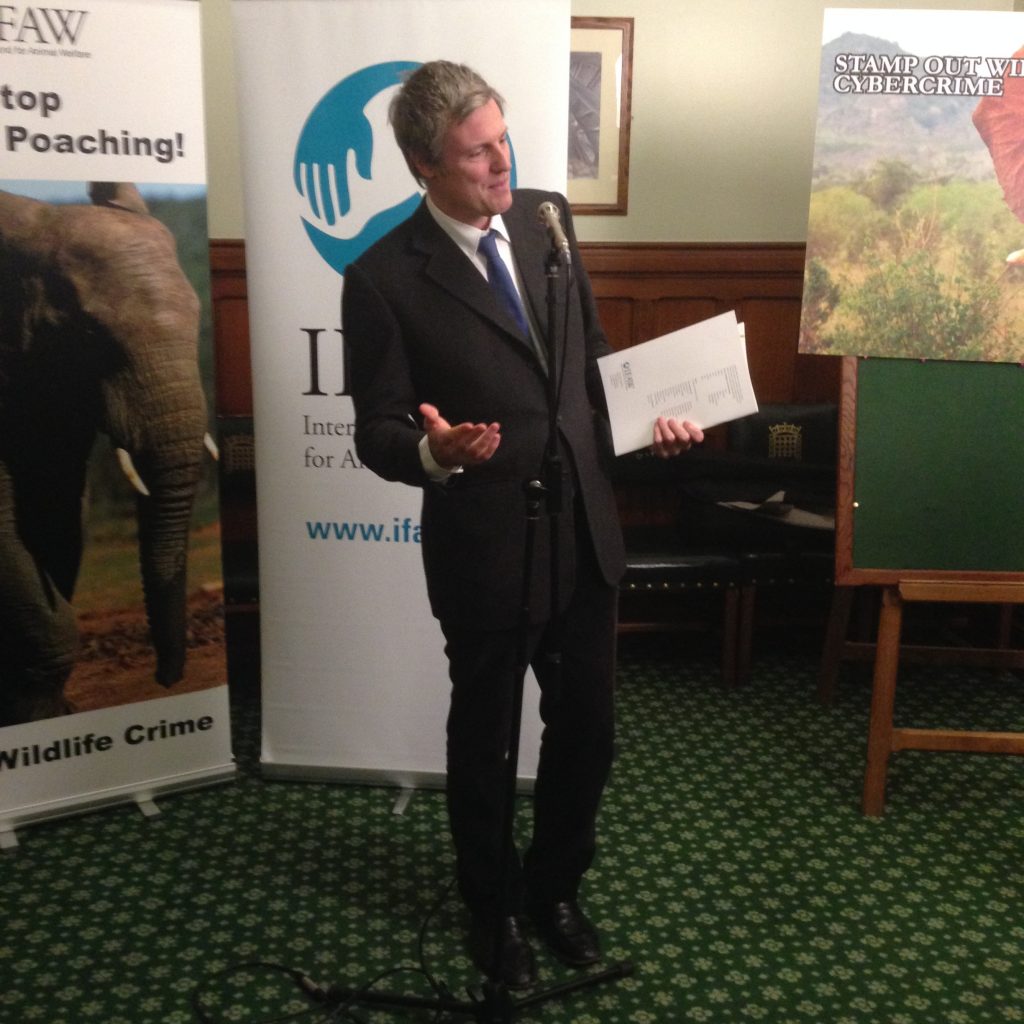 Welcoming our new Conservative Animal Welfare Foundation Patron, Zac Goldsmith, MP for Richmond Park & North Kingston
Conservative Animal Welfare Foundation are pleased to announce and offer a very warm welcome to our new Patron, Zac Goldsmith MP
Zac Goldsmith joins Sir Roger Gale MP, Lady Suzy Gale, Sir David Amess MP and Henry Smith MP as Patrons of the organisation.
Lorraine Platt, Co-Founder of the Conservative Animal Welfare Foundation, commented:
"We are delighted and honoured that Zac is joining us as our Patron.
Zac is passionate about the environment and animal welfare. Zac has built a reputation as one of the country's most formidable campaigners on green issues. He has championed a range of environmental causes, highlighting among other things, the concern of climate change."
Zac Goldsmith was the Editor of the Ecologist Magazine for 10 years and received Mikhail Gorbachev's Global Green Award for 'International Environmental Leadership'.
Zac's campaigning on environmental issues goes back to well before he first became an MP, and has consistently championed green policies in Parliament, in his constituency and beyond. He helped deliver a rare pro-Conservative headline in The Guardian before a General Election: the March 2015 announcement of a vast network of giant overseas marine reserves, which he championed.
Zac helped deliver the first global summit on the illegal wildlife trade, which put the UK at the forefront in the battle against ivory poaching.
He was heavily involved in the O'Neill Review on Anti-Microbial Resistance.
In July 2014 Zac proposed EDM 247: Use of Antibiotics in Intensive Farming. The motion stated:
"That this House recognises that the overuse of antibiotics in intensive farming adds to the serious public health threat from antibiotic resistance and the rise of superbugs; welcomes the Government's efforts to reduce over-prescribing by doctors; calls for parallel action to reduce the use of antibiotics by veterinary surgeons and farmers; and further calls on the Government to take steps to ensure that the routine prophylactic use of antibiotics on UK farms is phased out and that specific controls are introduced on the use in livestock of antibiotics that are critically important in human medicine."
On the 11th October 2016, Zac tabled an Early Day Motion (number 488) on farm antibiotics with the support of five sponsors: former Environment Secretary Caroline Spelman (Con), former Shadow Defra Secretary Kerry McCarthy (Lab), David Warburton (Con), Margaret Ritchie (SDLP), and Green Party co-leader Caroline Lucas.
Unusually the EDM is demanding action not from the government, but from supermarkets, calling on them to take action on antibiotics by adopting publicly available policies on veterinary antibiotic use within their supply chains; prohibiting routine mass-medication of livestock; and committing to drastic reductions to farm use of the 'critically important' antibiotics.
http://www.parliament.uk/edm/2016-17/488
For many years Zac has actively supported campaigns that speak for Britain's small and family farmers.
Zac hosted the launch of the book ' Farmaggedon' in Parliament. Philip Lymbery, CEO of Compassion in World Farming, spent three years investigating the hidden cost of cheap meat and the devastating impact of factory farming on people, animals and our planet. His book, Farmageddon, was written with political journalist Isabel Oakeshott, and exposes the threat Britain faces of a new wave of US-style industrial farming that would spell the end of the British countryside as we know it.
Zac's short film focusing on the environment and animal welfare ,broadcast on Channel 4 can be watched here: http://www.zacgoldsmith.com/brett/
On the 17th October Zac proposed the motion 'Live Animal Exports' EDM number 412 -welcoming the potential for a ban on the live export of animals after the UK has left the EU; and urges the Government to support the 10 Minute Rule Bill presented by the Right hon. Member for Chipping Barnet, Theresa Villiers on the 25th October 2017.
We look forward to working with Zac to help advance our campaigns to help advance farm animal welfare.
The Conservative Animal Welfare Foundation was established in 2016 to raise awareness of the billions of animals reared on intensive farms around the world, and how this impacts upon animal welfare, the environment and people's health. The campaigns focus on the mandatory introduction of CCTV in slaughterhouses, the end of live animal exports, an end to cages and farrowing crates and the introduction of method of production labelling on meat and dairy products