London, 17th March 2023
Today (Friday 17th March) the Conservative Animal Welfare Foundation (CAWF) is delighted that Patron Henry Smith MP's Hunting Trophies (Import Prohibition) Bill has passed its Remaining Stages in the House of Commons. The Bill will now enter the House of Lords to complete its passage.
This followed the Committee Stage which took place earlier this year in January, and the Second Reading in November where many MPs including Patron Anna Firth and Patron Sir Roger Gale spoke in support of the Bill. You can watch these contributions on the Conservative Animal Welfare Foundation YouTube channel here.
During proceedings, leader of the Bill Henry Smith MP said: "I hope we can move on to ensuring this legislation to protect the most endangered species in the world, and Britain playing its full part in doing that can proceed to its next stages".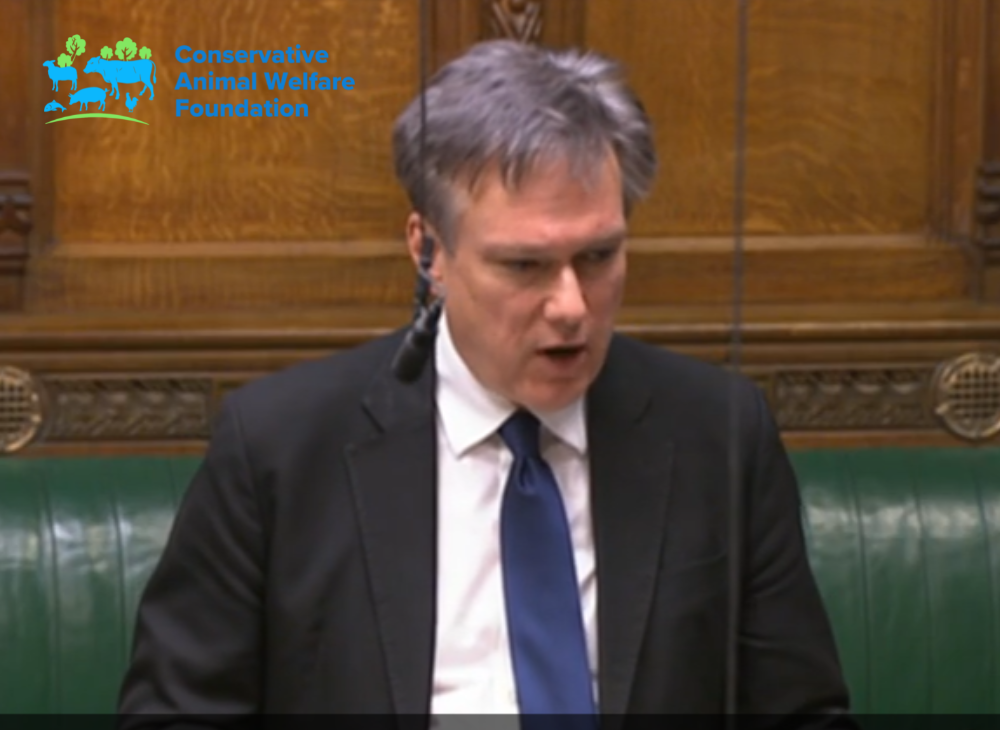 Conservative Animal Welfare Foundation Anna Firth MP spoke in support of the Bill, alongside a number of other Conservatives including Mark Francois MP, Anthony Browne MP and former Secretary of State for Defra George Eustice MP. Several cross-party MPs also attended to show their support for ending trophy hunting imports, including Sammy Wilson MP and Margaret Ferrier MP.
In her speech, CAWF Patron Anna Firth MP said: "Trophy hunting is a relic of the past, it has no place in modern Britain". Meanwhile in his speech, Mark Francois MP thanked Conservative Animal Welfare Foundation and Co-Founder Lorraine Platt for all of its work on this important issue. He also spoke in memory of CAWF's late Patron Sir David Amess MP who worked tirelessly on this issue.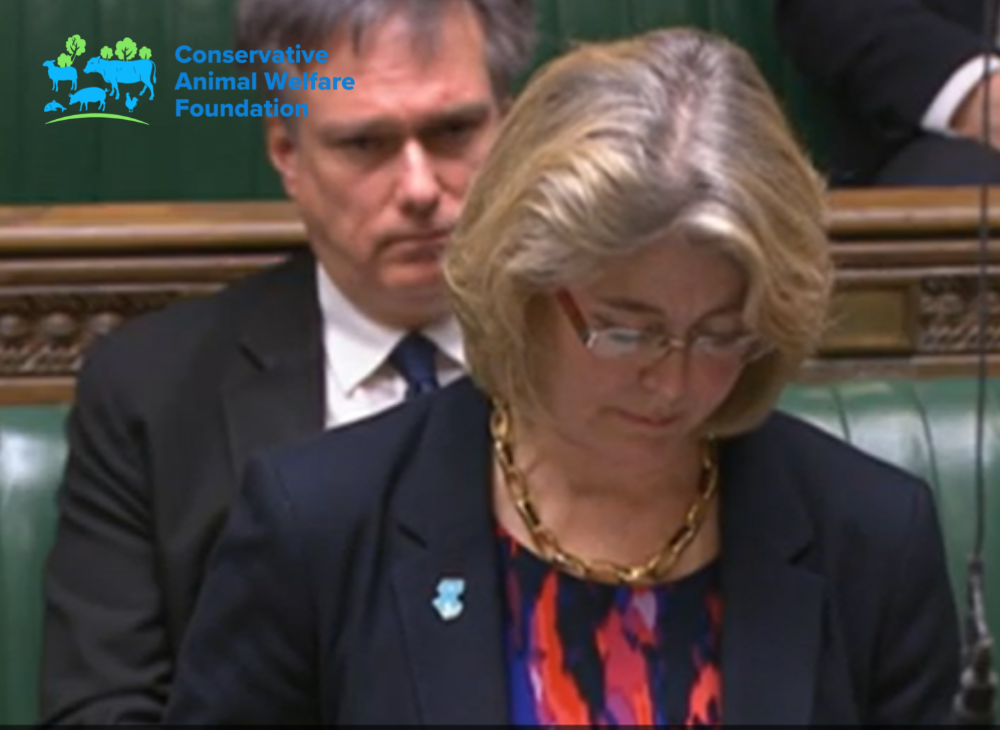 The commitment to ban trophy hunting imports was included in both the Conservative Manifesto 2019, and also Defra's world-leading Action Plan for Animal Welfare published in 2021.
In March last year polling showed overwhelming support for the policy of banning trophy hunting imports. Amongst voters polled, 86% agreed that the UK Government should ban trophy hunters from bringing back trophies of hunted animals as soon as possible, and amongst Conservative voters this was 92%. You can read the full briefing here.
Meanwhile recent new polling shows 87% of Conservative voters agreed with the statement: "My MP should vote to ban British trophy hunters bringing home their 'trophies' of endangered animals".
Last year several MPs alongside British explorer Sir Ranulph Fiennes spoke out against trophy hunting imports at Conservative Animal Welfare Foundation's World Animal Day reception in memory of late Patron Sir David Amess, hosted at Conservative Party Conference in Birmingham by Jane Stevenson MP.
Conservative Animal Welfare Foundation Patron Sir Roger Gale MP also Chairs the APPG on Banning Trophy Hunting, which has been campaigning for a ban on hunting trophy imports for many years.
Lorraine Platt, Co-Founder of Conservative Animal Welfare Foundation, commented: "Conservative Animal Welfare Foundation is delighted to congratulate our Patron Henry Smith MP on the Remaining Stages of his Bill to end the import of hunting trophies. Throughout its passage through the House of Commons this Bill has earned substantial support across every political party, as well as the British public.
"It is simply not acceptable in modern Britain to import trophy hunting imports. Generations to come will look back in horror at trophy hunting; we must consign our role in this vile trade to the history books.
"The commitment to end trophy hunting imports was a key Conservative Party Manifesto pledge, and one that aligns significantly with public sentiment, particularly amongst Conservative voters. We look forward to continuing to support this critical Bill as it enters the House of Lords in due course."
About Conservative Animal Welfare Foundation (CAWF)
The Conservative Animal Welfare Foundation was established in 2016 to raise awareness on the lives of billions of animals reared on intensive farms around the world and how this impact upon animal welfare, the environment and people's health. We want to highlight the action people can take to help advance farm animal welfare.
Animal welfare is an increasing concern amongst the public, who frequently look to Government to take the lead in both maintaining and improving standards.
The Conservative Animal Welfare Foundation believes it is highly important that the welfare of farm animals is placed at the forefront of the Governments plan for food and farming along with its focus on productivity, competitiveness, and technology.
Media contact: Sophia Stileman (sophia.stileman@conservativeanimalwelfarefoundation.org)