This article Times Red Box article is supported by CAWF Patrons, Sir Roger Gale MP, Sir David Amess MP, Tracey Crouch MP, Stanley Johnson, Lady Suzy Gale, John Flack( for MEP), Elise Dunweber, CAWF Founders Chris Platt and Lorraine Platt and CAWF Director Peter Hall AM.
There has never been any question that the Conservative Party believes animals are sentient beings. We have a proud tradition of animal welfare measures. Within weeks of being Prime Minister, Margaret Thatcher introduced the Farm Animal Welfare Committee. Since then, Conservative governments have led the way in animal welfare.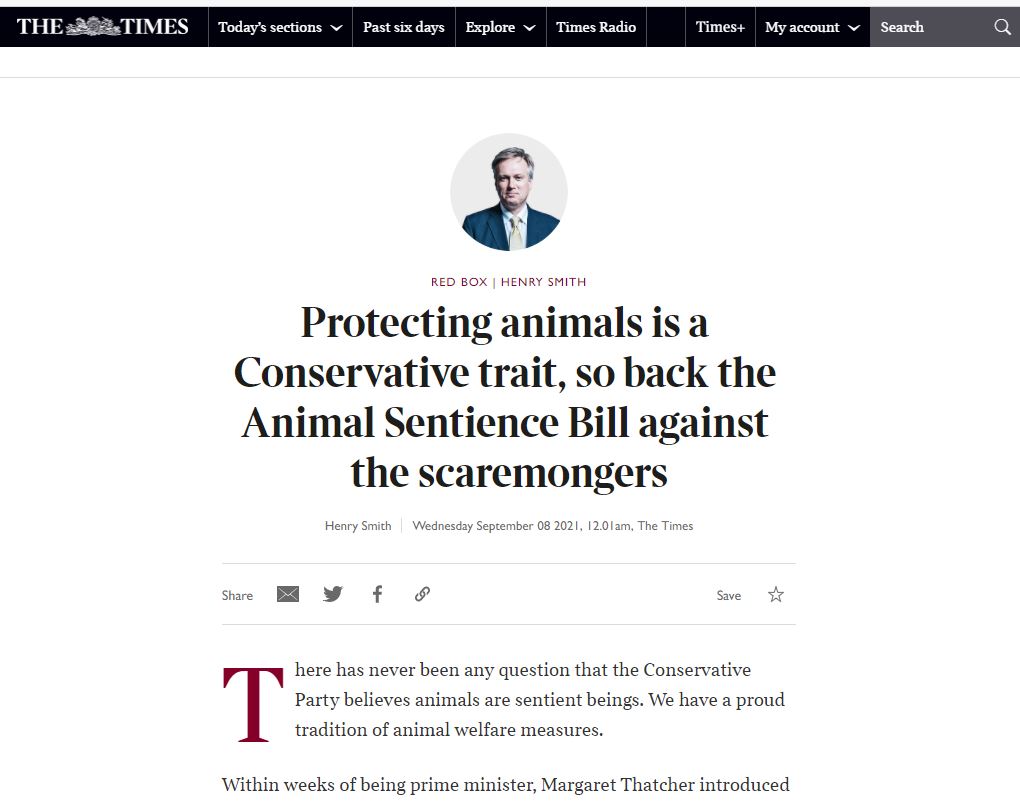 In 2012, we banned the use of conventional 'battery' cages for laying hens. We have strengthened the statutory guidance for owners and keepers of livestock. In England, new meat chicken and laying hen codes of practice were published in 2018 and a new pig code in 2020. In 2018, we made CCTV mandatory in slaughterhouses in England. In 2015, we introduced a requirement for all dogs to be microchipped. In April 2020 the ban on commercial third party sales of puppies and kittens ('Lucy's Law') came into force; the list goes on.
We are now recognising animal sentience formally in domestic law and introducing a proportionate accountability mechanism to help reassure people that central government policy decisions take this into account. Our manifesto promised that we would bring in these new laws.
The Bill proposes three things. It provides a recognition in law that any animal with a spine—any vertebrate—is sentient. The Bill gives the Secretary of State a power to extend this recognition to any invertebrate species in future; for example, if evidence of their sentience becomes clear.
Secondly, the Bill establishes a committee—the Animal Sentience Committee. The Committee will look across government to assess particular central government policy decisions, this includes decisions relating to policy formulation and policy implementation. It will review whether these individual policy decisions have paid all due regard to their effect on the welfare of animals as sentient beings. The Animal Sentience Committee will have the right to roam across all central government departmental policy decisions. The Committee's findings will be made public and its reports will make recommendations.
Thirdly and finally, the Bill obliges the relevant Minister to respond to each report from the Committee through a Written Statement to Parliament. That Statement should set out the Minister's response to the Committee's recommendations, which may also take into account wider economic, cultural or environmental factors.
Taken together, the Bill's provisions create a targeted and proportionate mechanism for holding the Government to account on animal welfare. The Animal Sentience Committee's reports and the Ministerial responses to them will support Parliament's scrutiny of how central government policy decisions pay all due regard to the welfare of animals as sentient beings.
It is intended to embed consideration of animal welfare into the policy decision-making process. It does not change existing laws, nor does it dictate to Ministers which decisions they should ultimately make. It is for Ministers to make those calls, taking all relevant considerations into account, and for Parliament to hold them to account. The Bill is designed to support Parliament in doing so. No responsible farmer, land manager or field sports interest need have any concerns with this Bill. It is not intended along the lines of the unhelpful scaremongering that we have seen in recent weeks.
Henry Smith MP