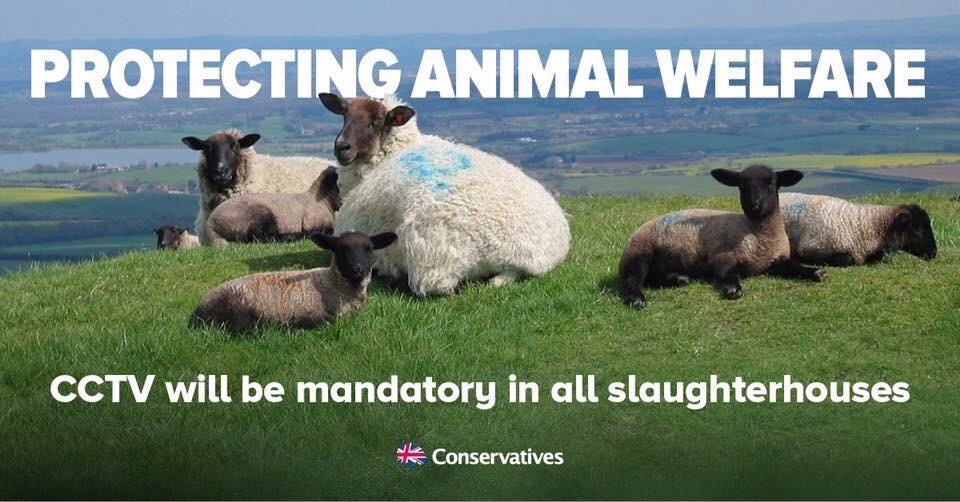 The Government has announced that mandatory CCTV will be introduced in all slaughterhouses in England next year in 2018, following a highly positive response to the proposal from vets, industry, welfare groups and the public.
Conservative Animal Welfare Foundation patron Henry Smith MP commented:
"I've long-held the view that we need CCTV in slaughterhouses to crack down on the unnecessary mistreatment and suffering of animals and I'm delighted that the call I led in Parliament has now been actioned by the Government.
"As we leave the EU we must continue to use Brexit as an opportunity not possible previously to improve and enhance animal protection. It's a privilege to co-chair the All-Party Parliamentary Group on Animal Welfare and I'll continue to make representations in this important area that many Crawley people contact me on.
"This is the latest of the Government's commitments over animal welfare and protection. Other areas of action include an end to plastic microbeads in personal care products which have caused marine contamination; a ban on the ivory trade; and a ten-fold increase to five years for sentences for animal cruelty."
The Department for Environment, Farming and Rural Affairs (Defra) announced that CCTV will be required in every slaughterhouse in England in all areas where live animals are present. Official Veterinarians who oversee animal health and welfare and public health in slaughterhouses will be given unrestricted access to the last 90 days of footage, allowing them to monitor welfare standards even more effectively.
Legislation will be introduced in the New Year, coming into force in the Spring 2018. All slaughterhouses will be required to comply following an adjustment period of up to six months.
The Government will now further discuss the details of bringing in the proposals and present draft legislation to Parliament as soon as Parliamentary time allows.
Read more: