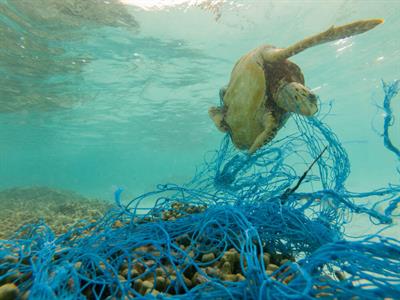 A new plan to protect our seas from 'ghost fishing' has been overwhelmingly backed by the European Parliament's Fisheries Committee today.
The vote is a significant boost to Conservative MEP John Flack's campaign to reduce the number of abandoned fishing nets as MEPs begin to debate the European Commission's plastic strategy. Mr Flack believes that his measures should be included in the EU's drive to end plastic waste.
The nets pose a significant threat to marine life and coral reefs as they continue to 'ghost fish' long after they have been lost or discarded by fishermen. The UN's Food and Agriculture Organisation estimates that discarded fishing gear amounts to 640,000 tonnes, 10% of the world's marine litter.
The proposals recommend that the EU and Member States:
Set up port reception schemes where financial incentives are offered to fishermen for returning unwanted nets.
Incentivise vessels to use technology to track and if necessary retrieve their lost nets. Support research into biodegradable nets to speed up their development.
Mr Flack, who is leading the European Parliament's Fisheries committee's response to the EU's plastic strategy, said: "Abandoned fishing nets are polluting our seas, wasting fishing stocks and indiscriminately killing whales, sea lions or even dolphins. The tragedy of ghost fishing must end.
"The EU must make tackling ghost fishing part of its new plastics strategy. Today's vote has given my campaign the backing it needs to put this hidden problem on the EU's plastic waste agenda. We cannot miss this opportunity.
"Fishermen more than anyone understand the value of protecting our seas. Sadly, there are often too few places to dispose of unwanted nets or no affordable options, meaning they are abandoned if not accidentally lost. Taking the simple step of ensuring there are port reception schemes that offer an incentive to return nets would significantly reduce the problem."
"My proposals may be bold and ambitious, but they do offer a realistic plan to significantly reduce the damage done to our seas by ghost fishing."
http://conservativeeurope.com/news/meps-back-plan-to-end-ghost-fishing